Hilary Duff's Son Cheered Her Up With The Sweetest Praise For The Actor As A Mom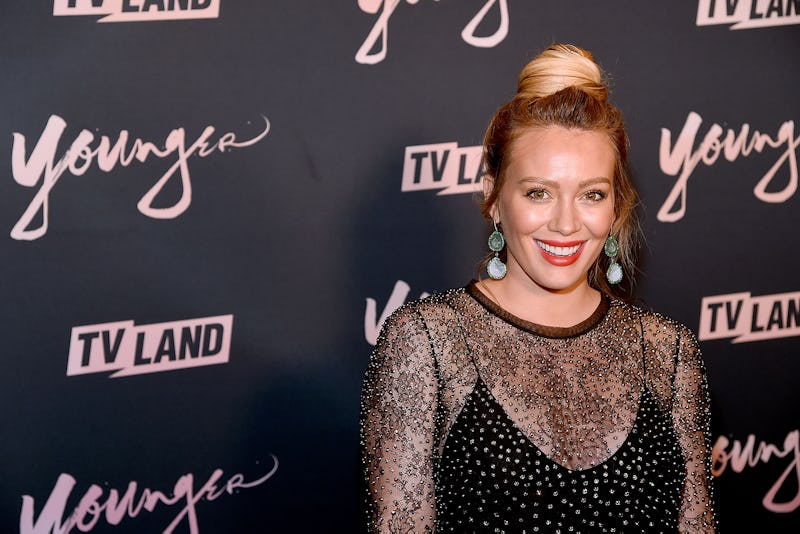 Jamie McCarthy/Getty Images Entertainment/Getty Images
It's hard for moms to balance it all perfectly — celebrity moms included. During a recent interview with InStyle (via Buzzfeed), Hilary Duff — who has a 6-year-old son, Luca, and a second baby on the way — recounted one particularly stressful day. Duff's son Luca had the sweetest response to his mom's admitted mini-meltdown, though, and it will totally melt your heart.
Speaking with InStyle, Duff admitted how difficult it can be for her to balance family life while filming her hit showYounger. "I'm in NYC for four months, and I try to make it home almost every weekend to see [Luca] because he can't miss school," she explained.
The star then recalled "one of those mornings where everything that could have gone wrong, was wrong." Duff implied that — after burning multiple pieces of toast — she was kind of at the end of her rope that day. In a moment of frustration, she said out loud, "Oh my God, I just suck right now."
Luca was in earshot of his mom's lament, and after she confessed to her son why she felt so defeated, he said, according to InStyle: "You don't suck, you're the best mommy. You're doing the best you can do. And I really like burnt toast." Is that not the most precious thing you've heard today? Such a supportive little 6-year-old.
"I was like, 'You are the sweetest child. I can't even deal with you, thank you so much. I don't know what I did to deserve you,'" Duff told the publication she said in response to her son's kind words. "He can just be really sweet in that way."
On June 8, Duff announced via Instagram that she and boyfriend Matthew Koma were expecting a baby girl. "Guess what guys! @matthewkoma and I made a little princess of our own and we couldn't be more excited!!!!!!" she captioned an adorable bump-bearing photo of her and Koma looking very much in love.
The actor told InStyle that she thinks Luca will be a "great big brother," but also admitted that — while he's definitely "excited" about getting a little sister — "sometimes he's still paranoid, thinking she's going to drool on his toys," Duff said.
Of course, the star is doing all she can to calm Luca's fears, explaining,
"[Here's] the thing, by the time she is able to crawl around [his] playroom, [he's] not going to be interested in [those toys]. I was trying to put it into perspective for him. But he's sweet, he'll rub my belly now and say hi and bye, or good morning to her. Other times he's humorous about it. Like he told his friend at school that he's having a half sister, half red butt monkey. Cool, OK. He thinks it's really funny, so I let him have it."
Whether or not Duff actually ends up having a half sister, half red butt monkey, it sounds like Luca will end up being a great big brother regardless. Not only that, but he's a great cheerleader for his mom, as well, which is a pretty precious quality for any little kid to have.