Hillary Says She's Coming Out Of The Woods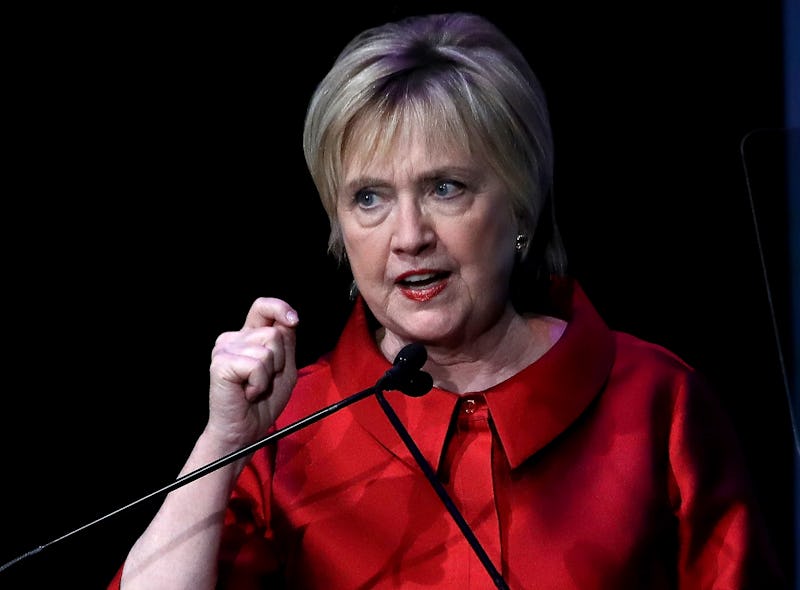 Justin Sullivan/Getty Images News/Getty Images
It's been about four months since 2016 Democratic presidential nominee Hillary Clinton suffered one of the most climactic upsets in American political history, narrowly losing the electoral college to President Donald Trump despite winning the popular vote by nearly 3 million. Since then, she's kept mostly to herself, with the exception of a few public appearances and events. But now, according to the woman herself, she's moving back into the public eye: Clinton is ready to "come out of the woods," hinting at a return to public life for the 70-year-old former secretary of state.
That's not just a metaphor, either. Since her November defeat, Clinton's slip out of public view was accentuated by the occasional surfacing of pictures of her out walking in the woods, or selfies taken by people who ran into her during one of her forested strolls. It became a meme, with social media users collectively wondering whether she'd ever fully emerge from her life of woodland hermitude.
Well, in a speech at St. Patrick's Day event in Scranton, Pennsylvania ― a dinner for the Society of Irish Women, to be specific ― she made it clear that her days of staying under the forest's shadows may be coming to an end. Specifically, she said that she plans to "shine a light" on some of the concerns she has while watching the news nowadays.
Said Clinton:
You know, I'm like a lot of my friends right now. I have a hard time watching the news, I'll confess. So I was thinking, 'OK, what do we do?' You know, walk in the woods? No, you can only do so much of that. ... I am ready to come out of the woods, and to shine a light on what is already happening around kitchen tables, at dinners like this, to help draw strength that will enable everybody to keep going.
It's impossible to know just yet what Clinton's next move will be, or whether it will involve an attempted return to elected politics. It's been widely assumed that her 2016 defeat marked the end of her career as a presidential aspirant, although she has never commented on or confirmed this.
Early this year, rumors also swirled over the possibility of her challenging Bill De Blasio to become mayor of New York City, although she's similarly offered no comment on the matter. If she were to run, however, she'd likely have a great opportunity to succeed — early polling for the city's upcoming Nov. 7, 2017 election found Clinton to be perhaps the only Democrat who could topple the incumbent first-term mayor.