Hillary Clinton Has Some Advice For Trump's Secretary Of State Pick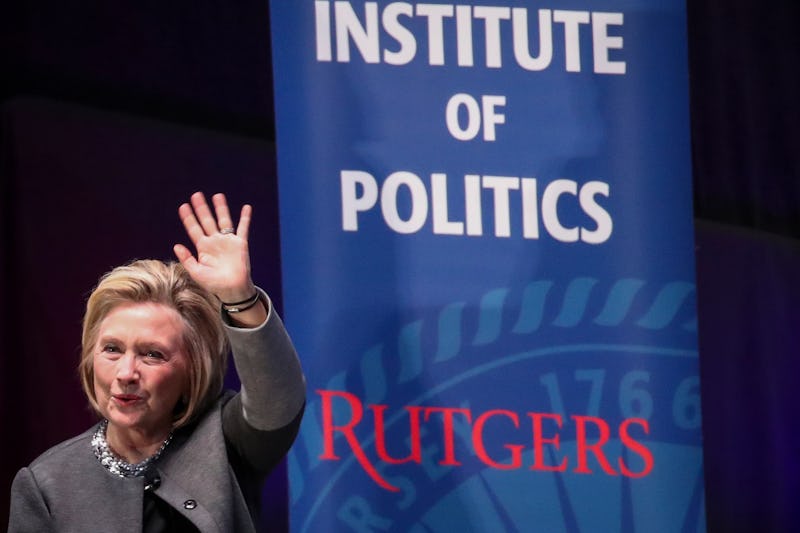 Drew Angerer/Getty Images News/Getty Images
With his confirmation hearing set for Thursday, Donald Trump's pick for Secretary of State Mike Pompeo reportedly got some advice from Hillary Clinton. According to Michigan Live, Clinton confirmed their conversation at an event on Wednesday, saying that she was pleased to talk with Pompeo — and that she dished some advice as well.
"I think we've got to get back to talking to each other and more importantly listening to each other," Clinton said at an event in Michigan honoring former first lady Betty Ford. "We can't allow the partisanship and politicization of everything to interfere with our national interests."
According to Politico, a source close to Pompeo said that the current CIA director of the CIA sought advice from former secretaries of state, including Clinton, in order to learn how he can be efficient at his job. Clinton, who worked as Secretary of State under Barack Obama's presidency, told Pompeo to be careful about the "purge" of high-ranking officials from the State Department.
The source told Politico that "there were lengthy calls seeking advice" as Pompeo apparently "understands the gravity of the challenge before him."
Clinton also said on Wednesday, "I told him that I thought he should take a hard look at retaining career diplomats who could advise him. Because you never know what might happen. You never know where the next hot spot or crisis will happen."
She noted that was "deeply concerned" about the departures, some forced and some done on their own accord, of "some of the most qualified foreign service officers."
The news of Clinton offering Pompeo advice arrives a weeks after former Secretary of State Rex Tillerson left his position. In a tweet on March 13, Trump said, "Mike Pompeo, Director of the CIA, will become our new Secretary of State. He will do a fantastic job! Thank you to Rex Tillerson for his service!"
According to CNBC News, the president told the press that Tillerson was aware of his incoming departure. "Rex and I have been talking about this for a long time. We got along actually quite well, but we disagreed on things," Trump said. "When you look at the Iran deal, I think it's terrible, I guess he thought it was OK. … So we were not really thinking the same. With Mike Pompeo, we have a very similar thought process. I think it's going to go very well."
While Trump may be excited about Pompeo, critics have expressed concern over Pompeo's sentiments toward religious minority groups like Muslims in the United States. Soon after Trump announced Pompeo's name for the next State Secretary, Toronto Star columnist Daniel Dale highlighted a quote from Pompeo when he was a congressman in 2013.
Back then, Pompeo suggested that imams were encouraging terrorist attacks allegedly perpetrated by Muslims following the Boston marathon bombing.
"When the most devastating terrorist attacks on America in the last 20 years come overwhelmingly from people of a single faith, and are performed in the name of that faith, a special obligation falls on that faith's leaders to respond," Pompeo said, "Instead of responding, silence has made these Islamic leaders across America potentially complicit in these acts and more importantly still, in those that may well follow."
Pompeo has also shown openness to the extremely disturbing and controversial method of waterboarding. In January last year, after Pompeo was picked by Trump to be the director of the CIA, he told lawmakers that he was open to modifying laws in order to reinstate waterboarding.
While current laws prohibit waterboarding as a method to extract information from a detainee, Pompeo said, "If experts believed current law was an impediment to gathering vital intelligence to protect the country, I would want to understand such impediments and whether any recommendations were appropriate for changing current law."
Some may find Clinton's advice for Pompeo an example of bridging party rivalry, but other observers have criticized her for overlooking Pompeo's eyebrow-raising past. In one instance of disapproval, former NFL player Donté Stallworth said, "Hillary Clinton's willingness to help Pompeo — a war hawk and open Islamophobe — become the nation's top diplomat is laughable and simultaneously dangerous."
Disclosure: Hillary Clinton's son-in-law Marc Mezvinsky joined Social Capital, an investor in Bustle Digital Group, in mid 2017 and joined the Board of Bustle Digital Group in early 2018.