Hillary Clinton Gets So Many 'Kimmy Schmidt' Shoutouts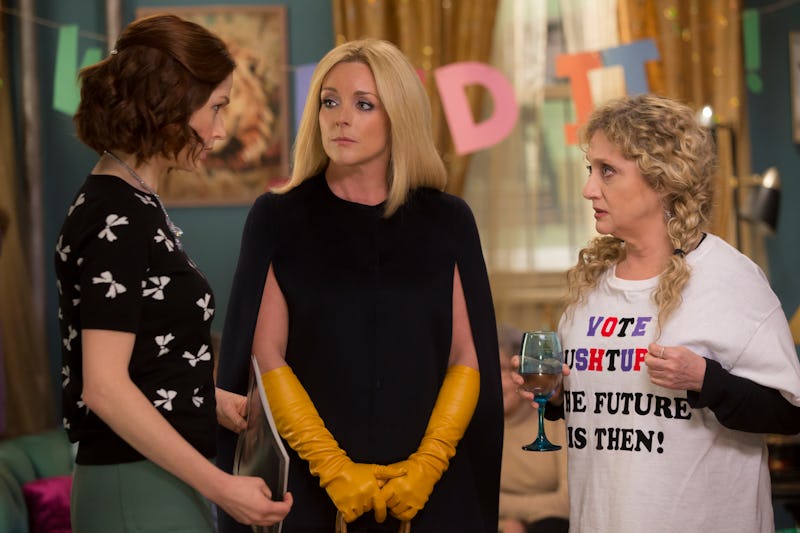 Tina Fey and Robert Carlock — the creators of The Unbreakable Kimmy Schmidt — aren't ones to shy away from a political joke. So I bet that when they were wrapped with Season 2 and the road to the 2016 election really started getting crazy, they were kicking themselves that they had to wait so long to make jokes about it on the show. Kimmy and her friends are fictional, but the world they live in is real(ish), so it's not a surprise that Unbreakable Kimmy Schmidt made Hillary Clinton references in Season 3.
There is a definite political undercurrent to the jokes in Season 3, mostly I assume because comedy is not written in a vacuum and what else was everyone talking about for the majority of 2016 and the first part of 2017? In terms of who would vote for whom, I think that Lillian would have voted for Trump, because she hates anything establishment; Titus wouldn't have voted at all because he didn't want to get out of bed; Jacqueline would have cast her ballot for Trump (she knows him from New York social circles like Sonja Morgan); and Kimmy…. well, I'm not sure about Kimmy. She's idealistic, but she's also easily misled, so her choice is indeterminate in my eyes. Myself, I'm a Clinton supporter. And these were my favorite Hillary Clinton callouts in The Unbreakable Kimmy Schmidt Season 3:
Chants Of "Lock Her Up"
In the second episode of the season, Jacqueline is trying to convince locals to let her boyfriend's company develop the waterfront so it won't be a toxic waste dump anymore, and Lillian, always the foil, leads the crowd in a chant of "lock her up," mimicking Trump's election rallies. For once, I side with Jacqueline on this one.
"Basket Of Deplorables"
Lillian calls the people in her working-class, slowly gentrifying (sort of) neighborhood a "basket of deplorables," paying homage to Clinton's remark that appeared to lump all of Trump's supporters together.
The Benghazi Song
Judah Friedlander, whom you may remember as Frank from 30 Rock, has a cameo as a man looking for a background vocalist for the songs he writes. Titus, needing cash, takes the job, but soon he realizes that the songs are all wild conspiracy theories about how Jewish people run the world and that Hillary Clinton was in Benghazi when the United States embassy was attacked. This is not true, not even a little bit.
Neither America nor Unbreakable Kimmy Schmidt have forgotten about the 2016 Democratic candidate for President.
Check out the "Netflix" stream in the Bustle App for more Netflix news, plus recommendations on what to watch next.