Hillary Clinton Spoke Out About The Gendered Attacks On 2020 Candidates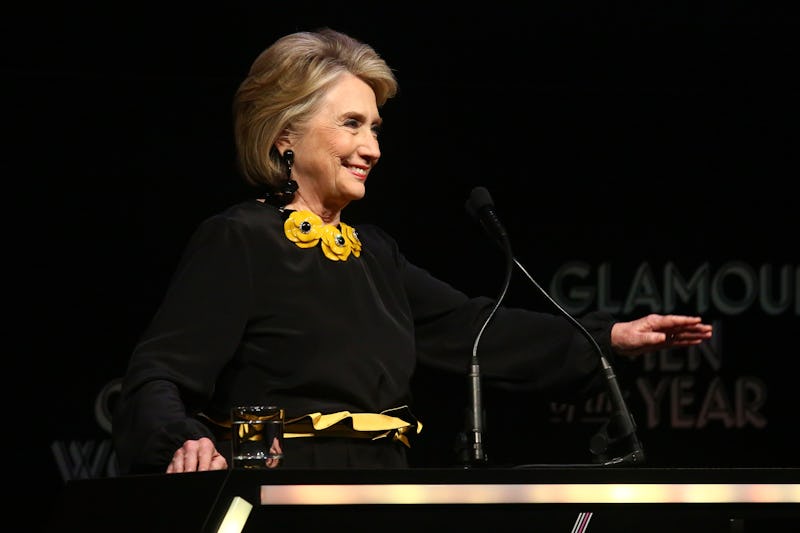 Astrid Stawiarz/Getty Images Entertainment/Getty Images
The 2016 election marked the first time that a major U.S. political party ever endorsed a woman to be its presidential candidate. But, more than two years later, that woman says not much has changed. In a podcast interview released this week, Hillary Clinton said 2020 women candidates face gendered attacks on the campaign trail, even as, in her estimation, public discourse has generally become more progressive.
"I think that my having gone through it last time should make it a little easier because a lot of what was done under the old double standard is more understood now, and I think more people call out the press and commentators for the comments they make which they don't make about male candidates," Clinton said. Her remarks were made as part of a conversation with Tina Brown, former editor of Vanity Fair and The New Yorker.
Appearing as a guest on Brown's podcast, "TBD," Clinton said that even though the public seems more aware of everyday sexism, she's already seeing a difference between how male and female presidential candidates are talked about.
"I do think that the pathway is a little bit easier but... even in the last month, we've seen the kind of attacks on the four women running —for all kind of different things — and certain words like 'likable' and all that used," she said.
"There are a lot of men who are really unlikable who get themselves elected to very high positions," Clinton added.
But while she said she believes her experience as the Democratic presidential candidate may have impacted the political playing field for other women who want to run, Clinton said she didn't see another bid in her future.
"I can't imagine that, no," she said.
Brown had broached the subject by pointing out that a good handful of presidential candidates — prospective and declared — are close in age to Clinton, herself. But despite the fact that older folks are making a run, Clinton said it probably wasn't for her.
"I think that I've had a terrific experience in public life and in politics," she said. "I care deeply about this country and I am very worried about the direction that Trump and his allies are taking us."
Referring to herself as a "reformed lawyer," Clinton said she cared very much about the rule of law, how people treat one another, and what she called "basic rights."
"So there are things that I care deeply about... Just because i'm not running — I'm not going to keep my mouth shut," she said. "I'm going to keep speaking out."
She did just that a few moments later. In speaking with Brown, Clinton questioned whether President Donald Trump's impending meeting with Kim Jong Un could ever truly be productive. (The president, as of Tuesday afternoon, had just arrived in Hanoi, Vietnam to meet with the North Korean leader, marking their second summit in the last year.) Clinton, who was Secretary of State under President Barack Obama, said she was skeptical that the secluded country would ever meaningfully denuclearize, which their meeting this week is reportedly supposed to be about.
"I think all the intelligence, which Trump dismisses, suggests that it's unlikely if not impossible that kim jong un will give up his nuclear weapons capacity," she said. She continued, "I don't see a deal there that is a verifiable enforceable deal. I don't know what Trump will claim, but I have serious doubts that whatever he claims will be actually achieved."
And as for 2020's class of women running for president, Clinton appeared optimistic, despite the gendered attacks she said she's noticed. "I don't know that we're going to see a big sea change," she said, "but I'm hoping that we're going to see enough so that there can be a really fair, competitive race."