HRC's Fave Childhood Book Is Still A Must-Read For Young Feminists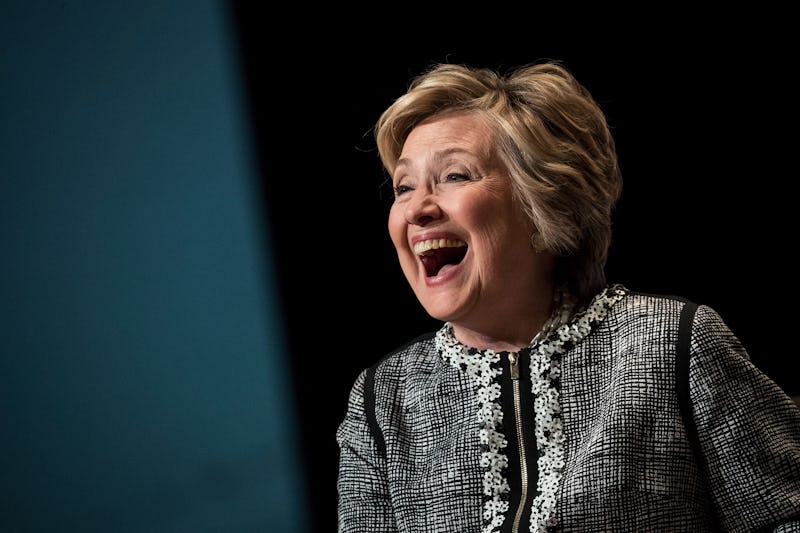 Drew Angerer/Getty Images News/Getty Images
Former presidential candidate Hillary Clinton is undoubtedly a role model for children throughout the country. But where did Hillary Clinton find her inspiration growing up? At least one of her childhood role models can be found within the pages of a book. In a conversation with Wild author Cheryl Strayed at Book Expo of America on Thursday night, Clinton revealed that her favorite childhood book series — the Nancy Drew series — was a huge inspiration in her life.
"I, like a lot of young girls of my time, read every Nancy Drew book," Clinton said. "I like the earlier ones better than the later ones, I'll be honest. She just seemed like such a go-getter. Really smart, and brave... It was like a model for me, and for my friends."
She added: "I read a lot of books when I was growing up, but that had a big impact on me, because she was — dare I say — a little of a role model, you know? And I always felt so bad because her mother had died. I mean she's taking care of the house, she's going to school, she's solving mysteries. I mean — really!"
The Secret of the Old Clock (Book 1), $8, Amazon
Later in the conversation, Clinton revealed that a very different book had influenced her as a teenager: The Brothers Karamazov. She also mentioned that another First Lady shares a similar affection for Dostoevsky.
"I was obviously a young teenager when I read Brothers Karamazov, and I read some years ago that it was also one of Laura Bush's favorite books," Clinton said. "I found that coincidence really fascinating. That was one that really stuck with me and has to this day."
Unlike certain elected officials, Hillary Clinton is an avid reader. "I kept a record of every book I've read during my entire adulthood," she said. (Before you ask, she hasn't counted them.)
During the course of her conversation with Strayed, Clinton shared many of her favorite books, and revealed she read "a lot of mysteries" during the period after the election, specifically the works of Jacqueline Winspear, Donna Leon, and Louise Penny. She also recommended her current nightstand book, the nonfiction WWII thriller The Jersey Brothers by Sally Mott Freeman.
So if you're looking to get into the brain of Hillary Clinton, it might be worth it to start with her TBR.