Hillary Clinton's Response To The London Attacks Is Actually Presidential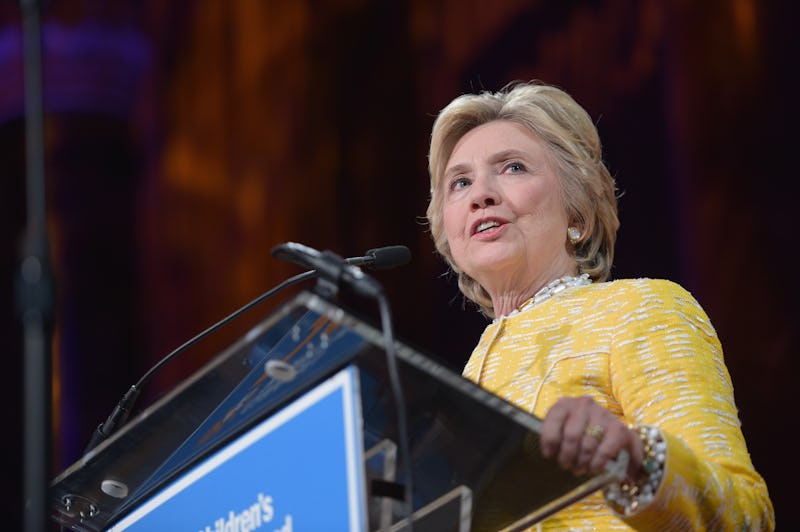 Jason Kempin/Getty Images Entertainment/Getty Images
Shortly after Saturday's attack in London, President Trump got on Twitter to disparage the city's mayor and call for the reinstatement of his travel ban. Hillary Clinton took a different approach, applauding the vigilance of Londoners and proclaiming that the U.S. stands with the city in its fight against terrorism. In other words, Clinton's response to the London attacks was actually presidential.
"After acts of unspeakable cruelty & cowardice, the people of London & the UK choose resolve over fear," wrote Clinton, quote tweeting an announcement from London Mayor Sadiq Khan that the city's trains will be operational on Monday. "Your friends in the US stand w/ you."
Sure, it's a somewhat of a standard-issue response, but it's sufficiently respectful and isn't in any way inappropriate. The same can't be said for the tweetstorm Trump fired off on Saturday afternoon. First, before offering any condolences to the victims or the city, the president claimed that "we need the Travel Ban as an extra level of safety," and that the courts that knocked down the policy must "give us back our rights."
Next, he wrote that "Whatever the United States can do to help out in London and the U. K., we will be there," which was appropriate and should have been his last tweet on the subject. But it was not. The president then tweeted that America needs to "stop being politically correct." Next, he insinuated that Khan claimed the attack was "no reason to be alarmed;" in fact, what Khan said is that there was no reason to be alarmed at the increased police presence after the attack. Trump rounded it out by accidentally accidentally arguing for stricter gun laws, even though he was seemingly intending to do the opposite.
It's also notable that Trump, who declared on Thursday that "I was elected to represent the citizens of Pittsburgh, not Paris," has written five times as many tweets about the attack in the U.K. as he has about the deadly stabbing by a white supremacist that took place in Oregon days earlier. One might think that a self-professed "America First" president would devote at least as much time to denouncing extremist attacks in the U.S. as extremist attacks abroad.
Four people were killed and 48 injured on Saturday when three men in a van drove over pedestrians on the London Bridge, then exited the vehicle and stabbing people. All three of the assailants were killed, and according to the BBC, police have since arrested 12 people who they believe may be connected with the attack.