The Mayor of Pittsburgh Hit Back At Trump On The Paris Climate Agreement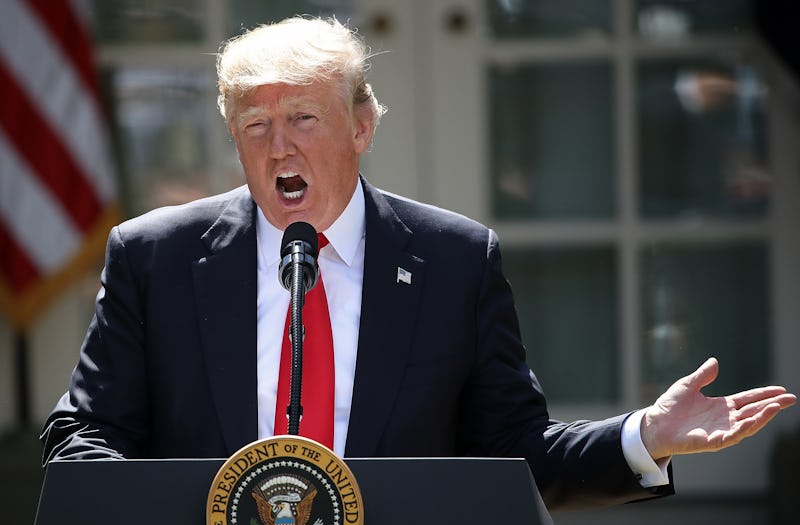 Win McNamee/Getty Images News/Getty Images
President Trump announced Thursday that he will withdraw the U.S. from the Paris climate accords, making America one of only three countries on the planet to not be part of the landmark pact. In announcing the decision, Trump said that he "was elected by voters of Pittsburgh, not Paris," and that the deal "fails to serve U.S. interests." Soon thereafter, however, the actual mayor of Pittsburgh said he likes the Paris deal, and announced on Twitter that the city will continue to abide by the Paris agreement's guidelines regardless of what the Trump administration does.
"As the Mayor of Pittsburgh, I can assure you that we will follow the guidelines of the Paris Agreement for our people, our economy & future," Bill Peduto tweeted.
Trump was incorrect when he said that he was "elected by the voters Pittsburgh." Allegheny County, Pennsylvania, in which Pittsburgh is located, voted for Hillary Clinton over Trump by 16 points in November. Peduto also noted on Twitter that Clinton received 80 percent of the vote in the city of Pittsburgh itself.
"The United States joins Syria, Nicaragua & Russia in deciding not to participate with world's Paris Agreement," Peduto wrote in a different tweet. "It's now up to cities to lead."
Peduto wasn't the only one to voice that sentiment. Around the time Trump made the announcement, former President Obama said in a statement that if the U.S. government isn't going to participate in the Paris accords, it will be up to other entities, including city governments, to step up to the plate.
"The nations that remain in the Paris Agreement will be the nations that reap the benefits in jobs and industries created. I believe the United States of America should be at the front of the pack," Obama said. "But even in the absence of American leadership; even as this Administration joins a small handful of nations that reject the future; I'm confident that our states, cities, and businesses will step up and do even more to lead the way, and help protect for future generations the one planet we've got."
Although Trump is pulling the U.S. out of the climate agreement, the formal process for withdrawing from the accords will take several years, and at earliest, won't be completed until November 4th, 2020 (which happens to be the day after the next presidential election). Moreover, the U.S. has the option of rejoining after its exit is complete, so Thursday's announcement is not necessarily the end of the story.