Hillary Clinton Honored Trans Murder Victims In A Simple, But Powerful Tribute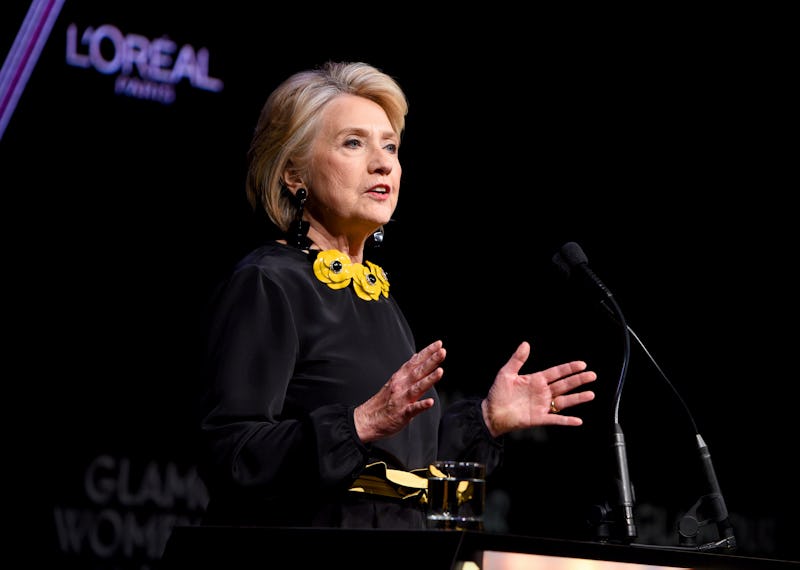 Bryan Bedder/Getty Images Entertainment/Getty Images
At least 22 trans people have been murdered in the United States in 2018 — a number the former secretary of state wanted to highlight on Tuesday. Hillary Clinton honored Transgender Day of Remembrance by tweeting the name of every trans homicide victim. "We remember the names and the lives of those we've lost to violence this year," she added.
The Human Rights Campaign (HRC) has labeled fatal anti-transgender violence a "national epidemic," pointing out that 22 is probably a low estimate of how many transgender folks were actually killed because data collection on the subject is often incomplete or unreliable. On multiple occasions this year, a murder victim was initially misgendered and only later did the authorities disclose that they were trans. Sometimes they're never properly identified.
"Just this summer, we saw a disturbing outbreak of attacks, claiming the lives of nine Black trans women in eight cities across the country in a span of only 10 weeks," a 2018 HRC report reads. Victims of anti-trans violence are disproportionately young women of color; 82 percent of those killed this year were women of color, according to HRC, while 64 percent were under the age of 35 and 55 percent lived in the South.
Transgender Day of Remembrance is an annual observance to honor the memory of those who lost their lives to acts of anti-transgender violence. It was started in 1999 as a vigil for Rita Hester, a transgender woman who was killed the previous year, according to GLAAD's website. Vigil are held around the country every year on Nov. 20, where the names of trans murder victims from that year are often read aloud.
Last year, HRC tracked 29 trans people who were fatally shot or killed, the most ever recorded. In 2016, at least 23 trans people were murdered. This year's statistic shows that the rate of violence hasn't changed much in recent years.
Ciara Minaj Carter, who died in October, was the last recorded trans woman murdered in 2018. The 31-year-old was the second transgender woman murdered in Chicago just over a month, as INTO reports. The Chicago police told INTO that Carter was in an abandoned apartment building with an unknown male who stabbed her multiple times.
A trans woman's murder was ruled a hate crime for the first time in the U.S. last year after Mercedes Williamson was killed by a former boyfriend. The man killed the 17-year-old trans woman in 2015 and was sentenced to 49 years in prison last year. Not every victim's family gets the same justice, however.
Along with Carter and the other trans folks whose names made it onto Clinton's list, Transgender Day Of Remembrance is also about honoring those whose names remain unknown.
"Part of the particular importance of [the day] is to remember those who we might not know," trans activist and Rainbow Times writer Lorelei Erisis told Bustle. "To remember those trans people who were murdered, who you know, might not have had the other people who cared about them."