Who These Transgender Activists Are Honoring On Trans Day Of Remembrance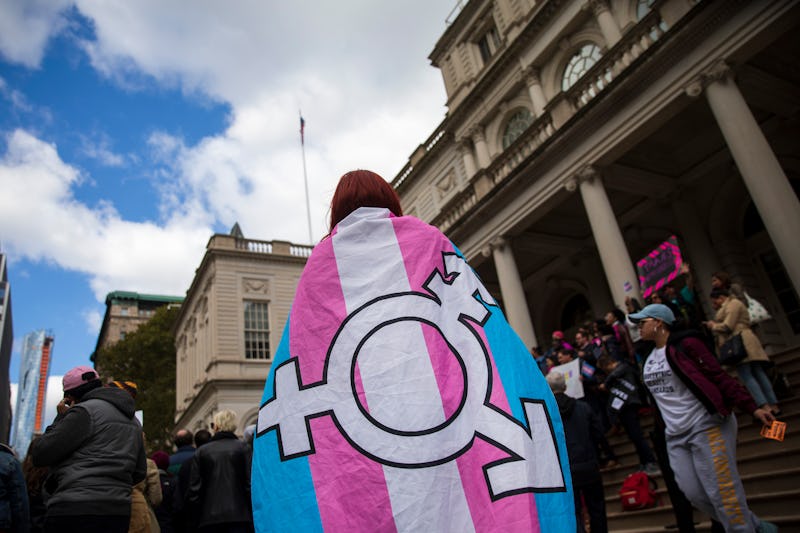 Drew Angerer/Getty Images News/Getty Images
On the heels of a "rainbow wave" that carried a record number of LGBTQ candidates into office this month, Tuesday — which is Transgender Day of Remembrance — is a sobering reminder that violence against transgender people in America is a reality that too often goes unrecognized. According to the Human Rights Campaign (HRC), at least 22 transgender people were killed in 2018 alone, in what the nonprofit organization calls a "national epidemic." Those victims' loved ones are making sure that their lives are not forgotten.
"To know that they were murdered, I really just can't allow myself to wrap my mind around that," trans activist Chloie Kensington tells Bustle.
The death of Kensington's close friend Antash'a English this summer helped motivate her to create Stiletto Sisters, a Jacksonville, Florida-based organization that aims to be a safe haven for LGBTQ people in the area. English, who Kensington remembers as being "willing to give a chance to anybody," is one of at least four transgender or gender nonconforming people killed in Jacksonville in 2018, by HRC's count (some transgender or gender nonconforming individual's deaths may go unreported).
Kensington was also close friends with Jessie Sumlar, who was killed in his Jacksonville apartment this summer. HRC is demanding further investigation into the cause of Sumlar's death to determine whether discrimination against gender nonconforming identities was a factor. Kensington, who'd known Sumlar for over 10 years, says she misses his "sweet, calm" spirit and how "even if it was a walk by you, you heard him say 'How are you?'"
Jacksonville entertainer and business owner Dianca Glamour was close with Antash'a English as well as Celine Walker, a trans woman who was killed this year and who Glamour considers her niece. Glamour explains that when she heard about English's and Walker's deaths, she was in prison and couldn't mourn properly for fear of showing "any weakness." She's emphatic that months later, "remembering" her friends isn't a choice.
"We need to honor our dead and continue to fight for the living."
"We can't help but remember them," Glamour tells Bustle. "We live in the memory."
Activist and Rainbow Times writer Lorelei Erisis believes it's important to create space to mourn transgender people who were killed. Erisis, who won the first Miss Trans New England Pageant title in 2009, remembers the pageant's creator Christa Leigh Steele-Knudslien as a "force of nature" and a leader in the North Adams, Massachusetts, LGBTQ community. Steele-Knudslien was allegedly killed by her husband shortly after the new year; he's being held without bail on a murder charge.
"She was really focused on this idea of trying to do things to focus on what was positive about being transgender," Erisis says.
But Erisis stresses that there are those who've died anonymously who need to be honored as part of Transgender Day of Remembrance, too. "Part of the particular importance of [the day] is to remember those who we might not know," she says. "To remember those trans people who were murdered, who you know, might not have had the other people who cared about them."
In addition to recognizing Transgender Day of Remembrance, some advocacy organizations are marking Nov. 20 as Trans Day of Resilience.
"No one is free if trans people of color aren't free."
"We need to honor our dead and continue to fight for the living," Jennicet Gutiérrez, community organizer and founding member of the LGBTQ immigrant advocacy organization La Familia: Trans Queer Liberation Movement (TQLM), says of the group's partnership with Forward Together, an equal rights organization. "So on Transgender Day of Resilience, we amplify the lives and resiliency of the trans community, especially of color, through art."
Forward Together joined forces with transgender and non-binary artists of color, as well as other trans justice groups like TQLM, to create pieces of art that empower the transgender community. One poster reads "Protect Black Trans Sex Workers," while another says, "Dismantle Prisons, Abolish ICE" (the posters are available to download and share here).
"By supporting [trans artists' of color] vision and leadership, it's key to all of our liberation," Gutiérrez explains. "And no one is free if trans people of color aren't free."
Such projects are especially timely as the Trump administration considers redefining gender to exclude transgender, intersex, and non-binary people, according to The New York Times.
The Trevor Project, an organization that provides suicide prevention services to LGBTQ young people, tells Bustle that in the 24 hours after the news of Trump's gender memo broke, the number of transgender and gender nonconforming young people calling its crisis services almost doubled. As the transgender community faces these threats at the national level, it's also important to recognize that almost half of all transgender people have attempted suicide — many by the time they're in their mid-20s, according to the Trevor Project.
Nearly two decades after people started observing Transgender Day of Remembrance, being an ally to transgender people remains vital.
"It starts with asking how they can help and then really listening," Erisis explains. "It starts with really putting yourself out to be supportive when it might not be easy."
You can find a list of ways to support the community on Transgender Day of Remembrance — and year-round — here.