'Hooten & The Lady' Season 2 Could Be The Most Elusive Treasure Of All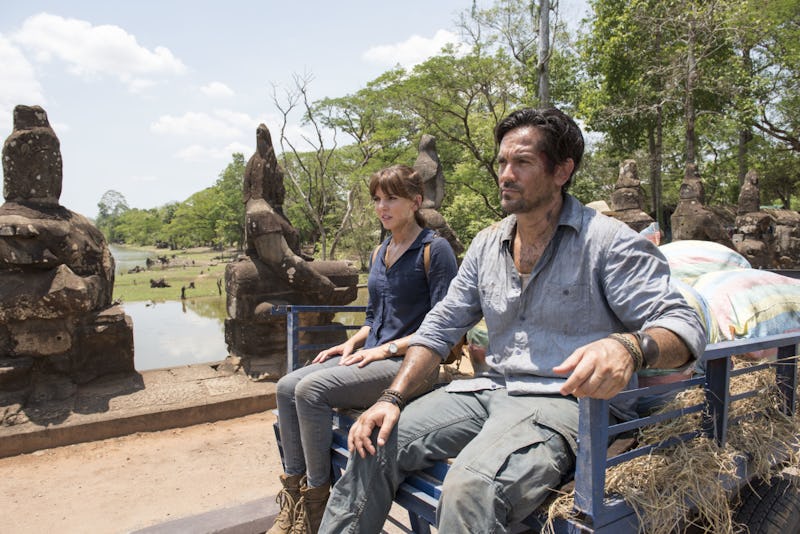 The CW
What do you get when you take the jungle-exploring esthetic made popular by Indiana Jones and the Uncharted video game series and turn it into a TV series? You get Hooten & the Lady, a British action-adventure series about a charming American adventurer, Hooten (Michael Landes) and a museum curator, Lady Alexandra (Ophelia Lovibond), who travel all around the world collecting treasure. The final episode of the season premiered in the U.S. on Aug. 28 — but, will Hooten & the Lady return for Season 2?
Unfortunately, a second season of this action-adventure series will be the most elusive treasure of all — because it's not actually happening. According to what Mark Pedowitz told The Wrap at the Television Critics Association earlier this month, British television channel Sky1 doesn't have plans to renew the show, meaning that it's probably dead in the water.
Of course, it's not uncommon for television shows that are produced by one TV show network get picked up by another — just look at how Supergirl found a home at the CW after getting dropped by CBS after its first season. But I'm guessing the CW isn't interested in picking up this show in its current form; Pedowitz also said at the TCAs that while the network were pleased with the total viewing audience overall, they "wished the 18-49 ratings were better." That's a problem, because as the Arkansas Democrat Gazette reported back in 2009, the 18 to 49 demographic is even more important to advertisers than overall ratings are.
There's also the fact that Hooten and the Lady is an expensive show to produce, as evidenced by the sheer number of locations that were used to film the eight episode season. "They achieved so much this series," Ophelia Lovibond told Digital Spy, saying that the show is unlike anything else on television. "Flying people to Cambodia and Russia... we shot in Red Square, the Bond films couldn't even do that." That's part of what made the show so impressive, but it might have also inadvertently lead to its downfall.
Still, you never know — there might be other ways to bring Hooten and Lady Alexandra's story back to life in the future. Fans could try to organize a rescue campaign with a social media hashtag (there's already a petition in circulation below), or maybe Sky1 might consider adapting new stories into a less expensive medium, like radio shows or comic books.
Even if Hooten and the Lady never again gets another season, at least fans got an epic action-adventure movie every week while it was airing. It's better to have loved and lost a television show than never to have loved at all, right?