Hope Solo Says FIFA's Former President Sexually Assaulted Her In 2013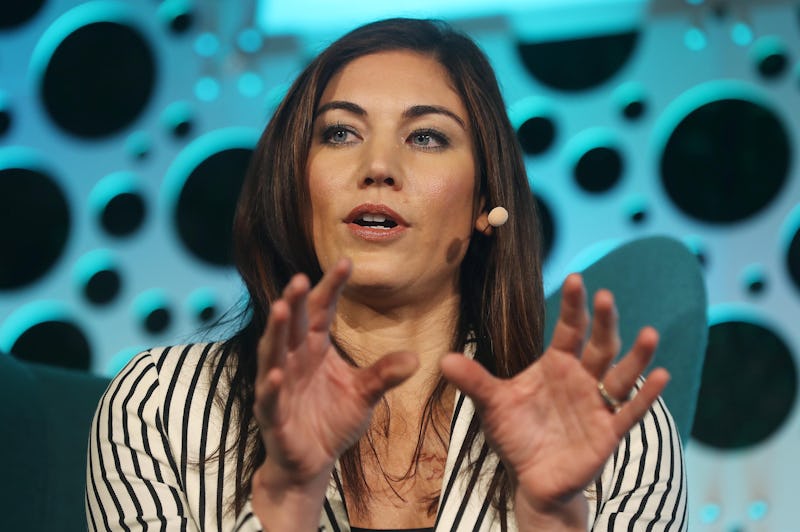 Getty Images/Getty Images Sport/Getty Images
In an interview, U.S. women's soccer goalkeeper Hope Solo accused Sepp Blatter of sexual assault, according to the Guardian. Solo says that while backstage at a 2013 awards ceremony, the former FIFA president groped her right before she went on stage. Blatter denied the incident took place through a spokesperson, telling the Guardian Solo's allegation was "ridiculous."
"I had Sepp Blatter grab my ass," Solo said in an interview with the Portuguese newspaper Expresso. "It was at the Ballon d'Or, right before I went on stage. [Sexual harassment] has been normalized."
Solo says that the incident took place moments before she presented the FIFA Women's World Player of the Year award to her teammate Abby Wambach. Solo told the Guardian she was "in shock and completely thrown off." She added: "I had to quickly pull myself together to present my team-mate with the biggest award of her career and celebrate with her in that moment, so I completely shifted my focus to Abby."
Solo is the most capped goalkeeper in U.S. soccer history with 202 appearances. She played on winning teams in the 2008 and 2012 Olympics, as well as the 2015 World Cup, and has spoken out against sexual assault in sports the past.
In an October Instagram post, Solo heartily endorsed the women who took part in the #MeToo campaign, and spoke about how ubiquitous sexual harassment and assault are in professional sports.
"For the past few days, I have been thinking about all the uncomfortable situations myself and/or my teammates have experienced throughout the years with trainers, doctors, coaches, executives and even teammates," Solo wrote then. "From inappropriate comments, unwanted advances and grabs of the ass to coaches and GMs and even press officers speaking about players 'tits' and physical appearance, sexual harassment is rampant in the sports world."
Blatter was president of FIFA for 17 years, but his reign ended in 2015 when, amidst a sweeping corruption scandal that took down several senior FIFA officials, the organization's ethics committee banned him from holding the presidency for eight years. Blatter's rise to power within FIFA was memorialized in the critically-panned 2014 film United Passions, which holds a rare zero percent rating at Rotten Tomatoes.
Blatter has a record of making sexist comments during his FIFA presidency on a number of occasions. In 2004, he suggested that female players should be required to "have tighter shorts" and "play in more feminine clothes like they do in volleyball." Nine years later, Blatter remarked that a candidate for the organization's executive committee was "good, and good-looking," and made a remark at a FIFA meeting that many viewed as demeaning to women.
"Any ladies in this room? Say something, ladies!," Blatter said. "You are always speaking at home. Now you can speak here."
In addition to Blatter's comments, FIFA more broadly has been accused of discriminating against women. As the Guardian noted in 2015 prior to Blatter's departure, female U.S. soccer players are paid a small fraction of that which their male counterparts receive, and women are underrepresented in FIFA's executive committee. Alexandra Wrage, a former member of the organization's reform committee, quit in 2013 due to what she called "blatant sexism" in the organization.
In addition to her comments to Expresso and the Guardian, Solo also spoke about sexual abuse in sports at the Web Summit in Lisbon earlier in the week.
"For years, in the past, female players date and end up marrying their college coaches, which obviously a coach should not be doing, especially with a young player," Solo said at the conference. "I've seen it not just with coaches. I've seen it with trainers, doctors and our press officers...I've seen it amongst players in the locker room. It's rampant."