This Setting Powder Just Launched — And It Has Already Sold Out Two Times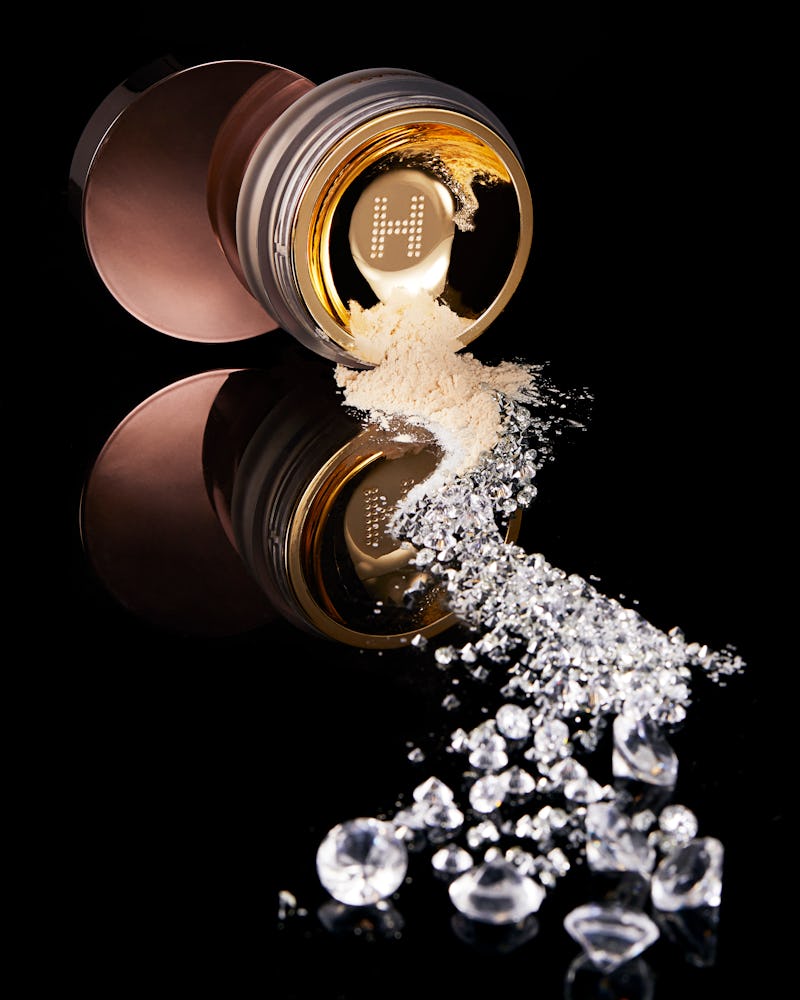 Courtesy of Hourglass Cosmetics
Every once in a while, a product comes along that will seriously up your makeup game. Hourglass Cosmetics Veil Translucent Setting Powder is one such product. This glorious, glow-giving, and supremely silky powder just launched and has already sold out twice (!!!) on Sephora.com.
Clearly, the brand, which has pledged to go all-vegan by 2020, has a hit on its hands and on your face.
The ultra-refined, finely milled, and utterly weightless loose powder is $46 per jar, which is stamped with the brand's "H." Ultimately, the product was created to be the period on the end of the sentence that is your makeup routine.
The setting powder adds a naturally flawless finish to the skin. It was formulated with soft-focus, light-reflecting particles that blur imperfections and minimize the appearance of pores, fine lines, and wrinkles. The end result is the smoothest skin you ever imagined.
The best thing about this powder is that the translucent formula will work with all skin tones, since it offers an invisible skin finish. That makes it an inclusive product in unique way.
No wonder Sephora can't keep the Veil Translucent Setting Powder in stock. It's one of those game-changers that will instantly lift, illuminate, and finish your look.
The product is also available at Barneys New York, Bergdorf Goodman, Bluemercury, Nordstrom, Space NK, and the Hourglass site.
Why is the Veil Translucent Setting Powder selling out so rampantly at the makeup mecca that is Sephora? Why has it become so quickly beloved? Well, we already know that that formula is like an airbrushing agent for skin.
Here are more reasons that i's awesome. The formula is also infused with diamond powder for light refraction minus the flashback.
But there are other terrific elements that make this "must own." The custom cap and innovative gold sifter allow for the dispersement of just the right amount of product. No fuss, no mess, and no wasted product. The container is engineered to work with you rather than against you.
It also serves purposes other than setting your makeup for the day. If you want to bake your under eye concealer to stop creasing, dust some of this powder in the region and let it do its thing.
It's such a low maintenance product where a little accomplishes a lot. You'll wonder how you ever lived or did your makeup without it.
The powder is vegan and cruelty-free, which is always a plus, especially for makeupistas with animal sympathies.
The beauty community has lots of emotions about the Veil Translucent Setting Powder.
Product mavens are all either already devotees of this product or they are pledging to purchase it based on all of the hype. Also, the beauty community is sharing its feelings about this hero product and that endorsement spreads like wildfire and clears shelves.
Here are some comments from those who have fallen under the spell of the Hourglass Veil Translucent Setting Powder. Users are enchanted by both the look and the feel of this epic product.
Go ahead and give into that temptation and satisfy that desire.
Lots of users are weighing in about why they love the product in the comments of this review. The consensus is that it doesn't further dry out those who have dry skin.
You need to add an "H" to your daily beauty regimen.
Get ready to experience the magic of the Veil. It's bound to sell out at the Sephora site once again since its popularity is increasing and its reputation is preceding it.