Here's How House Democrats Plan To Tackle Voting Suppression In 2019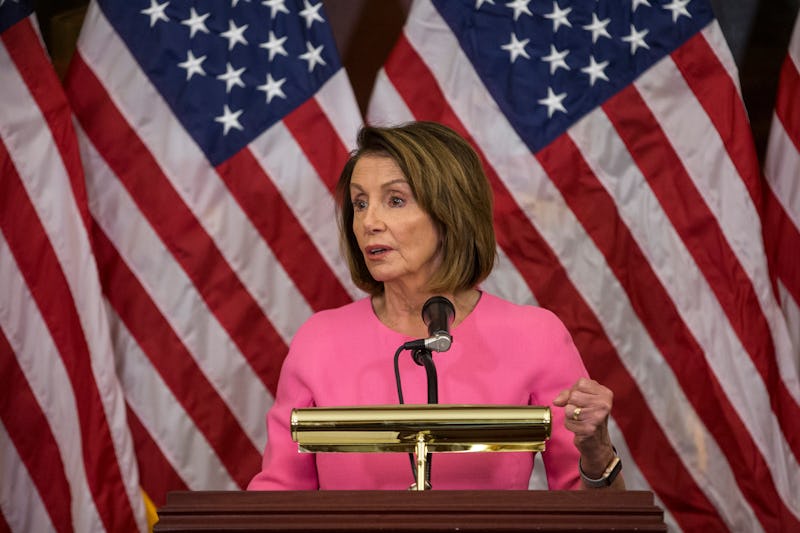 Zach Gibson/Getty Images News/Getty Images
The midterm elections sparked allegations of voter suppression from Georgia to New York, and Democratic leaders plan to prioritize voting rights when the next Congress convenes in January. In fact, NPR reports that the party will make strengthening democratic institutions the focus of its first bill in 2019.
Georgia's Democratic candidate for governor, Stacey Abrams, sued state elections officials for rejecting absentee and provisional ballots in a race that's still undecided. Hundreds of thousands of New Yorkers were told their voter registration was inactive weeks before the election. And the NAACP Legal Defense and Educational Fund sued Waller County, Texas, for allegedly making it harder for college students to vote.
While voting rights were reportedly top of mind for congressional Democrats before last week's election, reports of widespread frustration may push them to act quickly. Rep. John Sarbanes (D-Md.), who leads the House Democratic Caucus on campaign finance and government ethics, told NPR that the Democratic Party's first bill will "demonstrate that we hear that message loud and clear."
More specifically, H.R. 1 will aim to establish automatic voter registration, bolster the Voting Rights Act of 1965, and take redistricting power away from state legislatures, according to NPR.
A 2013 Supreme Court decision crippled the Voting Rights Act by ruling that Section 4, which outlined which jurisdictions must get "preclearance" from the Justice Department before changing voting laws, was unconstitutional. Section 4 defined those jurisdictions as ones that had a history of voter discrimination. As The Atlantic notes, the decision put the ball back in Congress' court to determine new criteria for requiring federal clearance on local voting laws — which has yet to happen. Democrats' plans hint that the lingering questions regarding the Voting Rights Act could be addressed in a new bill next year.
When it comes to automatic voter registration, 15 states and the District of Columbia have already instituted the method, according to the Brennan Center for Justice. In those states, eligible voters are registered or have their existing registration updated when they interact with government agencies unless they choose to opt out — and the move toward this plan has been swift. Oregon was the first state to implement automatic voter registration in 2016, and 20 states, by the Brennan Center's count, introduced similar legislation this year.
House Minority Leader Nancy Pelosi, who could soon become the majority leader, told Politico before the election that voting rights would be a top priority for her party in 2019, along with campaign finance reform, lowering drug prices, protecting Dreamers, and strengthening background checks for gun owners.
Campaign reforms will likely be looped into the same bill as voting rights reform, as Roll Call reports. On that front, Democrats are reportedly focused on expanding anti-bribery law and requiring presidential candidates to publicly release their tax returns (a clear dig at President Donald Trump).
They'll still face an uphill battle to pass these reforms while Republicans maintain control of the Senate, however. There's also the issue of convincing the president to sign any bills Democrats back that do make it through the Senate. But Democratic leaders are vowing to try.