House Committee Wants Records Of Trump's Conversations With Comey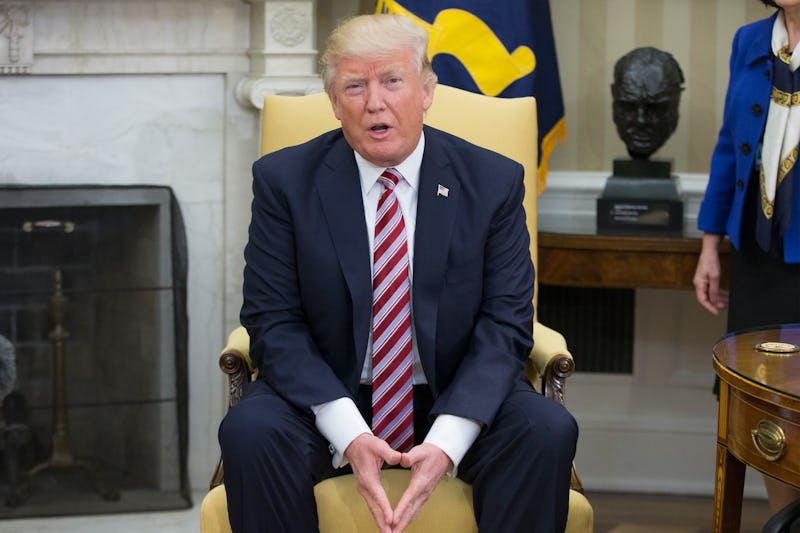 Pool/Getty Images News/Getty Images
On Tuesday evening, it was reported that the House Oversight Committee requested records of President Trump's conversations with former FBI Director James Comey from the bureau. In a letter to Acting Director Andrew McCabe, the committee chairman, Jason Chaffetz, requested "all memoranda, notes, summaries, and recordings referring or relating to any communications between Comey and the president." Chaffetz gave the FBI a deadline of May 24, or just over a week from Tuesday.
Chaffetz's letter referenced a New York Times report from Tuesday that described a memo allegedly written by Comey in February after meeting with the president in the Oval Office. According to the Times report, Comey's memo alleges that Trump asked the then-FBI director to stop an investigation into former National Security Adviser Michael Flynn. "I hope you can see your way clear to letting this go, to letting Flynn go," the president allegedly told Comey, calling Flynn a "good guy." Flynn had just resigned from his national security post over his suspected relationship with Russia.
Hours after the Times report was published, the House Committee on Oversight and Government Reform wanted Comey's memo — and anything else related to Trump's conversations with Comey. (The Times report also referenced a "paper trail" that Comey had apparently left at the FBI.)
The White House on Tuesday denied the Times report and the supposed allegation in Comey's memo. "This is not a truthful or accurate portrayal of the conversation between the president and Mr. Comey," the White House's official statement read.
Now, the materials requested by the House could lay the groundwork for impeachment proceedings. According to Chaffetz's letter, the House Oversight Committee will review the materials provided by the FBI to consider the question of "whether the president attempted to influence or impede the FBI's investigation as it relates to Lt. Gen. Flynn."
If — and this begins a series of big "ifs" — the committee finds that Trump did attempt to influence or impede the FBI's investigation, then the president could be guilty of obstruction of justice. If the president is guilty of obstruction of justice, he could be impeached under the Constitution's allowance for impeachment of "other high crimes and misdemeanors." If he were to be impeached, the proceedings would begin, conveniently, in the House.
The president's fate remains far from clear. After all, his administration has denied the allegation altogether. However, the House's move to request records from the FBI seems to suggest that an investigation will take place. From there, the House could vote to charge Trump with similar impeachment articles to those faced by President Nixon back in 1974. Either way, there appears to be a long road ahead in this story.