Here's How A Cloture Vote Could Impact Kavanaugh's Confirmation Process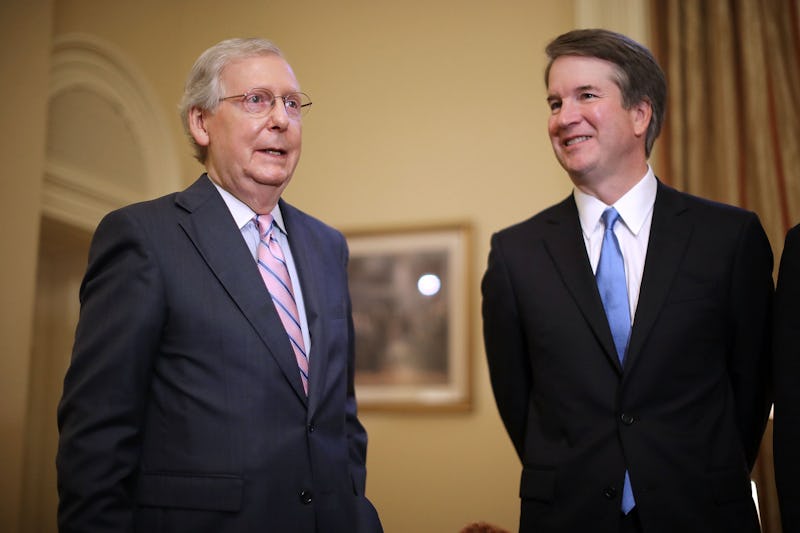 Chip Somodevilla/Getty Images News/Getty Images
The FBI completed its investigation into the multiple allegations of sexual assault against Brett Kavanaugh — all of which he has vehemently denied — on Wednesday night, handing it over to the White House for review. Without waiting for the report to be made available to the Senate, Majority Leader Mitch McConnell filed for a cloture vote, which will significantly impact Kavanaugh's confirmation process.
According to Vox, a cloture motion requires the signature of 16 senators. After the motion is filed, the Senate has to wait at least two days to then hold a preliminary procedural vote. So by filing cloture on Wednesday evening, McConnell has essentially ensured that the Senate will hold the procedural cloture vote on Friday.
The cloture vote needs a simple majority (at least 51 to 49) to pass. If it's passed, the Senate will have 30 hours to debate the confirmation before holding a final confirmation vote on Saturday. It might sound procedural, but there are still a lot of ways the confirmation process could go, now that McConnell filed cloture. Most of the uncertainty centers around a group of undecided, swing-vote senators — Republicans Jeff Flake, Lisa Murkowski, and Susan Collins, and Democrats Joe Manchin and Heidi Heitkamp.
Last week, moments before the Senate Judiciary Committee voted to advance Kavanaugh's nomination to the Senate floor, Flake surprised the committee by adding a condition to his vote. Joined by Democratic senators on the committee, Flake said he would be voting no on the final confirmation vote if the committee did not initiate an FBI investigation into the allegations against Kavanaugh first.
Now that that investigation has wrapped up, it's still unclear how a handful of senators will vote. Much of the speculation has centered on Lisa Murkowski and Susan Collins in particular. Both are pro-choice Republicans who might potentially object to Kavanaugh's previous rulings when making their decisions.
Flake, Murkowski, and Collins all appeared upset after Trump mocked Ford at a rally on Tuesday, painting her testimony as unreliable. According to Politico, Murkowski called the comments "wholly inappropriate," and "unacceptable," while Collins said Trump's remarks were "just plain wrong."
"I wish he hadn't have done it. I just say it's kind of appalling," Flake told the Today Show on Wednesday. But even with these condemnations, there are still no solid indicators as to how these three will vote.
Speculation aside, there a couple different ways the cloture vote can proceed. The cloture vote might be an indicator of how the final confirmation vote will go, but Vox reports that it's possible some undecided senators will vote yes on the cloture vote without having settled yet on a final decision. If the cloture vote is tied, Vice President Mike Pence will step in to break the tie, almost certainly sending it forward to the final vote. However, if a majority of senators votes no on the cloture, it's possible Kavanaugh's confirmation will be defunct.
The probability of any of these options is anyone's guess, even more so because the results of the FBI investigation are not yet publicly known. Though reports conflict somewhat, it appears that the results of the investigation were handed over to the White House Wednesday evening, and will be made available to senators by Thursday.