How A Gay Teacher Made His Photo With Trump A Pro-LGBTQ Statement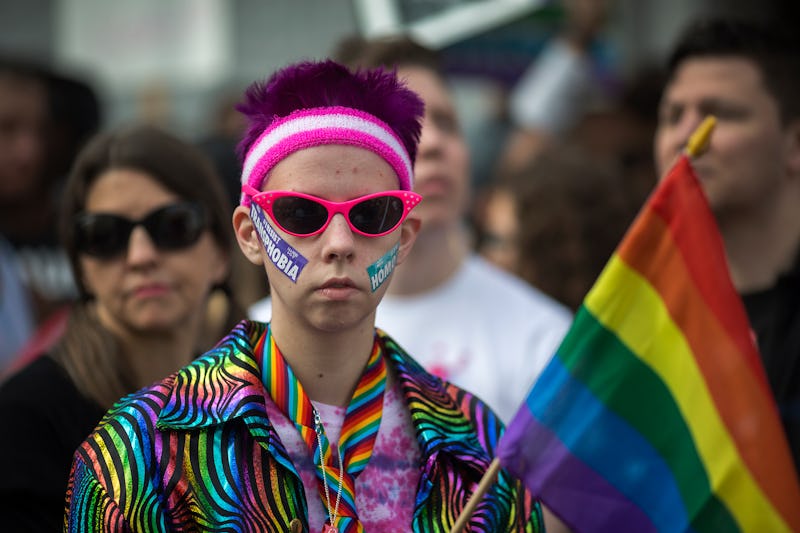 David McNew/Getty Images News/Getty Images
In late April, teachers from around the country gathered in the Oval Office to be honored for being named "teacher of the year" at each of their schools. One photo from the event of Nikos Giannopoulos, a gay teacher displaying his LGBTQ pride by President Trump and the first lady at the ceremony, has gone viral.
It's easy to see why. Holding a black lace fan and donning a rainbow LGBTQ pin, the optics of his standing next to a president with controversial views and policies concerning people like Giannopoulos could certainly cause a viewer to do a double-take.
Giannopoulos shared the photo on his public Facebook page on Thursday and it has since garnered thousands of likes and shares. The accompanying caption reads, "Rhode Island Teacher of the Year 2017 meets the 45th President of the United States. That's all." He added three rainbow emojis to the end for good measure.
In a Q&A with NPR, Giannopoulos explained that he's been "visibly gay" his entire life, having always been more feminine than other boys. Though the fan he's seen holding in the photo originally belonged to his partner, Giannopoulos shared that it eventually became a "popular prop" of his, making its way into his daily life and a constant companion on vacations. He describes the fan as a symbol of "self-acceptance and being unabashedly myself in a society that's not always ready to accept that."
Some might be surprised to learn that President Trump had a positive reaction to the Rhode Island teacher's accessory. "He loved it!" Giannopoulos revealed. "I popped it open when I walked into the office because I'm a very sassy person. And Trump complimented it right away. He said, 'I love the fan!' And he told me I had great style." Later, after a staffer asked that he put away the fan, Giannopoulos asked the president for permission to pop it open for his private photo, to which Trump responded, "Absolutely, go for it."
The teacher told the Daily Mail that he wore the pride pin "to represent my gratitude for the LGBTQ community that has taught me to be proud, bold, and empowered by my identity' and rocked the fan 'to celebrate the joy and freedom of gender nonconformity." He further shared what he wished he'd gotten the chance to tell President Trump.
"Had I been given the opportunity, I would have told him that the pride I feel as an American comes from my freedom to be open and honest about who I am and who I love," he said. "I would have told him that queer lives matter and anti-LGBTQ policies have a body count."
With all of the attention the photo's been getting, perhaps the president will hear Giannopoulos' message after all.