This British Series About A Politician's Affair Is Based On An Absurd But True Story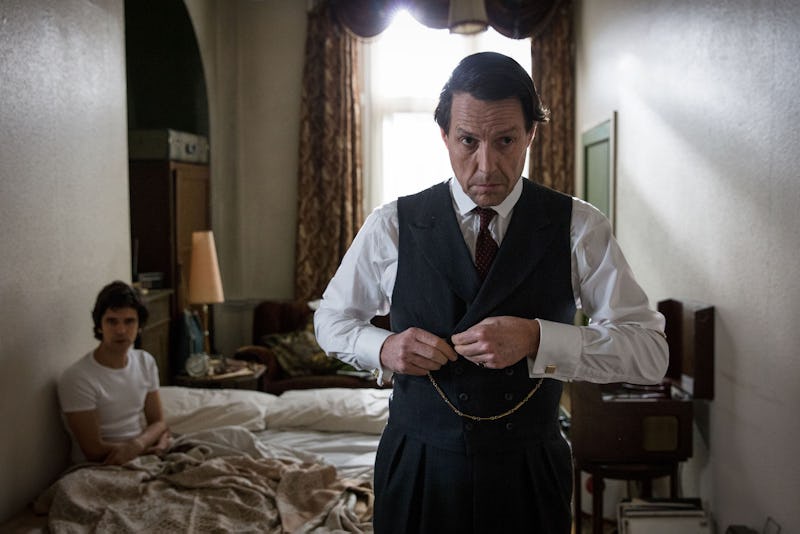 Sophie Mutevelian/BBC
A Very English Scandal, the three-part BBC miniseries starring Hugh Grant and Ben Whishaw, tells a true story that American audiences might not be all that familiar with, but British audiences remember all too well. How accurate is A Very English Scandal? While the series, now available for streaming on Amazon Prime, is adapted directly from John Preston's novel by the same name, the storyline revolves around a real scandal that gripped the British public in the late '70s.
According to the official press materials for Amazon Prime Video, disgraced member of parliament and Liberal party leader Jeremy Thorpe (played by Grant in the series) was tried for conspiring to murder his ex-lover Norman Scott (Whishaw) in 1979 and ultimately acquitted. Here is the official description of the series:
"It is the late 1960s, homosexuality has only just been decriminalized and Jeremy Thorpe, the leader of the Liberal party and the youngest leader of any British political party in 100 years, has a secret he is desperate to hide. As long as his ex-lover Norman Scott is around, Thorpe's brilliant career is at risk. Thorpe schemes and deceives—until he can see only one way to silence Scott for good. The trial of Jeremy Thorpe changed society forever, illuminating the darkest secrets of the establishment."
According to The New York Times, Scott was an author, former male model, and stable boy when he met Thorpe. If his run-in with a politician isn't the beginning of a fated romance, or at least a romance novel, what is?
The two met in 1961, according to the Times, but it wasn't until 1976 that Scott alleged the affair in public — while appearing in court for post office fraud, of all things. Soon, those following the money discovered that Scott had been receiving monthly payments from Thorpe via a third party named Peter Bessell. (The incident is kind of like if the Stormy Daniels scandal actually made a difference, honestly.) It was Bessell who testified that Thorpe said out loud that it might be better to have Scott killed. In the mini-series, Bessell is played by Alex Jennings, who you may recognize from The Crown or The Lady In The Van.
Other conspirators then included David Holmes, who hired a man called Andrew Newton, who pulled a gun on Scott in 1975 and killed his dog. When Newton got out of jail, he went public with his story that he was hired to kill Scott. At this point, love letters sent between Thorpe and Scott had basically proven the affair. However, none of the conspirators were convicted — potentially due to suspicions that they were selling a fiction to the press, and potentially because the judge reportedly mocked everyone on the stand. Still, Thorpe's career in politics was over. He retired to the country and died in 2014, according to the Times.
How accurate is the series? According to the Times, the real Scott (and one of his living dogs) appears at the end, which implies his support of the series. And the tone of the dramatization is comedic, as Hugh Grant explains in an interview with Seth Meyers. So, for that reason alone, expect certain aspects of this true story to be slightly exaggerated — though based on the facts, the opportunity for a comedic take is pretty apparent.
A very English critique of A Very English Scandal and how it stands up to the true story in The Guardian comes from Thorpe's IRL successor in the British parliament, Liberal party leader David Steel. "They have obviously compressed a lot of the story," Steel told The Guardian, "But the basic thrust of it is right. It's reasonably accurate in most respects. And Hugh Grant is genuinely remarkable." He event went to far as to call Grant's performance "uncanny" — and as a former colleague of Thorpe's he would know.
Some details may be changed. For example, the Prime Video trailer above makes it seem as though Scott went to the police to report the affair, whereas in reality his accusation was an outburst while in court for another reason, per the Times. There are also private details of the affair that no one but those involved will never know. However, "reasonably accurate in most respects" is high praise, and it seems as if A Very English Scandal has gotten a lot right while telling a compelling, and certainly ridiculous, story.