'Britney Ever After' Doesn't Have Spears' Blessing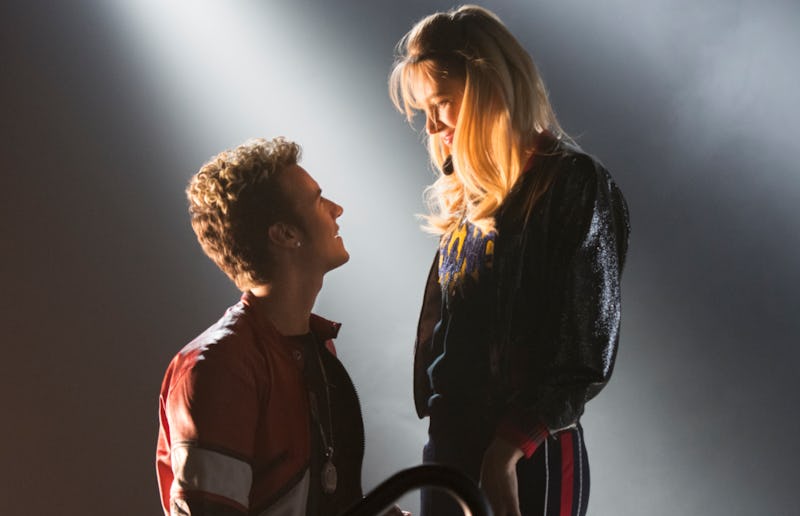 Jenna Berman/Lifetime
It's been almost 20 years since I heard my first Britney Spears song, but I'm still completely fascinated by the legendary musician who's still one of the biggest pop stars on the planet. And as it turns out, I'm not the only one, which is why Lifetime's biopic, Britney Ever After, has been so highly anticipated, and, on Saturday night, we finally get to see the network's take on Spears' life. But how accurate is Britney Ever After? It's hard to say without seeing the movie, but it seems like the film is definitely take its best shot at recreating some of the most important moments of the singer's life and career. (Bustle reached out to Spears for comment on what she thinks of the film, and to Lifetime about the accuracy, but had not yet received a response. At the end of the movie, the network aired this disclaimer: "Although based on a true story, some characters are fictionalized composites, and some events have been compressed, reorganized or fictionalized for purposes of dramatization.") But, shortly after the movie was announced last year, Spears' rep released the following statement to Us Weekly:
Britney Spears will not be contributing in any way, shape or form to the Lifetime biopic, nor does it have her blessing.
In the trailers and clips released by Lifetime, we already know that the movie is going to cover Spears' rise to fame, her unexpected Vegas wedding, and her relationship (and subsequent breakup) with Justin Timberlake. Some of the movie will obviously be rooted in fact, but, without Spears' involvement, producers will have to take a little creative liberty and fill in the blanks for the rest.
Hopefully, if Spears watches, she isn't too upset with the way things are portrayed. So far, from the trailer, it looks like it's going to be really awesome — especially with the Lifetime version of *NSYNC being involved. At the very least, we know those parts are going to be entertaining.