'Britney Ever After' Gets A New Trailer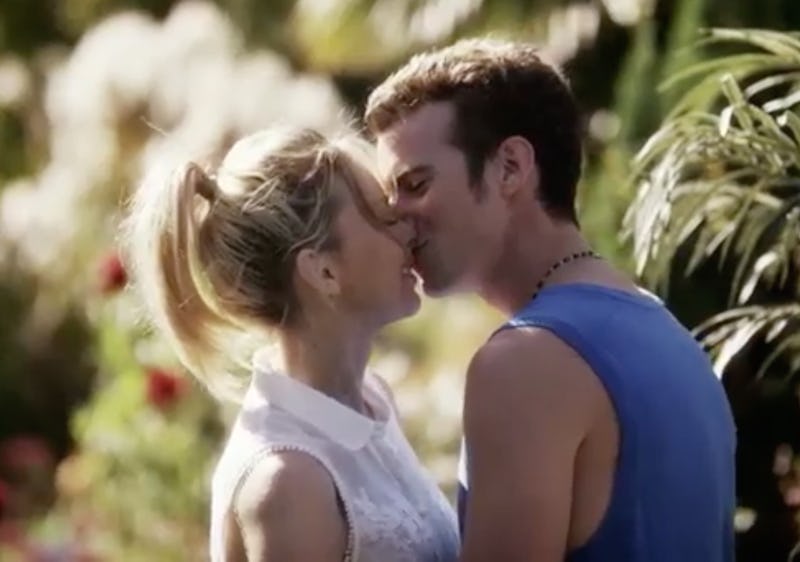 Lifetime
More trailers for the Britney Spears biopic Britney Ever After have surfaced. In them, we hear Natasha Bassett (as Britney) in that famous Southern drawl tell us, "I'm not gonna sugar coat it and say I was fun. 'Cause I wasn't." It doesn't sound like such a happily "ever after" story, does it? Then again, that doesn't appear to be the point.
The upcoming Lifetime biopic has a tough job ahead of itself. Britney Spears's career has been expansive and full of as many downs as it had ups. She's a figure that's been idolized and demoralized, and she's gone through it all in the public eye, under a microscope. Yet, somehow, not much can be said about Spears as a person. Her songs discuss the toxicity of fame, which seems to have only masked her individuality more, but, on stage and in interviews, she appears more or less unfazed. She's an enigma.
The new trailers focus on snapshots of some of Spears's most notorious moments: Her relationship with Kevin Federline, her marriage to that childhood friend, the influx of paparazzi, the head shaving incident, the umbrella car beat down. It doesn't appear that Lifetime will leave any stones unturned when it comes to the saga of Spears. How they choose to make sense of it all will be fascinating to those of us who grew up watching everything unfold in real time.
Spears isn't necessarily onboard with any of this. One of her reps told EW that she won't be a part of the project "in any way, shape or form" and that the project does not have her "blessing." But, even without her input, the film still has the chance to elucidate some of the biggest questions regarding the Princess of Pop's life. And, as any Spears fan will tell you, there are a lot of questions to be had.
According to The Hollywood Reporter,
The two-hour movie will follow Spears' early career as a young girl from Louisiana and her relationship and breakup with Justin Timberlake as well as her personal struggles following her parents' divorce. Also set to be examined are her marriages to Jason Alexander, Kevin Federline and her downfall that saw her lose custody of her sons before she rebuilt her career and proved herself to be a force in entertainment.
The real question is, can we get a longer film? Maybe a 10 hour, uncut version? Asking for a friend.