There's A Wild Reason Why The New Movie 'The 15:17 To Paris' Feels So Real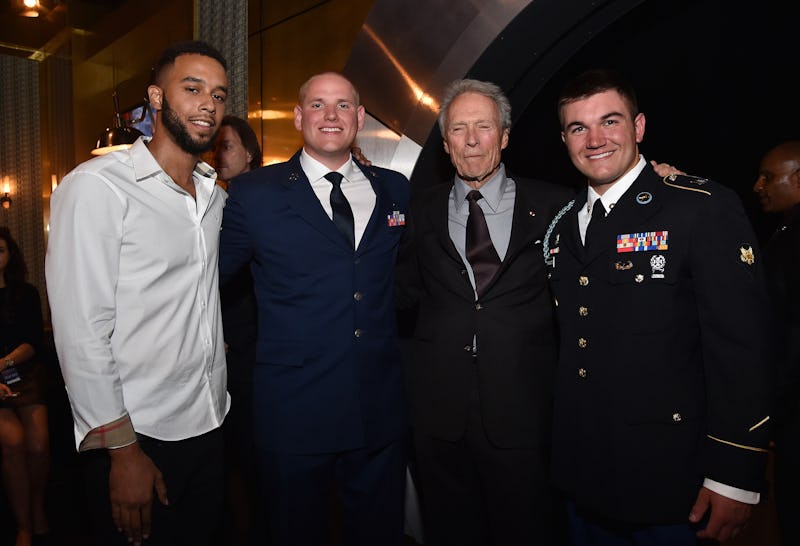 Mike Windle/Getty Images Entertainment/Getty Images
Director Clint Eastwood seems to have taken a liking to adapting real life heroic stories in his recent films. In 2014, Eastwood made American Sniper (associate producer Jessica Meier), about real life U.S. soldier Chris Kyle. His next film was 2016's Sully (co-producer Kristina Rivera), which told the story of Captain "Sully" Sullenburger's miraculous landing on the Hudson. Now, the director's newest film, The 15:17 to Paris (writer Dorothy Blyskal), once again tells a true story about real life heroes. But how accurate is The 15:17 to Paris?
The movie has one big advantage compared to Eastwood's other true life tales, and compared to practically any Hollywood adaptation of real life events, and that's this: The three stars of The 15:17 to Paris are the actual people involved in the story. In other words, the heroes seen on screen are the actual real life heroes themselves — not actors — and they're playing themselves. The unusual casting decision was made by Eastwood himself in order for the action on screen to mirror what really happened as closely as possible, and the director even dissuaded the novice actors from taking acting classes in order for them to stay authentic to their true selves.
"The cool thing about it was that [Eastwood] just told us to do it how we did it," Alek Skarlatos, one of the film's stars, told Navy Times. "We asked him if we should take classes because that was something we were worried about obviously since he was taking such a huge risk by doing this, but he just told us to be ourselves. And [he said] if we took some acting classes it'd probably just look like we were acting, and he wanted it just to be authentic to who we were."
In the actual story, which is played out in the film largely as it really happened, three American friends — Spencer Stone, Skarlatos, and Anthony Sadler — were vacationing in Europe in August of 2015. They were sitting onboard a train going from Amsterdam to Paris when a gunshot rang out, and the next thing they knew, a man armed with a machine gun entered their train car. They sprang into action and subdued the man, with Stone sustaining knife injuries in the ensuing struggle. Stone also saved the life of another passenger on the train, Mark Moogalian, who was the first passenger to intervene against the gunman. Moogalian was shot in the neck, and Stone was able to put pressure on the wound until help arrived. Moogalian also appears as himself in the film, as does his wife, Isabelle Risacher Moogalian. Also playing himself is Englishman Chris Norman, who helped the three American's subdue the gunman. And, just for good measure, the movie was shot on a moving train making the journey from Amsterdam to Paris, according to the Los Angeles Times.
In addition to the film's central players being played by their actual selves, the film's story also largely sticks to the truth. The movie is based upon the book The 15:17 to Paris: The True Story of a Terrorist, a Train, and Three American Soldiers by Sadler, Stone, Skarlatos, and Jeffrey E. Stern, and Sadler, Stone, and Skarlatos also contributed to Dorothy Blyskal's screenplay to ensure that the movie told what really happened. "We helped write the script, so we had a huge amount of input on the movie, and making sure everything was accurate" Skarlatos told Navy Times. "Obviously, it was condensed and there was some stuff that got left out, but everything that's in the movie was totally accurate to how it happened and is very true to who we are. If we saw something that we didn't like or it's not how it happened, all we had to do was show it to Mr. Eastwood and he would change it and make it accurate to what happened."
Thanks to Eastwood's desire to portray the events of his film accurately, and the incredible resource he had on set in the form of stars/subjects Sadler, Stone, and Skarlatos, The 15:17 to Paris may end up going down as one of the most accurate film biopics ever made.