Expect More Existential Superhero Crises When 'Black Lightning' Returns For Season 2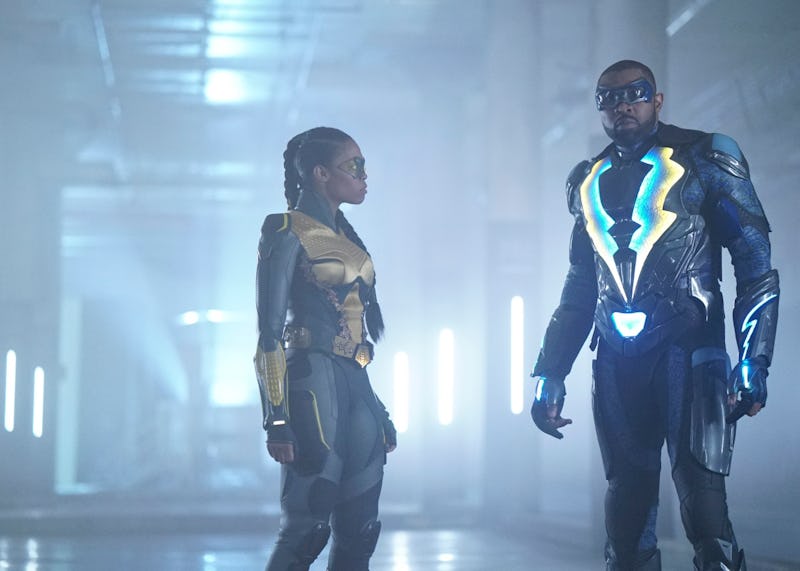 Annette Brown/The CW
A major showdown is brewing between superhero Black Lightning and 100 gang leader Tobias Whale. The penultimate episode of Black Lightning Season 1 ended with Black Lightning barely clinging to life after Khalil disabled his suit and struck him in the chest. Luckily, his daughters and Gambi were able to save his life and get him to safety, but now Tobias is on a full rampage and the government agency A.S.A. is determined to find Black Lightning's body and possibly kill Thunder as well. The battle royale will go down during the Season 1 finale on April 18, but what will happen next? The Black Lightning Season 2 premiere date hasn't been confirmed, but fans will probably see what happens next in fall 2018 or early 2019, depending on the network schedule.
UPDATE: Per The Wrap, Black Lightning Season 2 will premiere on Oct. 9.
EARLIER: The CW announced Black Lightning's renewal along with several other series back in March, but the network hasn't revealed any details about when the next season will start filming. But executive producer Salim Akil said during a panel, per Deadline, that the show will continue to explore Anissa and Jennifer Pierce's different relationships with their powers. He continued:
"You have one daughter who loves the idea of having powers and you have another daughter who despises the idea of having powers, but she still has them. How does that affect your children?"
Fans will surely continue to speculate about what will happen next as this unique superhero series continues, but a lot of the future action depends on what happens during Tuesday's season finale. Looking at the story so far, however, it seems likely that these particular threads will be picked up again next season:
Jennifer's Power Struggles
Jennifer's reaction to her fiery powers was surprisingly negative. Unlike Anissa, she sees her powers as a burden instead of a tool to help liberate Freeland residents. She feels robbed of her choice to have a typical teenage life, especially after finding out her father and sister are the infamous Black Lightning/Thunder duo. In "The Resurrection and the Light: The Book of Pain," Jennifer struggles to control her emotions and over whether or not she should use her powers to help Thunder in a fight. In the end, she's able to revive her father's heart. Once Jennifer finds out that Khalil almost killed Black Lightning, she may decide to challenge him and use her powers to save the day. Jennifer's journey will continue to be complicated as she decides whether to become a hero or to try to live a normal life.
Khalil Is Officially A Villain
Khalil went from being a gifted track star to a bionic muscle man in Season 1. He may be able to walk again, but he's paying a price for his new spine. He works for Tobias Whale, a man after his own anger-fueled interests, who doesn't care about anyone. Khalil recently returned to the show after a hiatus, so he's likely going to be around next season too. And, at some point, he will have to confront the Pierce family about his terrible choices and deal with his own anger issues.
It's Time To See Grace Choi Again
Anissa has started to form a romantic relationship with bartender Grace Choi, who's a compelling character in her own right. In the comic world, Grace Choi is a superhero, so this character will likely have a similar storyline in the show, eventually. Grace has been mysteriously out of the picture for several episodes, but she may make a triumphant return in the finale to help Anissa/Thunder. This would set her up to have more screen time and development in Season 2.
Jefferson & Lynn Pierce Will Get Together
Jefferson and his ex-wife Lynn are close to rekindling their marriage. The couple had one night of passion but weren't sure if they should tell their daughters about them being together again. This glimmer of hope is crushed when Jefferson lashes out at Lynn because she's studying Jennifer's condition and thinking about helping her be "cured." Right now, the couple's main focus is hiding from authorities that want to kill Black Lightning and Thunder, but all the drama has just made them closer. The Season 1 finale will likely show them reevaluating their relationship and possibly deciding to give it another try.
Tobias Will NOT Die
The show's main villain has a condition that doesn't allow him to age and gives him ridiculous strength. He is also working with the A.S.A. and has a protective suit that blocks Black Lightning's electric shocks. So, he's going to be pretty hard to kill. His right-hand woman Syonide and high-ranking 100 member Lala's fates could be up in the air, but it looks like Tobias' reign of terror is just getting started. Black Lightning may take him down for a while, but Tobias never dies.
Fortunately, this story is just getting started. And there's a lot to look forward to as Black Lightning continues to explore how this hero will help Freeland live up to its name.