Black Women Are The Reason Roy Moore Lost & These Numbers Prove It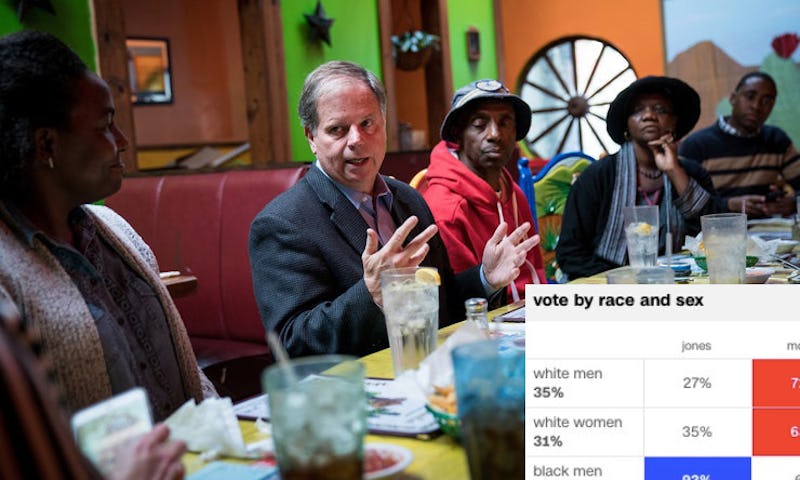 Drew Angerer/Getty Images News/Getty Images
On Tuesday night, an incredibly intense senate race in Alabama ended in Democratic candidate Doug Jones' victory over Republican Roy Moore. But as supporters of the Democratic contender celebrate, it's worth pointing out that Jones owes his win to black women voters, based on turnout. A single glance at exit polling data from CNN shows that the strongest support for Jones came from the whopping 97 percent of black women in the state who voted for him.
Black voter turnout for Jones played a crucial role in his victory in general. Ninety-three percent of black men also cast their votes for the Democratic candidate. But it was black women that made Jones' victory over Moore possible — and that wasn't lost on Twitter users who shared screengrabs of exit polling data to make their point.
This wouldn't be first time that black women have done significant political organizing around a crucial election for Democrats. During the governor's race in Virginia this year, a majority of white women voted for Republican Ed Gillespie. Gillespie took a number of controversial stances, including negative comments about African American football players protesting police brutality. Ultimately, Democratic candidate Ralph Northam won — and that appeared to be the result of the stunning 91 percent of black women who supported him.
For many social media users, simply thanking black women for their dedication at the polls isn't sufficient. They suggested that if people want to show their appreciation for black women's dedication, they can lift the voices of black women in different professions, including media, politics, and arts. Twitter user Charlotte Clymer noted that gratitude wasn't enough to honor the hard work black women put into the Alabama special election.
Thanking Black women for showing up and getting shit done is great but we should be amplifying them in positions of leadership, too. As [the Democratic party], we need to do a better job of supporting women of color candidates. Better recruitment, better funding. NOW.
But while some Twitter users pointed to the organizing black women did to get out the vote for Jones, others stressed that politicians shouldn't take black women's votes for granted. As Charlene Carruthers, national director at the Black Youth Project 100, tweeted:
Black women are not political mules to be used every time a mediocre white candidate needs to win. No amount of verbal appreciation will do us justice. Turn over the money, resources and power, then we can talk.
Other Twitter users were blunt about why they thought black women supported Jones over Moore.
Like I don't think people get that Black women don't turn out because of some maternal instinct to save everyone. We get usually hit first and worst by oppressive policies so we are saving ourselves. You just benefit.
That's an observation that echoes political science professor Katherine Tate's book, From Protest to Politics: The New Black Voters in American Elections. According to Tate, black women vote by taking note of candidates' policies that would most harm both themselves and society at large.
Still others suggested that white women take a hard look at their political choices, saying that taking morally questionable candidates to tasks shouldn't be black women's burden. As Essence editor Dani Kwateng-Clark said on Twitter:
White women REALLY need to do the internal work within their community. The responsibility can no longer be on black women to carry the weight of moral responsibility in this country. This is sickening.