Lucas Hedges Is Having A Huge Year — Here's How He Stays Grounded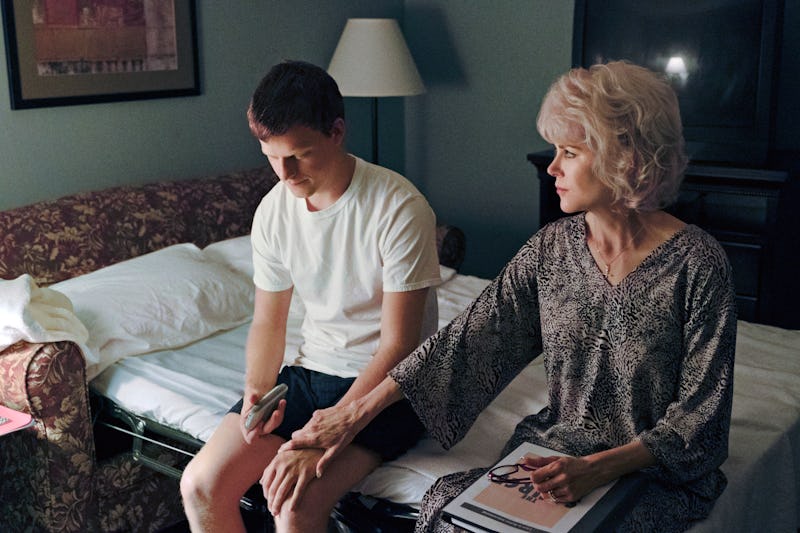 Focus Features
The past two years have been a roller coaster ride for Boy Erased star Lucas Hedges: an Oscar nomination for Manchester By the Sea; a touching turn in Greta Gerwig's Lady Bird; a supporting role in awards show heavyweight Three Billboards Outside Ebbing, Missouri; and a Broadway debut in Kenneth Lonergan's The Waverly Gallery. And now he's an awards show frontrunner with his first lead role in Boy Erased. Lucas Hedges has crafted a prestigious career most actors spend decades hoping for and trying to achieve — and some will never even see a fraction of that kind of success. But despite performing eight times a week on Broadway while simultaneously embarking on a long season of award campaigning in yet another critical darling, the young actor isn't planning on slowing down anytime soon, and he refuses to get complacent.
"I feel like for me to say that I haven't achieved some kind of success would be like totally ignorant and ridiculous because I do recognize myself as being in an incredibly lucky position," he says over the phone in November. "But the water kind of settles at every place and once I get to work with one artist, there is always a hunger to do more and to get right what I feel like I haven't gotten right before in projects. It doesn't feel like there is a place of success that is achieved that keeps me safe, you know? It's always changing."
In his short-yet-meteoric rise to A-List stardom, Hedges didn't follow the "normal" Hollywood path of starring in some breakout role to become a household name. Instead, he built up his resume with supporting roles and somehow still stole the show with each one, from playing a grieving teen who just lost his father to a young man struggling with his sexuality. But with Boy Erased, he's finally the star. If you ask anyone following his career, that's a huge milestone, but if you ask Hedges... well, he measures his success differently.
"I feel like probably when I got Manchester by the Sea, that was the first moment where I felt like something really big had happened," he says, before quickly amending that with, "Honestly, going back to when I got Moonrise Kingdom, my first movie, I felt like that's when my dreams had come true."
So how is he taking this all in stride? "Meditation's really important," Hedges says. "And this play, outside of the fact that I love the play and wanted to do it, something that was exciting about the prospect of doing it now is that I have a bunch of movies coming out and I feel like it's something that I have to keep my head on straight to do. I can't get caught up in the press or lost in how I want the movies to be received. I think having a job that I have to show up to is very helpful for that."
Also this year, he'll appear with Julia Roberts in Ben Is Back, as a young man trying to adjust to life outside of rehab. Hedges also breaks out of his self-made streak of playing sensitive, troubled characters with Jonah Hill's directorial debut, Mid90s, in which he portrays a brutal bully. But what he's really looking forward to doing is comedy, since he's never gotten the chance to do it before.
"I would love to play somebody who is very animated and over the top, but at the same time in a grounded way," he says. "I think about Phillip Seymour Hoffman in Along Came Polly as this amazing performance that is comedic but very truthful at its heart. That's something I'd like to explore."
In Boy Erased, now in theaters, he's once again playing a teen struggling with his sexuality, as he did in Lady Bird. But this time, he's not just the best friend. He's the main character who, after he's outed in the most traumatic fashion to his extremely religious and southern family, gets sent to a conversion camp to "pray the gay away." Based on the true story and memoir of the same name by Garrard Conley, Boy Erased chronicles his experience of going to a brutal conversion camp to please his Christian parents and being pushed to a breaking point before ultimately learning to accept his sexuality and live his life on his terms.
"It's not only the first lead [role] for me, it's also based on a true story," Hedges says. "There was twice as much pressure, I felt, in wanting to get it right. I wanted to do right by the real-life person, Garrard. And I didn't want to let [director] Joel [Edgerton] down. It made me want to prep extra hard and I was really anxious, really scared and didn't want to mess it up."
He pauses, then adds, "I tried not to take it for granted."
Boy Erased is an incredibly emotional story on its own (be prepared to cry all the tears). And with the added weight of knowing that it's based on not only a real person's experience but also that of anyone who has ever been sent to conversion therapy, Hedges didn't take lightly the "cultural significance" of shining light on the extremely problematic and abusive environments of conversion camps.
"We were working on it at times with the awareness that it could maybe — like, in an ideal world, this movie could save somebody's life and change or start a conversation in parts of America in which this is not being spoken about," he says. "It's currently legal in 36 states. In a dream scenario, it could create some change."
The film debuted in a time where LGBTQ+ rights are under attack from the current administration. But Hedges stresses that "we didn't try to make a movie that would just preach to the converted."
"It's not for just the people in the liberal parts of America to go watch and think, 'Oh yeah, these are the bad guys and we're the good guys,'" he adds. "If anything, it's a movie for the people in America who would consider sending their kids to conversion therapy. Joel purposefully didn't want to villainize anyone for that reason."
Boy Erased is "a story about a family first and foremost," according to Hedges. "And parents who try to do the right thing for their son but ultimately don't know how to take care of him. He has to learn for himself how to live his life and what the affects of that have on his family, is the ultimate message of the film."
The film is an emotional roller coaster from start to finish, with a few key scenes that might be hard for some to watch. But the story being told is important for anyone who has ever gone or currently going through a similar experience, or for anyone who might be subjected to this "therapy" in the future. But it's Hedges' scenes with Nicole Kidman, who plays his loving and conflicted mother, that will break your heart. And according to Hedges, their onscreen connection was immediate.
"Nicole is like … she kind of drifts in and out of my life and like disappears," he says with a sigh. "She comes and then she goes, and I don't know where she goes. I met her on set and fortunately we had it from the start. We didn't have time to work on it together because I think she's just working with a very busy schedule. But I felt like that connection was really there when we first met and still is." He sighs again, then adds, "I don't know, some people, when you look at them, there is a connection and others, there isn't. I got lucky."
Luck may be having its say, but Hedges' talent and drive are undeniable on their own, and if he has his way, the best is yet to come.