How Brie Larson Knew That 'Captain Marvel' Would Speak To Women In Their "Secret Language"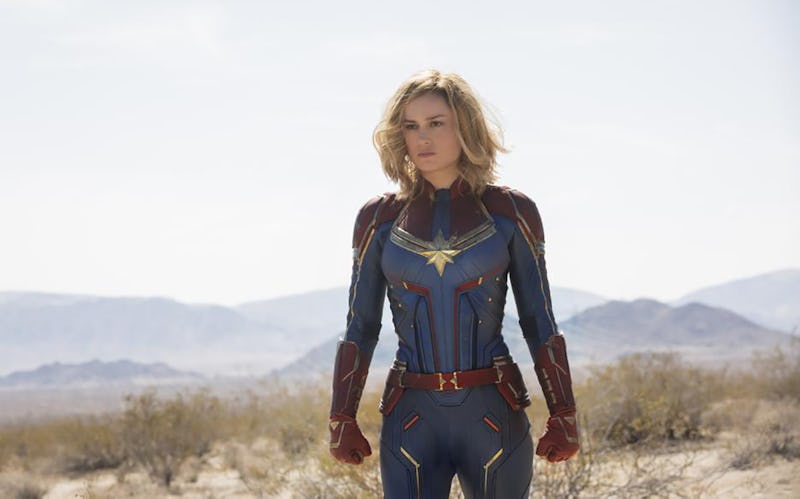 Walt Disney Pictures
After 10 years of watching male comic book heroes kick, punch and fight on the big screen, Marvel isn't holding back with its first female-led superhero film. Captain Marvel, in theaters March 8, 2019, introduces the world to Carol Danvers, the strongest of all the Avengers (yes, even more so than Captain America!), and she's already been called on for help by the very end of Avengers: Infinity War. She's the secret weapon against Thanos' universe-shaking snap. But aside from a mysterious pager message, audiences haven't really met her yet. For the character's '90s-set origin story, Brie Larson says that Marvel made the effort to make Carol the representation women have been craving from the comic book movie genre for the past decade.
With screenplay credits for Geneva Robertson-Dworet (Tomb Raider), Jac Schaeffer (TiMER) and the writing/directing team of Anna Boden and Ryan Fleck, Captain Marvel isn't just making history by centering its female hero in big action set pieces. It's also striving to be a "big feminist movie" in the smaller moments and in its dialogue, according to Larson. When Bustle visited the set of Captain Marvel earlier this year during production, the film's star was eager to reveal how — from the start — the team at Marvel was clear about their plans to make this movie as true to the female experience as possible.
"It's kind of everything that I've wanted," Larson a group of journalists on set. "I don't do movies based upon any hidden agenda other than I just want more representation and I want to do what I can to bring more representation, and to see more colors of what it's like. I know my limitations and I know that I'm still just one white girl. And I'm just trying to do as much as I can within that, within the framework of my body."
When it came to bringing her own ideas to the film, Larson was relieved to see that, become the script was penned by mostly women, she didn't need to suggest changes for the shortcomings she's occasionally finds.
"I didn't realize how vital [female writers were] until I read it for the first time and realized little things, little moments that ... have always been like snags, and things that I've had to fight for," Larson says. "Like male characters in this script said, 'We gotta get that woman.' ... If a man had wrote it, generally I'd see, 'We gotta get that girl.' They're just slight things, and I realized it changed the way I viewed myself. I was like, 'Oh my god, I'm a woman.'"
As an actor, Larson comes to projects ready to speak up for representation. But Captain Marvel was like a breath of fresh air in that way.
"The beauty of this is that there's been so many women involved in the making of it that I don't feel like I've had to fight as much 'cause I felt understood from the beginning," Larson says. She was relieved to see that Marvel "understood innately" how Captain Marvel couldn't just rest on her shoulders; it had to be representative of the female experience in everything from the dialogue to the costumes to the direction.
"If you're going to tell this story you've got to make sure that it's really embedded in everything," the star explains. "It has to be in the script. It has to be in every part of it ... that it speaks to us, that finally we're allowed to see our personal hidden secret language. I'm sure there are movies for you guys as dudes, that you're like, 'Whoa, that's so true to my experience.' We've never had that."
Until now. Women may not be able to relate to Carol Danvers being one of the universe's most powerful heroes caught in the middle of a galactic war between two alien races. But watching her own her power and be "unapologetic" is something that Larson connected to while bringing the "revolutionary" hero to life.
"I love that she's not apologizing for her strength, first as just a human in the Air Force, that she's never trying to shrink herself because of who she is," the actor says. "And she can't even be somebody else if she wanted to. She can't. It's like she can't be contained. And I think that is such a beautiful thing. She is just herself, and cannot be contained. She's, like, wild."
Larson has been a staunch supporter of women's rights and equality, so it's only fitting that she's about to make history as the star of Marvel's first solo female hero film. But like the true superhero she is, she's not feeling any pressure about that responsibility.
"I don't feel nervous, mostly because I've found a way to just keep my head down," she says. "I also find the character so inspiring that whenever I feel nervous and scared I feel like I can turn to her and I feel like, 'No, I got this.' And that feels really awesome. I feel like I have the same awe over her that a lot of her fans do and so hopefully that bleeds through into this."
But Larson also wants to stress that she's not perfect, and neither is Carol. "It's really important to me that I stay a person, and that means I'm going to make mistakes," she says about her newfound fame as a Marvel star. "It definitely is scary to think of people paying attention to me. And I'm not going to act super-strong when I've been kind of freaking out seeing how quickly my numbers on Instagram have been going up since Avengers: Infinity War came out. Oh god, I did not think about that. Like why are people paying attention to me?"
Having superpowers is cool and all, so is being someone who is "just a person" and can still make a difference. Is it March 2019 yet?