How Bryan Knew Rachel Would Choose Him On 'The Bachelorette'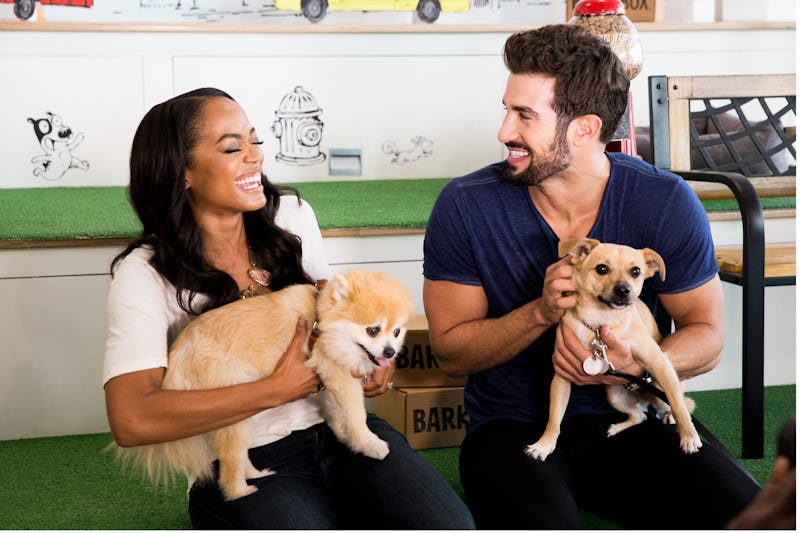 courtesy barkbox
The results of The Bachelorette finale shocked America. It seemed that even after their emotional break-up was depicted on screen, fans were still holding out hope that Rachel and Peter would be the ones engaged at the end. Even I thought that bringing Peter out midway through the show was an elaborate episode of Punk'd— that is, until he almost started crying and Rachel told him she was living her best life. But even though many fans were confused by Rachel's choice, winner Bryan Abasolo insists that he was Rachel's pick all along.
"It's crazy because everybody harps so much on the finale," Bryan says to reporters during a press event for the BarkBox at Target launch. "It's like first impression rose, biggest group date rose, I have the watch ... who gives this to somebody they're going to dump in a couple of weeks?"
It's true that the watch should have been a dead giveaway that Bryan would be the winner. During their one-on-one date in Geneva, Bryan and Rachel went window shopping at high-end watch store Breitling, only to have Rachel surprise the chiropractor by declaring that she was getting the watches that both of them had picked out. Bryan looked genuinely shocked, and for a minute Bachelor Nation wondered whether this pricey gift was a sign of his inevitable win. But even though Bryan kept posting pictures with his watch, die-hard Peter fans still held out hope that this was merely because it would be silly for him to throw away such an expensive item. But, as Bryan claims, it really was a sign all along.
Bryan also says that America wasn't given the full picture of his and Rachel's love story. "You may love two guys at the same time but who can you not live without?" the Miami native says about the choice between him and Peter. "There are a lot of things you don't see and things that transpired that America unfortunately didn't get to see." One thing viewers didn't get to see is Bryan meeting Rachel's dog Copper since she took Peter on that doggy date during the show. But, as a protective and caring dog mom (Copper is a big fan of the Bark toys, which is why Rachel was doing the event), it's unlikely Rachel would stick with a guy her pup didn't like.
Still, it's unclear whether seeing more of Bryan and Rachel would have warmed fans up to their relationship. He was pretty universally disliked during the season, and it's possible that more screen time would have exacerbated that reaction.
But despite all the haters, if Rachel and Bryan are genuinely happy and looking forward to a future together, we should all try to be supportive of the newest Bachelor Nation couple.
Or, you know, get yourself a glass of wine, throw yourself into the upcoming premiere of Bachelor in Paradise and forget the whole thing ever happened.