Applying To Be On 'GBBO' Is Actually Way Easier Than You'd Think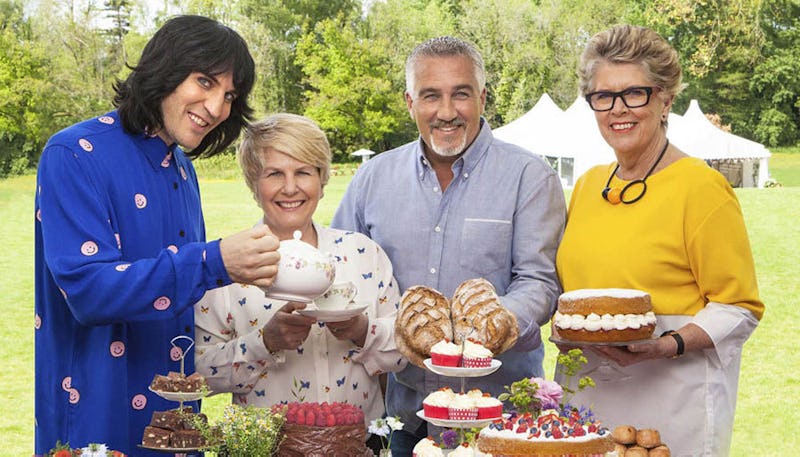 Channel 4
Are you confident in your baking? Do your soufflès rise? Are your Yorkshire puddings crispy but gooey in the middle? Do your chocolate fondants burst open like a stream of scorching hot lava? And most importantly, are your pies dearth of the dreaded and disastrous soggy bottom? OK, brill babe, then how can you apply for The Great British Bake Off 2019? Because like, all that sounds delicious AF and I want it on my telly if I can't have it in my mouth.
It really is quite amazing how season after season, reality shows like The Great British Bake Off manage to come back with more exciting contestants and are able to make the same old annual challenges seem fun every time, while also bringing in a few new little nuggets every year.
The show has garnered such a following that if you manage to get on it, it is literally a life changing event, whether you win or not. So why wouldn't you? Look at superstar baker and now TV star Nadiya Hussain, who is revolutionising the food television genre.
So, how do you get a slice of the cake? A piece of the pie? OK, I'll stop.
As always, it really is best to strike when the iron is hot. Tally ho etc etc. So the gang over over at Love Productions open the applications process immediately after the final. Yes! Soak up all of that dang inspiration and get to it. Why not even bookmark the page for entry? Why the soggy bottom not? The entries will be live from after the final over at the show's official website, which you can visit by clicking here.
Historically speaking, the opportunity to apply is only within a few months' window, with applications closing around January. Yep, you have a few months but like, a few months flies so do not dawdle here. After you apply you have the painful wait until March and by then, if you haven't heard, then it's probably not your time in the tent yet. Meh, I choose to be optimistic, you can do this babe. You can. And imagine, a life-changing experience in a tent which isn't an awful night's sleep far closer to nature than you would ever want to be?
On the website for the show, they make no bones about it, making it clear that like, you just have to apply for this RN. OK or when you can but like I said before, bookmark this page.
The website reads:
"Are you bonkers about baking? If you find yourself surrounded by rolling pins, scales, wooden spoons and measuring cups on a regular basis, and have noticed that you're almost always coated in a fine layer of flour, you might be ready to take your talent to the next level by going on the Bake Off."
Yeah, not to mention getting to know the lit AF presenters and judges? Erm, Noel Fielding and Sandi Toksvig? I'll take a huge slice of hell yeah on that one.
The site also lets you know that like, it is not an act. They do actually totally love each other and get on. They quote baking star of Season 8, Chris Geiger, who is a total advocate of the show being a low-key way to get some BFFs for life.
"I was cynical about previous bakers' friendships, but I totally get it now. My best moment was meeting the other bakers and making 11 new friends instantly. It sounds cringey but it's so true. We swap jokes, recipes, and naughty innuendos over our WhatsApp group."
OMG what innuendos, Chris? Baguettes? Blancmange? Toad in the hole?
I guess you will have to wait until you star on the show and totally leak that stuff on your Insta.
OK, cool can't wait to see you on there.
Watch the show every Tuesday on Channel 4 at 8 p.m.