9 Romantic Date Ideas If Your Partner's Love Language Is Physical Touch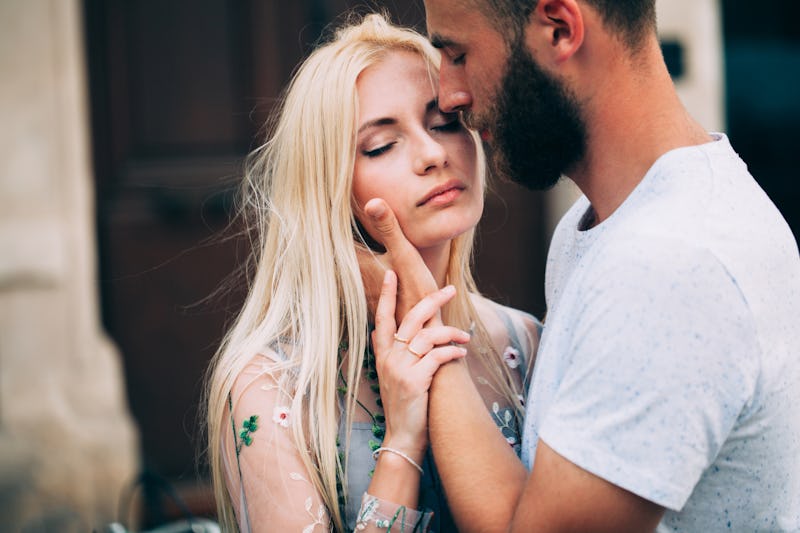 4Max/Fotolia
If you're in a happy, loving relationship, you could probably have fun doing just about anything with your partner, whether it's folding the laundry or playing mini golf. But even though every day might feel like a date, that doesn't mean you shouldn't also be making an active effort to keep the romance alive in your relationship by planning date nights for your partner that will make them feel loved and appreciated — which can be tricky, because not everyone expresses love in the same way. Fortunately, figuring out how to make your partner feel loved is as simple as learning which of the five love languages — Quality Time, Acts of Service, Receiving Gifts, Words of Affirmation, and Physical Touch — they speak, then planning dates that coincide with their love language. So what does it mean for your dating life if your partner's love language of choice is physical touch?
"If someone's love language is [physical] touch it means that they are fed by, need, and are brought joy and connection through touch," Patti Wood, nonverbal communication expert, tells Bustle. "They may feel depressed, stressed or unloved if they don't receive enough touch and may not feel emotional intimacy with someone if that person does not fulfill their touch needs."
Armed with that knowledge, you can start finding little ways to show your partner you care while out on dates, like making sure to hold their hand while walking around or giving them a smooch when they say or do something sweet. "With dating, specifically with those whose love language is physical touch, I always encourage clients to sit side by side with their date or partner rather than sitting across from one another," Erica Arrechea, Professional Matchmaker at Cinqe Matchmaking, tells Bustle. "Sitting across from one another creates distance while sitting next to one another helps create more intimacy; it's easier to touch their back, leg, hold hands, all romantic and physical acts of intimacy."
Just because your partner's love language is physical touch doesn't mean you have to be cuddled up 24/7: even the simplest, smallest forms of physical contact can make them feel loved by and connected to you. If you're looking for intimate date ideas that will allow you and your physical-touch-loving partner to connect, here are nine date night plans that will give you plenty of opportunities to get physical.