Carrie Fisher Influenced Women To Be Themselves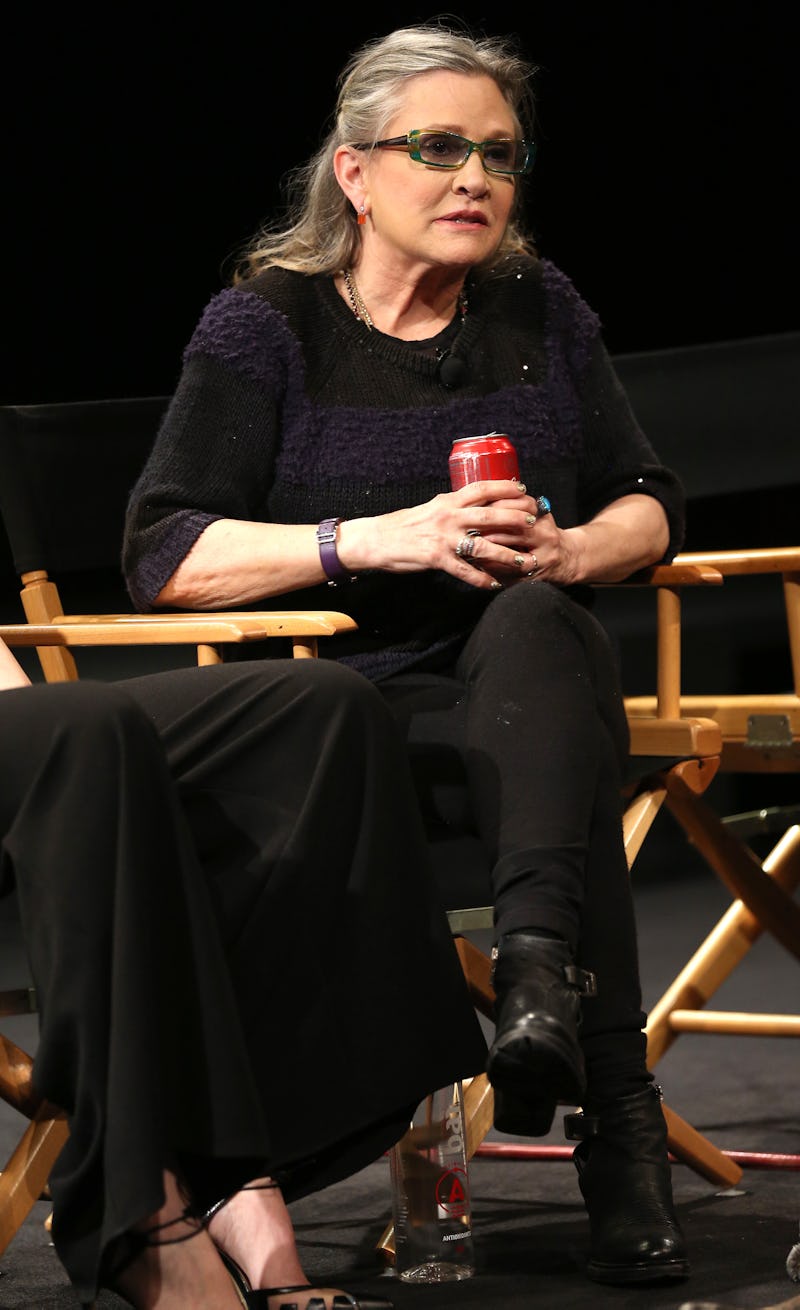 Robin Marchant/Getty Images
Princess Leia is now resting in a galaxy far, far away: Carrie Fisher has died at age of 60 after suffering a heart attack. While Fisher may be gone, she certainly won't be forgotten. With just her second movie role, 1977's Star Wars, Fisher became an icon for little girls who weren't interested in being fairytale princesses. Her princess, Leia, made it clear that women are not damsels in distress who need saving, but that they can lead the rebellion all on their own. Over the course of her 41 years in show business, Fisher was always a role model for women — not just onscreen, but off.
It's fitting that, before her passing Fisher got a chance to reprise her most famous role in 2015's Star Wars: The Force Awakens where she was no longer a princess, but a general. She knew that it wasn't just in the movies that women were forces to be reckoned with. It's why she was never shy about expressing her opinions, even if they weren't the most popular. The thing about Fisher was that she was unafraid. She didn't care what you thought about her and was quick to let you know that. She was even quicker to let other women know that they didn't have to care either.
Fisher did this by being honest about her own struggles. Her life was an open book that made her a famous author. She wrote about her unconventional childhood with her mom, Singin' In The Rain actress Debbie Reynolds, in Postcards From The Edge, which was later turned into a movie starring Meryl Streep. More recently, she wrote about her experiences on the set of Star Wars in her latest book, the memoir The Princess Diarist. In it, she shared details of an affair she had with her co-star, a then-married Harrison Ford. Details like these were deemed salacious by tabloids looking to sell magazines, but Fisher never apologized for telling the truth.
In an interview with People, Fisher admitted it wasn't easy to go back to her diaries. "It was sad because I was so insecure, and it's very raw and obviously I didn't expect anyone — including myself, I suppose later on — to read it," she said. But Fisher's dedication to sharing the more taboo details of her life that even she wasn't always comfortable with sent the message that she had nothing to be ashamed of.
In 1985, Fisher was diagnosed with bipolar disorder, a mood disorder that is characterized by unpredictable mood changes. "I outlasted my problems," she told ABC News in 2007. "I am mentally ill. I can say that. I am not ashamed of that. I survived that, I'm still surviving it, but bring it on. Better me than you." Fisher was an advocate for mental illness, speaking openly about her experiences with the disorder. Her goal was to end the stigma that went along with having a mental illness.
As she told The Herald Tribune in 2013, mental illness shouldn't hold anyone back. "Stay afraid, but do it anyway," she said was her advice to those suffering from mental illness. "What's important is the action. You don't have to wait to be confident. Just do it and eventually the confidence will follow."
Fisher never tried to hide her flaws, but instead embraced them, using them as a way to bring awareness in her writing. Her 2008 memoir Wishful Drinking focused on her prescription drug addiction, which she said she feared would define her. But, in a 2010 interview with The Guardian Fisher took personal responsibility for her addiction, explaining, "If it was Hollywood [that was to blame], then we'd all be dope addicts." The message was that only she got herself into this mess, and only she could get herself out.
As she got older, Fisher continued to find strength in vulnerability. In 2015, she let the world know she wasn't interested in hearing their take on her aging process. "Please stop debating about whether OR not [eye emoji] aged well. unfortunately it hurts all 3 of my feelings," she tweeted. "My BODY hasn't aged as well as I have."
But she also opened up about the agism in Hollywood, alleging to Good Housekeeping UK in 2015 that she was asked to lose weight for The Force Awakens. "I'm in a business where the only thing that matters is weight and appearance. That is so messed up," she told the magazine. "They might as well say get younger, because that's how easy it is."
Fisher never followed the rules, and, because of that, she encouraged generations of women to rebel. Or, maybe more importantly, she encouraged women of all ages to survive. Like Leia, Obi Wan Kenobi was not her only hope. She just needed to find her own voice. Once Fisher did, she helped other women find theirs too and know that they weren't alone in all their beautiful vulnerabilities.