How Clothing Empowers These 5 Women To Take Charge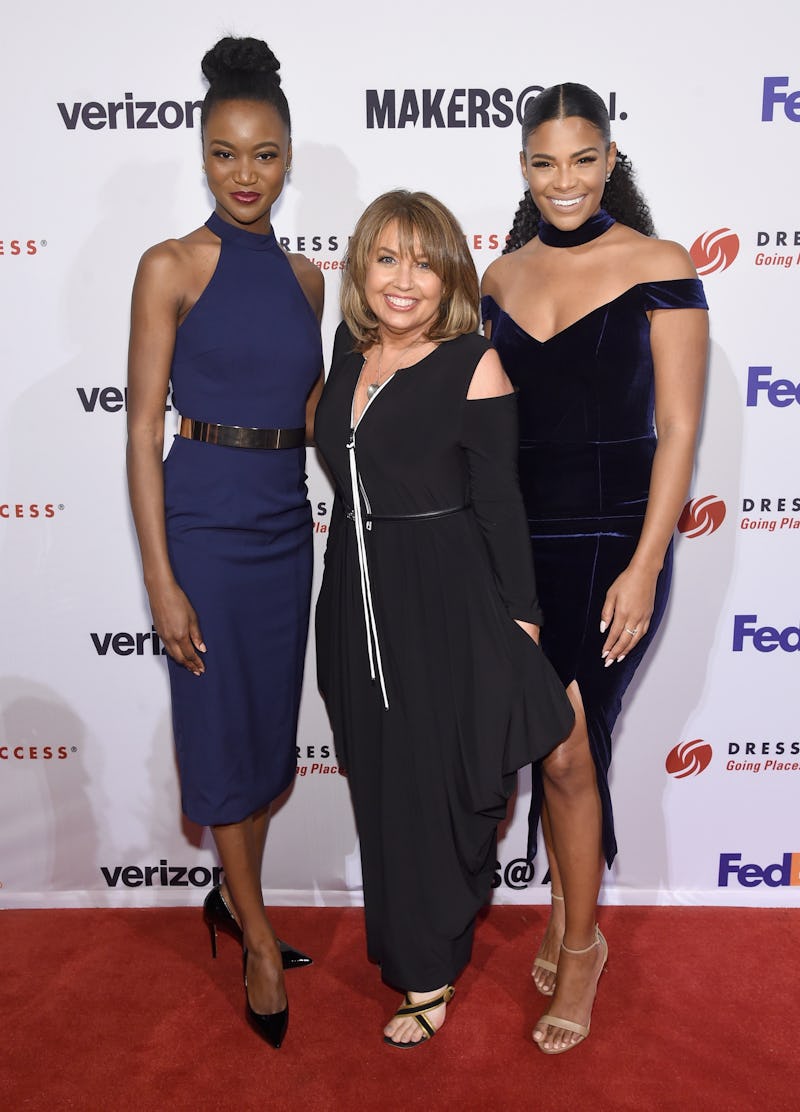 Jamie McCarthy/Getty Images Entertainment/Getty Images
When preparing for a job interview, there's one saying that most candidates follow: "Dress for the job you want, not the job you have." But, you may be taking your ability to achieve that level of professionalism for granted, because many women in America don't have access to work or business clothes. Fortunately, there are organizations like Dress For Success, which, according to its website, "Empowers women to achieve economic independence by providing a network of support, professional attire and the development tools to help women thrive in work and in life." The organization celebrated its 20th anniversary recently in New York City with a special fundraising gala, bringing together dozens of powerful women who each value the life-changing opportunities Dress For Success offers women and the empowering effect clothing can have in the workplace and beyond.
"I think just being able to look the part instills the confidence in a woman who is interviewing and really impacts how she interviews," Miss USA 2016 winner Deshauna Barber tells Bustle on the Dress For Success 20th Anniversary red carpet. "Image is everything sometimes and, as women, when we're walking into a professional setting, it's important to look the part. That's hard to do if we don't have the right dress, or the right suit, or the right heels."
Fashion designer Nicole Miller was also on hand to show her ongoing support and to celebrate this important milestone. As a longtime partner of Dress For Success and a prominent member in the fashion industry, Miller has seen the positive impact that wearing a powerful outfit can make on women firsthand. "It gives you confidence. And the one thing that I always say is, 'If you feel comfortable and you feel that you look good, it gives you confidence,'" she says. "And no matter what it is, whether you're going to a black-tie event or to a job interview, the clothes will give you power."
Barber wasn't the only pageant winner on the red carpet. Former Miss Teen USA winner Kamie Crawford was there to show her support for the work Dress For Success has done to make fashion obtainable. "[This organization] shows that fashion can be inclusive to everyone and that owning your look is really, really important," she says. "As long as you have your look and it's how you want to present yourself to the world, that's what's most important. Women need to be lifted up a lot more; we do a lot of tearing each other down. I feel like it's time to ban together. Girl power!"
This strong desire to promote female empowerment was shared by everyone in attendance, who each applauded the organization for paving the way for more women to gain the power and confidence needed to make this happen. "[Dress For Success] is important because right now, it's all about women's empowerment and feeling confident in your own skin," says Natalie Suarez, founder of the lifestyle blog Natalie Off Duty. "It all kind of starts with how you feel inside, so that you have the courage to broaden your horizons, have more opportunities, and have the confidence to go out there and change your future."
"We are women that are able to make a change."
Dress For Success' special anniversary comes at a time when women are still fighting for equality in the workforce. Women enter their field knowing that they receive less pay than their equivalent male coworkers. With such discouraging and unfair obstacles in their way, there's no denying that women need to overcome these adversities now more than ever.
"Anything that we can do as an organization that can promote women is very important because you're showing that women are important," Barber says. "[Dress For Success] focuses on women empowerment to make sure that we provide as many resources as possible to make sure that women are just as successful in this country as men. We are women that are able to make a change."
With so many influential and successful women in one room, it was hard to pass up on the opportunity to get some career advice. My favorite piece of advice came from "American Boy" singer Estelle, who explained that finding success isn't an easy journey, but it starts with having the assurance in yourself that it will come. "My whole thing is, you're here. You got it. You're here," the Grammy Award winner said. "I think it's very daunting when you go for job interviews or you go for something and it's like, 'Oh, can I? Will I?' You're here for a reason and [the opportunity] wouldn't have come to you if it wasn't for you. So, go for it. Go with everything in your heart knowing that it's for you."
She's right. Women are here for a reason and we can lift each other up to achieve all that I know we collectively can.