The Olympics Survived Zika Virus Scares, But Experts Aren't So Sure About Coronavirus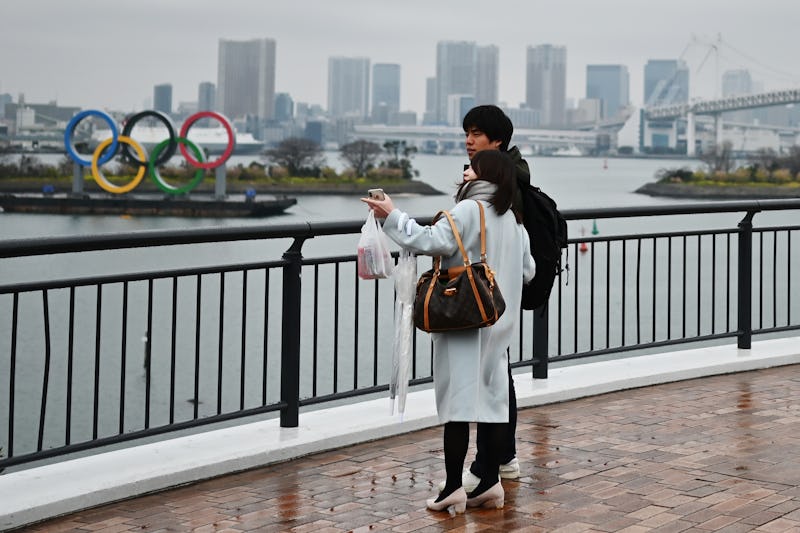 CHARLY TRIBALLEAU/AFP/Getty Images
This post is updated regularly to reflect the latest news and science around coronavirus, also known as COVID-19.
In a March 3 statement, the International Olympic Committee (IOC) announced that despite coronavirus concerns, the 2020 Olympic Games in Tokyo, Japan are still scheduled to run July 24 to Aug. 9. As the IOC works with the Japanese government and the World Health Organization (WHO) to assess the ever-changing situation, epidemiology experts have different takes on how the Games could pan out if the outbreak isn't contained.
The IOC tells Bustle that any major schedule changes are "hypothetical" right now, and that preparations are moving forward as planned. At the moment, the committee is publicly encouraging all athletes to continue preparing for the Olympics, despite coronavirus concerns. Still, there have been some bumps in the road.
2020 Olympics Schedule Changes Due To Coronavirus
For the first time in 35 years, on March 12, the Olympic torch in ancient Olympia, Greece was lit without spectators, for safety. However, the Olympic torch handover is still scheduled to happen as planned in Athens on March 19, according to the IOC. And to protect some of its top athletes, the U.S. Olympic and Paralympic Committee nixed their planned media summit for the Tokyo Games on Monday.
While the official Games are still on, qualifying event cancellations and postponements are becoming increasingly regular. Here are just a few of them: the Olympic test events for shooting and rugby in Tokyo, Italy and China's Olympic swimming trials, and the Olympic women's qualifying water polo tournament in Italy. For more information, you can check out ESPN's expanding list of sports events being affected by coronavirus. Not to mention, the Olympics' 80,000 volunteers will now go through training in May instead of February because of COVID-19.
COVID-19 is also already impacting the 2022 Winter Olympics in Beijing too, as the first test event in alpine skiing was canceled.
In an interview with The Wall Street Journal published on March 10, Haruyuki Takahashi, a member of the Tokyo Olympic Committee executive board, said that if the Games don't go as planned, rescheduling them one or two years later would be the best bet. However, Tokyo Organizing Committee chair Yoshiro Mori later clarified, "Our basic stance is to proceed with our preparation and to hold a safe Olympics." Still, according to U.S. News & World Report on March 13, economic policymakers in Japan are beginning to think about how canceling the 2020 Olympic could affect the economy. A source told the outlet that the country's upcoming economic package will take those risks into consideration.
Coronavirus' Impact On Olympic Athletes & Their Training Routines
The IOC is still encouraging athletes to continue training as usual but tells Bustle that they are being referred to a precautions list created alongside IOC Scientific Director, Dr. Richard Budgett, OBE. The list instructs athletes to be diligent with personal hygiene, to keep at least three feet from anyone coughing or sneezing, and to stay home if they feel unwell. The Olympics' "Coronavirus advice for athletes" webpage reiterates WHO guidelines.
In addition, Yahoo Sports reports that the Chinese Athletic Association (CAA) is taking serious action to protect its athletes. On top of restricting access to training gyms, the Beijing base has added a disinfection chamber that all athletes and coaches must go through to get into the Olympic training gym. Inside, equipment is regularly wiped down throughout the day. CAA is also having athletes check their temperatures three times a day, eat their meals alone, and limit their social hangouts.
Meanwhile in the U.S., athletes are continuing to train and follow coronavirus safety guidelines. Olympic swimmer Katie Ledecky told The Washington Post that she's limiting her exposure to crowded places, washing her hands regularly, and watching the headlines closely.
Coronavirus Cases In Tokyo, Japan Ahead Of The 2020 Olympics
Japan has experienced an uptick in cases, and has reported at least 845 confirmed sick patients and at least 27 deaths, on land, with another 696 sick cases and 7 deaths off shore on the Diamond Princess cruise. In response to the situation on Feb. 20, the CDC declared a level two travel advisory for Japan, which encourages travelers to exercise increased caution. Additionally, Japan is barring a majority of travel from China and South Korea at least until end of March.
To minimize the spread of the coronavirus within the country, most regions in Japan have also shut down schools, and authorities are encouraging all employees to work from home, if possible. Public transportation is still running, but with so many people working and studying from home, subway ridership is down 20% to 30%, according to Nagoya's Transportation Bureau.
Have The Olympics Ever Been Canceled Before?
2020 isn't the first time virus fears led to murmurs about canceling the Olympics. In 2016, people wondered whether the Rio Games would be called off because of Zika, a virus primarily spread through infected mosquitos. In the end, there were zero reported cases of Zika at the Rio Olympics, and there's reason to believe this year's Games will withstand coronavirus concerns, too. It takes a lot to put off the Olympics: they were canceled in 1916, because of World War I, and again in 1940 and 1944 due to World War II.
Will The 2020 Olympics Be Canceled Because Of Coronavirus?
Aside from the fact that we're not in the middle of a world war, it's hard to know what the coronavirus situation will look like in July or August. "Other coronaviruses tend to have very strong seasonality and there are practically no active infections in these months in the Northern hemisphere," Dr. John Ioannidis, Ph.D, Professor of Medicine at Stanford University, tells Bustle. "It is probable, but not certain, that this will be the case also for COVID-19."
And while people might be hesitant to sit in a crowded stadium during the outbreak, canceling the event altogether could come with its own set of problems. More extreme measures, like calling off the Olympics, could "have unknown effectiveness and are highly disruptive in many ways for the society and the economy," Dr. Ioannidis points out. CBS Sports reports that cancelling or even delaying the Games would cost Japan anywhere between $12.6 to $25.2 billion dollars.
On the contrary, Dr. William Hanage, Ph.D, Associate Professor of Epidemiology at Harvard University T. H. Chan School of Public Health, isn't so convinced. He tells Bustle, "even if the virus is under some kind of control in some places by then, the risks of gathering folks from so many places would be too great." He admitted that he'd be surprised if the Games go on.
Despite scholars' conflicting opinions, NBC tells Bustle that it is "optimistic the Olympics are going to happen." The IOC has until May to make the final call.
Sources:
Dr. John Ioannidis, Ph.D, Professor of Medicine and Epidemiology and Population Health at Stanford University
Dr. William Hanage, Ph.D, Associate Professor of Epidemiology at Harvard University T. H. Chan School of Public Health
If you think you're showing symptoms of coronavirus, which include fever, shortness of breath, and cough, call your doctor before going to get tested. If you're anxious about the virus's spread in your community, visit the CDC for up-to-date information and resources, or seek out mental health support. You can find all Bustle's coverage of coronavirus here.
This article was originally published on