Everything Experts Want You To Know About Coronavirus Right Now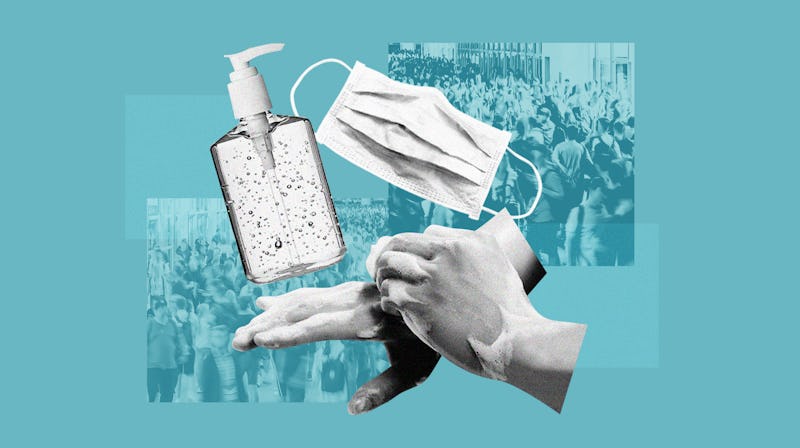 Margaret Flatley/Bustle
Since the illness was first discovered in Wuhan, China, in late 2019, the novel coronavirus, which causes the disease COVID-19, has now spread globally. On March 11, The World Health Organization declared the coronavirus outbreak a global pandemic, as the number of cases and affected countries increase. Across continents, people are wondering if they have the coronavirus, even if they aren't in a coronavirus-affected region. While it's important to prepare for the possibility of the virus spreading, experts are urging caution and calm as public health officials work to contain the risk of contagion.
"The level of risk is different for each person," Dr. Edith Bracho-Sanchez, a pediatrician and assistant professor at Columbia University's Irving Medical Center, previously told Bustle. "If you had a true, known exposure [to coronavirus], then you absolutely should not be going out in the community." Otherwise, the best thing you can do is prepare yourself with information about COVID-19. Oh, and wash your hands.
How Does Coronavirus Spread?
The way coronavirus is spread is through respiratory droplets, or what comes out when you cough or sneeze. When an uninfected person comes in contact with these droplets — think touching an infected surface and then touching their face, nose, or mouth — they can become sick. Covering your mouth with your elbow when you cough or sneeze, or using then discarding tissues, can protect people around you from coming into contact with the virus. Washing your hands frequently for 20 seconds with soap and water can also kill the germs in any droplets. (The same goes if you have the cold or flu, by the way.) The CDC recommends that only people who are already sick with coronavirus, confirmed or suspected, or who work in healthcare settings use face masks to protect against spreading or inhaling these droplets.
Read more here:
What's Happening With Coronavirus In The UK?
The CDC Says The U.S. Should Prepare For A Coronavirus Outbreak
8 Myths About Coronavirus, Debunked
Want To Stop Touching Your Face? Wear Your Glasses
The CDC Says To Limit Contact. Here's How You Can Keep It Sexy At A Distance.
Is Public Transit Safe During The Coronavirus Outbreak? Here's What Experts Say
Here's What Experts Say About Dining Out During The Coronavirus Outbreak
The Biggest Questions We All Have About Social Distancing, Answered By An MD
What Are The Symptoms Of COVID-19?
The symptoms of COVID-19 are flu-like and can include fever, shortness of breath, and cough. (In case you're wondering, this is the difference between coronavirus and COVID-19: coronavirus is the virus, while COVID-19 is the disease the virus causes.) The World Health Organization (WHO) says some patients may also experience congestion, sore throat, or diarrhea. Loss of sense of smell has also emerged as a possible symptom. The vast majority of cases are not severe, and may be hard to distinguish from a cold or flu.
"One important distinction is that while the flu typically does not cause shortness of breath unless it has progressed to pneumonia, shortness of breath is a common symptom of coronavirus," Dr. Ramzi Yacoub, Pharm. D., SingleCare's Chief Pharmacy Officer, told Bustle.
Coronavirus can turn deadly when the initial respiratory virus causes difficulty breathing, pneumonia, sudden acute respiratory failure, or kidney failure; these complications are more likely among people who are elderly, pregnant, or immunocompromised.
Read more here:
Symptoms Of Coronavirus You Should Look Out For, According To Experts
How Coronavirus Is Different From The Flu, According To A Doctor
What You Should Know About Coronavirus If You're Traveling
Global travel has been disrupted as more regions report coronavirus infections. The CDC is continually updating its list of countries affected by coronavirus, and recommends avoiding any nonessential travel to regions heavily impacted by the virus.
Read more here:
If You're Flying During The Coronavirus Outbreak, Here's What To Know
What A Coronavirus Quarantine In The U.S. Is Like
How To Prepare For Coronavirus
For everyday consumers who aren't at risk, experts suggest having enough supplies on hand — nonperishable food, cleaning supplies, medications — for two or so weeks. Two weeks is the incubation period for the virus, so if you are self-quarantining, having 14 days' worth of supplies will ensure that you don't need to go out to get more if you develop symptoms. If you're not at risk of getting sick, having that amount on hand means you won't need to leave your house, where you could potentially get exposed to the virus.
Read more here:
What People With Roommates Should Know About Prepping For Coronavirus
Why Experts Are Saying You Shouldn't Make Your Own Hand Sanitiser
What A Doctor Wants You To Know About Going To The Gym During The Coronavirus Outbreak
What 3 Women With Chronic Illnesses Are Doing To Prepare For Coronavirus
How To Know Whether Or Not To Visit Your Grandparents Because Of Coronavirus
Coronavirus Anxiety Is Everywhere. Experts Explain How To Feel Better.
9 Senior Women On Coronavirus, Mortality, & Staying Positive
Where To Get Coronavirus Updates
As officials work to contain the virus, the global response is changing rapidly. Stock markets continue to fluctuate amid the uncertainty, and more global events are being cancelled or postponed out of an abundance of caution.
Read more here:
Expert Twitter Accounts For Coronavirus & COVID-19 Updates
The Best Newsletters For Accurate Info On Coronavirus
What Events Are Canceled Due To Coronavirus?
The NBA suspended the 2019-2020 season until further notice on March 11, after a player tested positive for coronavirus. On March 10, the Coachella festival announced that Coachella is being rescheduled for Oct. 9-11 and Oct. 16-18. It was originally scheduled for the weekends of April 10 and April 17. The Summer 2020 Olympics in Tokyo were also officially rescheduled for Summer 2021.
Locally, officials are working around the clock to keep people informed about the status of coronavirus in the United States. If you want regular updates on this news, you can sign up for The New York Times' daily coronavirus newsletter or follow these curated Twitter accounts.
What UK Events – From Glastonbury To The London Marathon – Cancelled Due To Coronavirus
Here Are All The Events Canceled Due To Coronavirus, From SXSW To The Rome Marathon
The Olympics Survived Zika Virus Scares, But Experts Aren't So Sure About Coronavirus
Coachella Isn't Canceled, But It Has Been Postponed Due To Coronavirus
Can Dogs Get Coronavirus?
Just as humans are concerned about spreading the virus among themselves, pet owners may also wonder if their pet can get coronavirus. Given that the coronavirus originated in animals, and one dog tested positive for the novel coronavirus, it's not a far-fetched question. Experts say that while it's unlikely that your pet can become infected, it's always a best practice to wash your hands after touching an animal.
Read more here:
Can Your Pets Get Coronavirus?
How To Help People Affected By Coronavirus
Coronavirus has impacted hundreds of thousands of people across the world who have had to quarantine themselves, or who've lost jobs. Some areas in China are inundated with stray animals after owners were forced to abandon their pets while evacuating. And in areas that have yet to be severely affected by the virus itself, misinformation around coronavirus has spurred racist reactions against people of Asian descent. Experts say you can help people affected by both the virus and misinformation about it by donating to medical relief teams, practicing good hygiene, and countering any myths or hysteria about the virus.
Read More Here:
Coronavirus Fears Are Spurring Racist Reactions
How To Help People Affected By The Coronavirus
If you think you're showing symptoms of coronavirus, which include fever, shortness of breath, and cough, call your doctor before going to get tested. If you're anxious about the virus's spread in your community, visit the CDC or NHS 111 in the UK for up-to-date information and resources, or seek out mental health support. You can find all Bustle's coverage of coronavirus here, and UK-specific updates on coronavirus here.
This article was originally published on