How Cristela Alonzo Is Carving Out Room For Stories Like Hers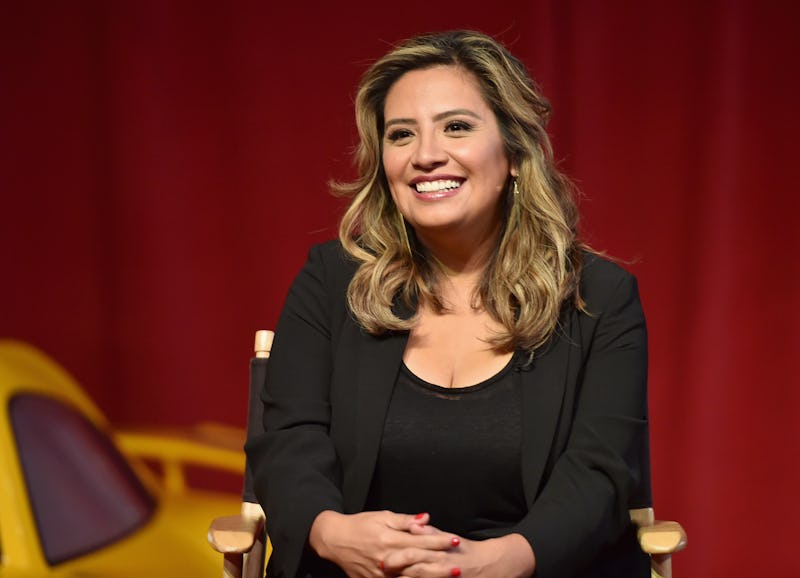 Alberto E. Rodriguez/Getty Images Entertainment/Getty Images
There are a few ways you may have become familiar with Cristela Alonzo. Maybe you loved her spunky character Cruz Ramirez in Cars 3, or you remember her 2014 ABC sitcom, Cristela, a comedy loosely based on her own family that Alonzo created, wrote, and starred in. Described as "the little show that could," Cristela opened to warm reviews — but was cancelled after a single season.
And to this day, "The industry doesn't acknowledge that I did my show," Alonzo tells Latina to Latina host Alicia Menendez in the podcast's third episode.
She also shares with Menendez some of the racially charged moments that shocked her during production — like when Alonzo was presented with one of the first Cristela promotional posters. "It was me wearing a quinceañera crown," she remembers wryly. "Each little point in the quinceañera crown had the letter of my name, and it said 'Cristela'."
After the brutal disappointment that was the end of Cristela, Alonzo accepted the role of Cruz Ramirez, a plucky character who defeats the odds to win the big race in Cars 3. As with the character of Cristela in Cristela, Cruz was partially based on Alonzo herself. Pixar rewrote the character again and again to better reflect Alonzo's experience, Alonzo explains to Menendez. Eventually, "They had me read it, and I bawled while I read it. I think that's the take we used," she says. "I couldn't believe it."
Pixar rewrote the character of Cruz after meeting Alonzo because Pixar wanted her character to come out on top. And every fan of the show Cristela (and there are many) wants her to win, too. Alonzo explains to Alicia what it means to her to believe she is capable of winning — given that she grew up with her beloved family telling her that dreams like hers "were for people with money."
Latina to Latina is a new Bustle podcast where Alicia Menendez talks to remarkable Latinas about making it, faking it, and everything in between. Starting April 10, every Tuesday there will be a new episode of Latina to Latina that will center on the challenges of existing, and then thriving, as women of color.
Subscribe on iTunes, share with your friends, and please reach out — we want to know what you love about Latina to Latina, who you'd like to hear from next, and how you feel about the issues we've covered. You can email us at latinatolatina@bustle.com.
You can read the full transcript of the episode here.