How Destiny's Child Made WOC Feel Like The Hero In Their Own Story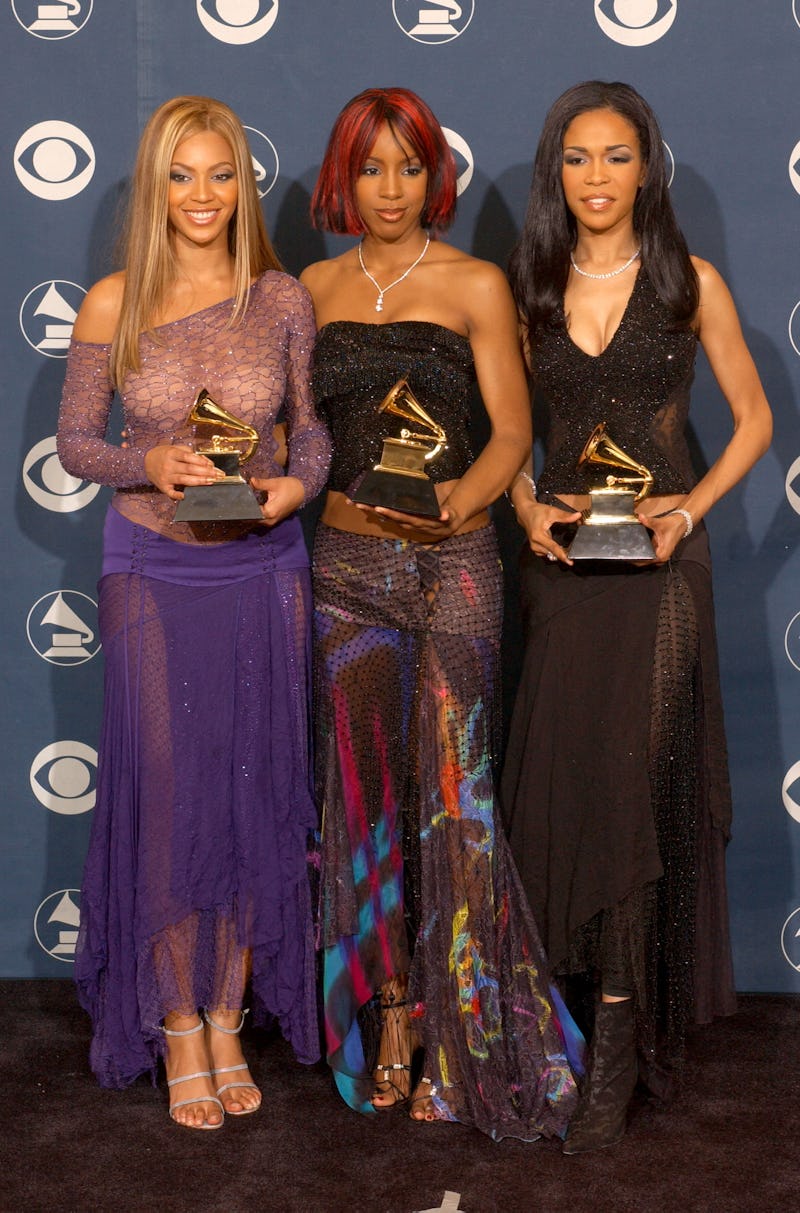 Vince Bucci/Getty Images Entertainment/Getty Images
If you haven't noticed by now, the love for Destiny's Child is real. Any time a pop girl group decides to release a single, you aren't very far from a, "But are they a Destiny's Child?" And rightfully so! Several platinum albums and more than a few catchy lyrics later, the trio not only made their mark, but then pursued successful solo careers. But nothing quite tops Destiny's Child in their heyday. From "Writings on the Wall" to "Destiny Fulfilled," I would be lying if I said I didn't have a profound impact on the woman I am today. Like many others know, and serious fans, each album had empowering lyrics, carefully choreographed dance moves, and solid R&B and pop beats. Affectionately known as a "bop," many songs were imbued with lessons even if you weren't there yet in life.
Like most who grew up in the '90s, I was much too young to really absorb the lessons until much later. But most of all, Beyoncé, Kelly, and Michelle —whether it was through the music or their careers together — taught me how to fulfill that destiny. For a woman of color, learning to be the hero in your story early on really is no more than knowing how to finish all of their lyrics during a lip sync or karaoke battle. So, without further ado, here is another ode-esque love letter to Destiny's Child, from a woman of color who looked to three insanely beautiful and talented women for daily inspiration.
Let's start with what's obvious about Destiny's Child's music: It's empowering! Imagine that from the time you enter a classroom, people notice that you're different, and it becomes more of a minus than a plus. Imagine feeling like you have to work twice as hard to gain recognition, and when people do notice you, it's to compliment how well you can "blend". Or that things like your hair could make you the center of attention even when you don't want to be. If you have successfully checked any of these things off your list, welcome to the world of a woman of color. It's so taxing that working WOC disproportionately feel this stress intensify as they navigate professional relationships, office politics, and the job search. Most of that stress comes from negative assumptions, but in walks Destiny's Child!
I'm not saying this trio will somehow abolish your struggles, but there's nothing like feeling powerless and hearing "Survivor". There's something affirming about hearing something like "you got this" when you feel like you've given it your best shot and it wasn't good enough. As a woman of color, I can attest to feeling pressure to look for validation from the "right people," or align myself with people and causes that I wasn't "allowed" to disagree with. To a woman of color, "Survivor" is about facing adversity with resilience. Other times, it's about venturing out on your own because you're just as capable as anyone else. And if this song doesn't do the trick, "Free" will remind you that you're making the right decision for stepping out on your own.
Those important pep talks/jam sessions also taught me what or what not to look for when dating. If you haven't learned to spot a "bug a boo" from afar, it's time to take another listen! This isn't just about being a woman trying to shatter the glass ceiling and craft the perfect dating app bio. Nope. Songs like "Is She The Reason" are basic lessons on where love actually comes from and to demand more.
Women of color, believe it or not, don't hear this enough: you deserve to be loved on your terms. Sometimes you need to hear "Lose My Breath" or even "Soldier" one good time to decide whether you should pine over unreturned text messages or that you deserve someone who will return them.
And finally, if no one says it, WOC, you need "me time," and you don't have to apologize for it. Destiny's Child brings a whole new meaning to celebrate yo' self and sometimes without actually saying it. No, not every Destiny's Child song crafted a perfect chorus telling you to take a load off, but that hour long dance session in the mirror mouthing the words is self-care, too. So go ahead and turn on "Bootylicious," "Jumpin,' Jumpin'" or even "Cater 2 U" — because the choreography is unforgettable.
What the iconic trio does best is remind you that you are enough; you are smart enough to follow that dream, you are wise enough to send that "this just isn't working out" text to that suitor and you are great enough to take a minute and appreciate it. You don't just arrive at these moments after a song, but a solid verse from Michelle Williams can get you pretty close to an epiphany.