Cardi B Got Engaged On Stage & Her Reaction Is Absolutely Priceless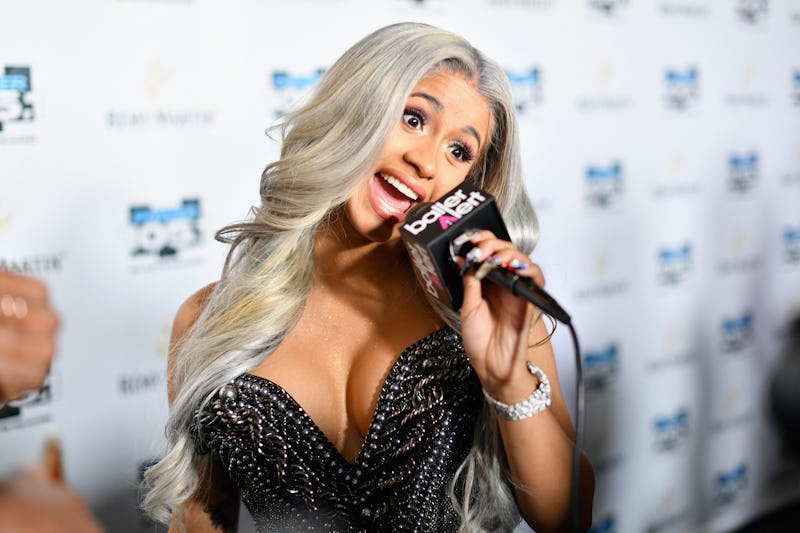 Dia Dipasupil/Getty Images Entertainment/Getty Images
On Friday, Oct. 27, Cardi B fans thought they were just in for a concert for Philadelphia's Power 99 Powerhouse. Then, out of nowhere — right before a song — Cardi B got engaged on stage. The NYC rapper, who turned 25 in October, has been dating Migos' Offset for most of 2017. The video of the engagement, filmed by audience members on their phones, is beyond fun.
It may very well be the most Cardi B thing on Earth. Her reaction is genuine; she's shocked, she's elated, she shakes her head up and down. It's clear that Cardi did not know this was going to happen. Her reaction is too great, and too pure. The ring is to-die-for, too, but it's her 60-second freakout that makes the video worth watching. Then, since she's Cardi B, she goes on to perform at the show.
Cardi B's delighted response to the surprise proposal makes the video great, but don't let that stop you from watching Offset, too. The love in his eyes, his hesitant body language — this is clearly a big moment for him, too. He's not just surprising his girlfriend with a proposal; he's doing it on stage at the Wells Fargo Center. That is one confident man. But you have to be, if you're going to roll with Cardi B.
After the show, Cardi posted a picture of herself wearing the ring on Instagram, alongside a heartfelt message to her new fiancé. "I'm so emotional," she wrote, "I love you so much... I can't wait to spend forever with you."
Cardi B's been building a fanbase for herself on television and social media, but she broke through to a wider audience with hit single "Bodak Yellow." The Song of Summer 2017 was (and still is) catchy, fearless, and inescapable. Between her mixtape, swear word-heavy advice posts on social media, her takedown of President Reagan on Facebook Live (yes, that actually happened), and now her engagement, Cardi B is truly having the best year ever.
"Bodak Yellow" also launched her to the top of the Billboard charts, which makes her the first female rapper reach #1, unaccompanied, since Ms. Lauryn Hill did it in 1997. The hook for "Doo Wop (That Thing)" has been pleasantly stuck in your head since the first time you heard it. You're probably humming it at your desk right now. Why not try spicing things up? Get "Bodak Yellow" lodged in there instead.
Fiancé Offset — aka the future Mr. Cardi B — is one third of Migos, an Atlanta rap trio formed with family members Quavo and Takeoff. If 2016 was the year of Migos, 2017 is undeniably the year of Cardi B. Born Belcalis Almanzar to Trinidadian and Dominican parents, Cardi B is a hip-hop artist, TV personality, and fierce, funny, and unapologetic woman. She's not just talented, but empowered; Cardi B knows her worth, and demands you acknowledge yours too. When fans tried to pit Nicki Minaj against Cardi B for her Billboard accomplishment, the fellow NYC rapper reached out to her to celebrate. Cardi B then gushed over Minaj's congratulatory tweet, and now the two have collaborated on the track "MotorSPORT."
Cardi B is a force to be reckoned with. She's an influence. Not just "social media influencer," which is also true, but her actual work is changing people's lives. Cardi had her teeth repaired, and now her dentist reports scores of patients calling his office to inquire about similar services. She posts encouraging messages to her Instagram and Twitter, and even though they're nearly all impossible to watch at work (four-letter words flow from Cardi as smoothly as her bars), they're straight-up joyful.
Cardi B is living her life, exuberantly and successfully, and she doesn't care if that pisses you off. She had her first single top the Billboard Hot 100 charts. Her boyfriend had the courage to propose to her on stage during a show. It's Cardi B's world, and everyone else just gets to live in it. Who knows what she'll bless fans with in 2018.