Chris Pratt & Katherine Schwarzenegger Were Introduced By A Surprising Source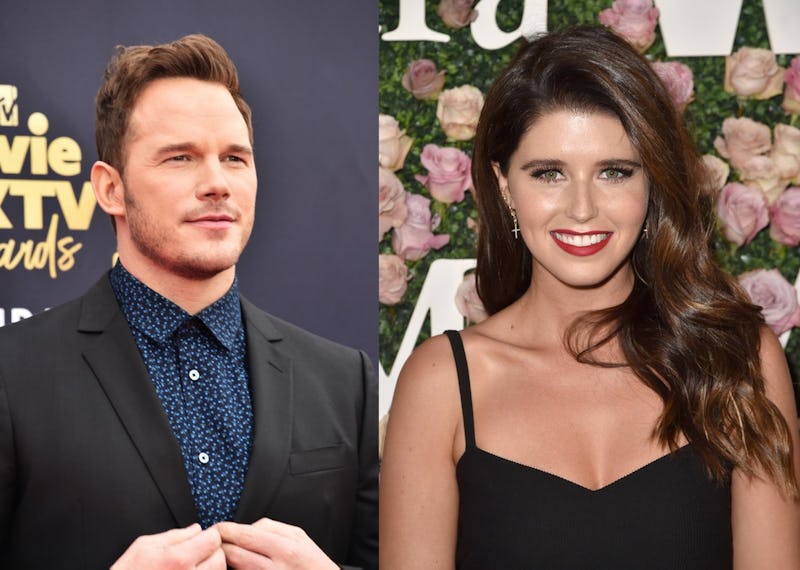 Left: Alberto E. Rodriguez/Getty Images Entertainment/Getty Images; Right: Frazer Harrison/Getty Images Entertainment/Getty Images
On August 13, the world will get to chance at the best of the best of Hollywood and pop culture, as chosen by the true kings and queens of everything that's cool: Teenagers. That's right, the Teen Choice Awards are here, which means plenty of teens, kids, and grown-ups alike will be wondering which celebrity pairings will be strolling down the blue carpet side by side. In particular, will Chris Pratt be bringing his rumored new squeeze Katherine Schwarzenegger? And by the way, how did Chris Pratt and Katherine Schwarzenegger meet, anyway?
It's an interesting question, since it feels like just yesterday Chris Pratt was half of one of Hollywood's golden couples, married to funny girl Anna Faris. To the dismay of most celebrity shippers, Pratt and Fairs split in August 2017 after eight years of marriage. They have one ridiculously adorable son together, Jack, who they're currently co-parenting.
One year later, and it looks like Pratt is ready for love again. Enter: Katherine Schwarzenegger, daughter of Hollywood heavyweight (and politician) Arnold Schwarzenegger and actor Maria Shriver. As a matter of fact, a source told People that it was Shriver who set her 28-year-old daughter up with 39-year-old Pratt. If, of course, they're actually dating.
The couple haven't officially confirmed their relationship for themselves yet, but if they were trying to keep things on the DL, someone needs to tell Schwarzenegger's brother, Patrick. On Sunday, August 4, Patrick Schwarzenegger posted a quick video in which Pratt can be spotted next to Katherine at a family meal, People reported. The text on the screen read "He's back." Of course, that could just mean that Pratt was over for dinner and is not romantically linked to Schwarzenegger. But other reports surfaced that got fans talking in the days following the post.
The next day, on August 5, a source told E! News the pair were seen goofing off at a car wash in Beverly Hills. "He's a total goofball she was giggling the whole time. She's really into him; you can tell. They aren't trying to hide anything. It looks like they're really enjoying one another." Another unnamed source told People that their relationship seems to have progressed beyond just casual dating. "They are spending every day together and Katherine has met Jack several times," the source told People. "They seem to be getting more serious."
If that's true, then it would make sense that Pratt would want to bring Schwarzenegger along to the Teen Choice Awards. He's nominated in two categories — Summer Movie Star: Male (Jurassic World: Fallen Kingdom) and Liplock (Avengers: Infinity War) — which means he'll definitely merit an invitation with a plus one.
For her part, Schwarzenegger has actually never attended the Teen Choice Awards before. This seems like it would be the perfect year to start, though, since her brother is also up in the category of #ChoiceMovieShip, alongside Bella Thorne for their roles in Midnight Sun. She could cheer on her bro and her beau at the same time.
According to USA Today, the 2017 Teen Choice Awards was actually Pratt's first public appearance after his formal split from Faris. Now, one year later, it seems like the ideal opportunity for Pratt and Schwarzenegger to make their first appearance as an official couple.