'RHOC' Star Emily & Her Husband Are An Unconventional But Very Sweet Love Story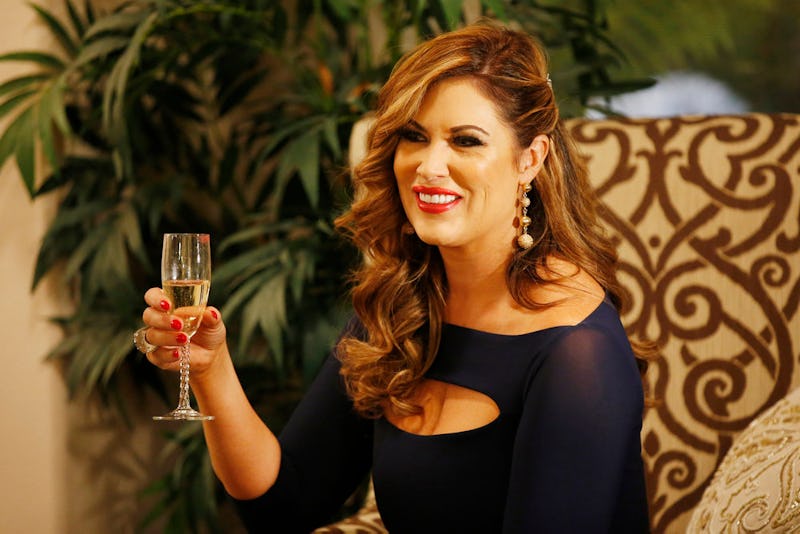 Phillip Faraone/Bravo
Being a new Housewife isn't easy — especially when you're entering a group that has over a decade of bonding experiences (and fights) under its belt. But new Real Housewives Of Orange County star Emily Simpson seems to be doing OK — she's mixing, she's mingling, and she hasn't screamed in Vicki Gunvalson's face yet. That takes a strong lady. Emily has her husband, Shane, by her side, which probably adds to her grounded nature — how did Emily and Shane meet in the first place?
Emily has already spoken about her and her husband's unusual courtship on the show. She and Shane didn't know each other that long before they got married — they were colleagues, and they talked all day, every day on Gchat while they were at work. One day, Shane was all, "Hey, let's get married!" And then, Emily was like, "Yeah, totes, let's do that!" (I'm paraphrasing.) Let the painfully single know — it's possible to get engaged in the blink of an eye to the love of your life, and it can be done over a simple Internet chat program.
"We had worked together for about three years at the same real estate consulting firm, and we had always been friends," Emily told Bravo. "He was funny, witty, and always made me laugh. After he and his first wife divorced, we began chatting on Google Chat and one day he just said, 'Want to get married?' I was 32 at the time, ready to settle down and have kids and thought, what the heck! I really just took a huge leap of faith."
She went on to say that they married two weeks later. Talk about efficiency. Emily and Shane didn't have the over-the-top engagement that the wedding industrial complex proclaims "normal" in 2018, but since they've been married for almost a decade, it seems like it's working out pretty well for them.
Building a family, though, was not as simple for this couple. Emily has also spoken on Real Housewives Of Orange County about her fertility problems — she suffered six miscarriages after she and Shane got married, and when she eventually conceived twin girls, she lost those babies at the four-month mark. Just when Emily thought that she would never have the family she and Shane so desired, Emily's sister, Sara, stepped in, according to the Journal News. "[Emily] had gone through all the options. It was hard to sit back and watch and I was perfectly capable of doing it. That's my sister. I would do anything for her," Sara told the outlet.
According to the Dayton Daily News, Sara gave birth to Sara Annabelle, Shane and Emily's first child, in February 2013. Two years later, Sara presented her sister with two more presents — twin boys Keller and Luke. "Thank you doesn't sum it up," Emily told the Dayton Daily News. "I think she knows that if the situation was reversed, I would have done the same for her." Emily has spoke on Real Housewives Of Orange County about wanting just one more child, but she'll probably have to see if Sara is still up for nine more months of eating for two (or three).
For now, Shane and Emily are just trying to adjust to having Bravo's cameras hanging around in their house. On Andy Cohen's Watch What Happens Lives, Emily explained how they're still in transition. "There are days when I love it, and there are days where I'm like, 'What the hell did I get myself into?'" she said. "I think Shane has the same days where he's like, 'Oh, it's OK,' and then other days, he's like, 'I can't believe that we signed up for this. This is ridiculous.'"
The biggest thing that Emily and Shane have learned so far? The cameras see everything. "I'll tell you the biggest surprise for me was I really honestly was naive and I thought I could keep my family life and my husband separate from filming," she told Andy Cohen. "I was totally wrong!"
Cameras or not, these two seem stable — Emily even told PEOPLE that she and Shane were purposely attending couple's counseling now that they're on the show in order to beat the "curse" of Housewives getting divorced. These two have the right idea, and it's because of that that Shane and Emily's love story will go from Gchat into forever.