Jack Brooksbank's Proposal To Princess Eugenie Was A Total Fairy Tale Moment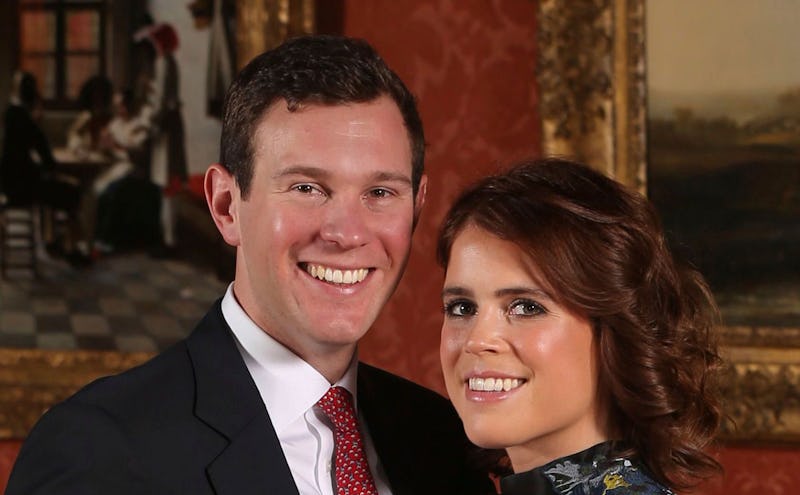 Jonathan Brady/AP/Shutterstock
Royalists must be having a blast this year as the nation is getting to witness not just one, but two royal weddings. In case you've been living under a rock for the past few months, Prince Harry married Meghan Markle in May. Now, his cousin Princess Eugenie, is preparing to walk down the aisle. But how did Jack Brooksbank propose to Princess Eugenie?
I combed through the archives to figure out what I could and I sort of wish I hadn't now, as their engagement story has set the bar pretty high. It's an adorable story that includes a volcano and a magic sapphire. Yeah, I know — fairy tale stuff.
The princess and her fiancé made an appearance on the BBC's The One Show to announce their engagement, dropping cute details about the proposal along the way. And well, the couple really know how to paint a scene. Brooksbank, a Casamigos brand ambassador, described the gorgeous landscape of their engagement in Nicaragua saying" "We had a beautiful volcano, [the] sun was setting, birds were flying."
Eugenie continued: "The lake was so beautiful. The light was just a special light that I've never seen. I actually said, 'This is an incredible moment,' and then he popped the question."
She revealed in the joint interview that the couple had been together for seven years after meeting when she was 20 and Brooksbank was 24. However, even though they had been together for yonks before getting engaged, the proposal still was a total surprise to her.
"[The proposal] was really surprising even though we have been together seven years..[It was] a complete surprise. But it was the perfect moment, we couldn't be happier," Eugenie added.
Although they waited until January to make the announcement, Harper's Bazaar reported that the engagement actually took place in December last year.
At the time of the engagement, Brooksbank boldly decided to propose without a ring — though he had one in mind back in London that he wanted Eugenie to "sign off" on.
He said: "I found a ring in a jewellers and then proposed to Eugenie without it and came back and we designed the diamonds around this padparadscha sapphire."
You're excused for thinking I've made a typo, but yes — a padparadscha sapphire is a real thing. If you take a look at their official engagement portrait, you'll be able to see the ring in all its glory: it features a massive pink rock surrounded by a halo of white diamonds.
The design definitely gives me major Princess Diana vibes, as the late royal had a very similar engagement ring courtesy of Prince Charles which was set with a deep blue Ceylon sapphire. After her passing, Prince William later gave the ring a second lease on life when he proposed to Kate Middleton with it.
Brooksbank clearly put a lot of thought into his choice, as the rare stone had a deep symbolic meaning. He said: "What's amazing about [the sapphire] is that it changes colour from every different angle that you look at it, which is what I think of Eugenie. That she changes colour and is just so amazing."
Okay, sure, Eugenie. I get why you're in love with this man now.
As for what her grandmother the Queen thought? Eugenie said: "Granny actually knew right at the beginning [of the engagement]. She was very happy as was my grandfather."
The couple will be making things official at their nuptials next month on Oct. 12 at St George's Chapel in Windsor, the same place Prince Harry and Meghan Markle were married. Despite the fact that Eugenie isn't technically a working royal, her wedding sounds like it's still going to be just as stunning as her cousin Harry's big day.
Like Markle and Harry, they'll be doing the traditional carriage procession throughout Windsor and they have also opened the wedding to the public. Scoring a place at the ticketed event unsurprisingly isn't an easy task however, as you have to apply via public ballot for a chance to get up close and personal with the royals on Windsor Castle's grounds.
If you're keen on watching Princess Eugenue's wedding unfold from the comfort of your couch and television, you could be in for disappointment. According to the Mail on Sunday, the BBC apparently won't be broadcasting Princess Eugenie and Jack Brooksbank's wedding in full. However, a rep fro the channel previously confirmed to Bustle UK that "there will be news coverage of the wedding across our services."
Well, in that case, I know what will be on my telly come Oct. 12. Good luck with the big day, guys.