Eugenie's First Meeting With Her Fiancé Sounds Like Something Out Of A Rom-Com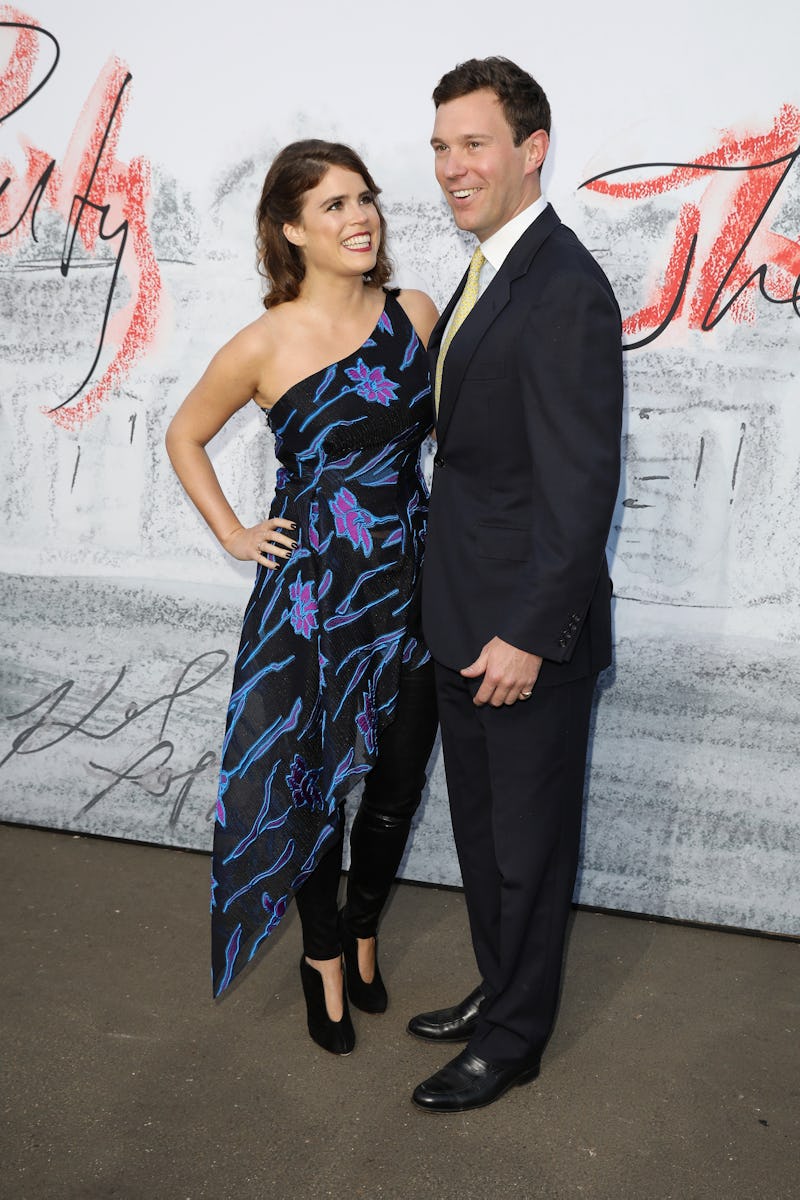 Tim P. Whitby/Getty Images Entertainment/Getty Images
It's certainly turning out to be a big year for royal love. Prince Harry and Meghan Markle tied the knot in April, and after announcing their engagement at the start of 2018, Princess Eugenie and Jack Brooksbank will wed in October. I mean, what a time to be alive for major royal family fans. While I am so ready for another royal wedding, I want to start from the beginning. How did Eugenie and Jack Brooksbank meet?
Well, according to The Express the couple met via friends in the stunning village of Verbier in 2010 during a skiing holiday whilst Jack was working as a waiter, according to The Express. "There was an immediate attraction and since that meeting, they have barely been apart," a friend reportedly told the newspaper.
Princess Eugenie and Brooksbank appeared to confirm this comment during their first television interview with Matt Baker on The One Show on Jan 23., the day after the couple announced their engagement. "[It] was amazing; love at first sight," Jack explains.
"We met when I was 20 and Jack was 24 and fell in love, and we have the same passions and drive for life," Eugenie says. "It's so nice that we get to share this moment with everyone."
When asked if their relationship felt any different after being together for seven years and getting engaged, Jack replied "Yeah, and for the better. It's amazing and I love Eugenie so much and we're just very, very happy and over the moon for what is to come [...] just very, very excited to spend a lifetime together which is amazing."
Too. Cute.
Meeting her future husband isn't the only reason Verbier is a special place for Eugenie, it's also where she and her sister Princess Beatrice have reportedly holidayed "every year since they were little girls", as, according to The Mirror, their father Prince Andrew owns a chalet there.
There's no doubt that Eugenie and Jack will carry on this tradition, together with the Duke and Duchess of York and Beatrice, or with their own little family in the future.
While details of Eugenie and Jack's wedding remain mostly under wraps, there have been some hints here and there. When asked by host Matt Baker if she had a dress in mind during an appearance on The One Show, Eugenie revealed that she's not going to have a wedding dress with meringue shoulders. "That's a little bit out of fashion... maybe it's in fashion, we'll see what happens."
Eugenie has also been open about her experience of wedding planning, telling Vogue, "It's very nerve-wracking because you want it to be perfect, but then you realise that you're going to be with the person you love forever and nothing else really matters". So adorable. And not only are the couple totally cute, they're committed to caring for the environment too, with Eugenie explaining to Vogue how she and Brooksbank plan to make their wedding plastic free.
I'm falling more and more in love with this royal couple by the day, I swear.