Kit Harington & Rose Leslie Have A History Of Playing Coy About Their Off-Screen Romance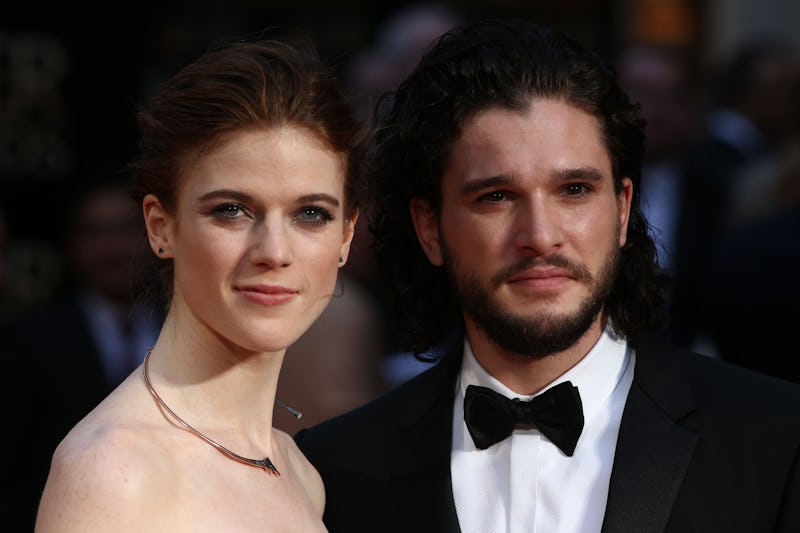 JUSTIN TALLIS/AFP/Getty Images
Congratulations are in order now that Game Of Thrones stars Kit Harington and Rose Leslie are officially engaged. If you're wondering exactly how Harington and Leslie met, it's quite evident that life has imitated art for the lovebird entertainers. The pair, who first shared screen time as Jon Snow and Ygritte during Season 2 of GoT, seem to have fallen for one another rather quickly after being paired up on set in 2011, according to Insider. And despite only going public with their relationship just over a year ago, they've reportedly been head over heels for quite some time.
Signs of their whirlwind romance were first noticed by TMZ back in August 2012, when they were reportedly spotted holding hands out on the town during a dinner date. At the same time, things would heat up on-screen as their characters Jon Snow and Ygritte shared their first TV love scene during Season 3. Their undeniable chemistry quickly sparked interest in their rumored real-life romance. However Harington, hoping to keep his love life private, played it coy during a March 2013 interview and Simone Boyce of Winter Is Coming,
"We really get on as friends and we hit it off very quickly when we first met and I think that reflects on screen, because we've got a good dialogue going on off screen."
Over the years, their relationship, though they had yet to confirm it, fell subject to break up rumors several times. The Stir once reported that Leslie had moved on to find love elsewhere, claiming, "Rose has a new boyfriend who is not in the public eye. She is eager to keep this relationship out of the spotlight."
As the rumors continued to heat up surrounding the pair, Harington again denounced the chatter during an interview with The Evening Standard in May 2014. He explained,
"Me and Rose are very, very close and very good friends. And continue to be, actually. She's wonderful. But no, no love affair."
On-screen, their romance sadly came to an end in Season 4 when Leslie's character Ygritte died in the arms of Snow during the battle at Castle Black. After meeting their dramatically televised demise, Harington and Leslie's real-life relationship would seemingly continue to flourish behind the scenes, despite a few bumps along the way, according to PopSugar. Continuing to remain private as their courtship developed, the pair did not make their public debut as a couple until April 2016 when they walked the red carpet together at the Olivier Awards in London.
Harington later came clean to Vogue Italia in 2016 about the previous speculation that he and Leslie became involved during their early days of filming Game of Thrones in Iceland. During the interview, he explained what he enjoyed most about shooting scenes on the Nordic island, saying,
"Because the country is beautiful, because the northern lights are magical, and because it was there that I fell in love."
With her character Ygritte killed off of GoT, Leslie moved on to film separate projects, revealing to talk show This Morning in August 2016 that she and Harrington spend a lot of time FaceTiming amid their long-distance romance.
During a May 2017 interview, Harington declined to reveal how long he and Leslie had been dating. However, the 30-year-old actor did announce that the couple had been making plans to move in with one another. Although careful not to disclose too much about their private lives, Harington sweetly gushed about their happiness and told Esquire,
"It's as much her relationship as it is mine and I can't speak for both of us. But yeah, we are very, very happy. So that's what I'll say about that."
It certainly sounds like there's an alternate ending on the horizon in the real-life tale of this Game of Thrones' couple. Years after meeting on set, Harington and Leslie, aka Jon Snow and Ygritte, seem to have finally found their happily ever after.