You'll Be Seriously Shook When You Hear Megan & Alexandra's IRL Connection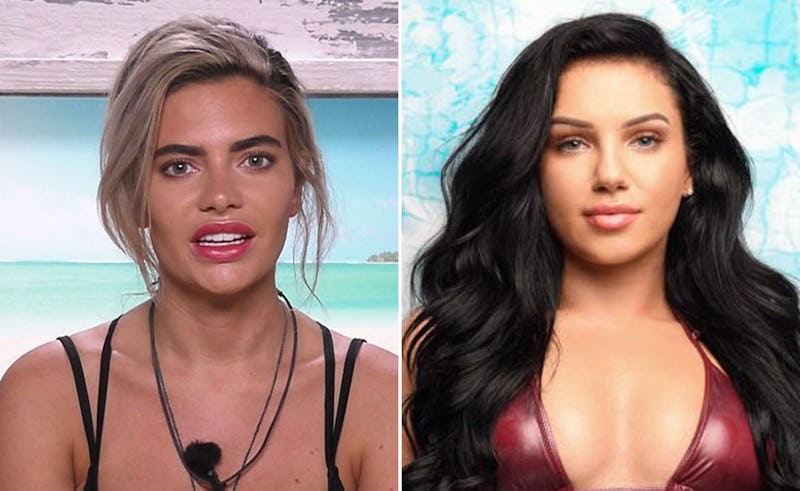 ITV
It's a new dawn, it's a new day, and there's a fresh Love Island scandal-in-the-making. Another new contestant has arrived in the villa, and judging by what fans have seen of her so far, she's a stranger to all of the other islanders, as bombshells usually are, right? Right? Well, maybe not. Apparently, Megan and Alexandra already know each other. That's fine of course, but why haven't they mentioned it? And how do Megan and Alexandra know each other anyway?
Alexandra made her entrance into the villa during Wednesday's show, when she took Dr. Alex [George] and new Jack [Fowler] out on dates, before joining the rest of the islanders. She then introduced herself to all of them in the usual way, before sitting down with the girls for the pre-requisite chat about who she fancied, while they all attempted to persuade her to focus her attention on Alex to save him from going home.
So far so normal (for Love Island anyway). Except, after the episode aired, a picture surfaced that appeared to show Megan and Alexandra together from their pre-ITV2 existences, leading people to speculate that they might already be mates. However, it was only a photo. maybe it was just someone who looked a lot like Alexandra? Except then, the social media sleuths unearthed some evidence that's pretty hard to argue with.
Megan and Alexandra appear to have both starred in the music video for Giggs' Lock Doh. In the background of the clip, which sees the grime star performing at a club, two women who look suspiciously like Megan and Alexandra can be seen very nearly kissing.
First Megan pops up on screen sipping a drink, then later on, she and a woman, who appears to be Alexandra, get up close and personal while dancing together. So how come their apparent shared connection hasn't been covered on the show? What gives Love Island?
Check out the full video here:
Lots of people on social media think the clip could mean that Love Island is to some extent set-up. Meanwhile, others are saying that as the show's editors are forced to distill 24 hours' worth of footage into one hour of telly, their reunion chat might not have made the cut when there's genuine drama to show. I've reached out to ITV for comment. A spokesperson tells me: "It is not possible to show everything that happens in the villa due to time constraints. Megan and Alexandra's paths have crossed briefly through work."
However, some fans actually think Love Island isn't hiding anything at all. Instead, they believe Megan and Alexandra have concealed their connection from producers and are planning to stage an elaborate coup to bring down the villa (or wait, maybe that's just me).
But could it be that Megan and Alexandra simply don't remember each other? Who knows how much they chatted on the set of the music video, or if they were actually introduced by name? The video was released back in 2016, and most likely shot several months prior. I suppose there are a few possible explanations to the mystery.
Megan is a model and Alexandra is a make-up artist, so both must meet lots of new people every day as part of their jobs. They may well have met and just forgotten about each other. Although it does seem strange that one of them wouldn't have said, "Wait, you look familiar". But then again, who can say they remember the face and name of everyone they've ever met at a party or night out, or almost snogged in the darkness of a nightclub?
The only issue with assuming the were never properly introduced is a little picture floating around online that they posed for together before sharing on social media. Meh. I'm genuinely baffled, please send your best theories to Bustle UK on the back of a postcard.
Most probably, like with the scandal over Jack and Georgia's kiss, which may or may not have been filmed twice, fans will either get an answer when the islanders leave the villa. Confused? Me too.
Love Island is on ITV2, Sunday to Friday at 9 p.m.