Eugenie's Wedding Will Be Bigger Than Harry & Meghan's In This Surprising Way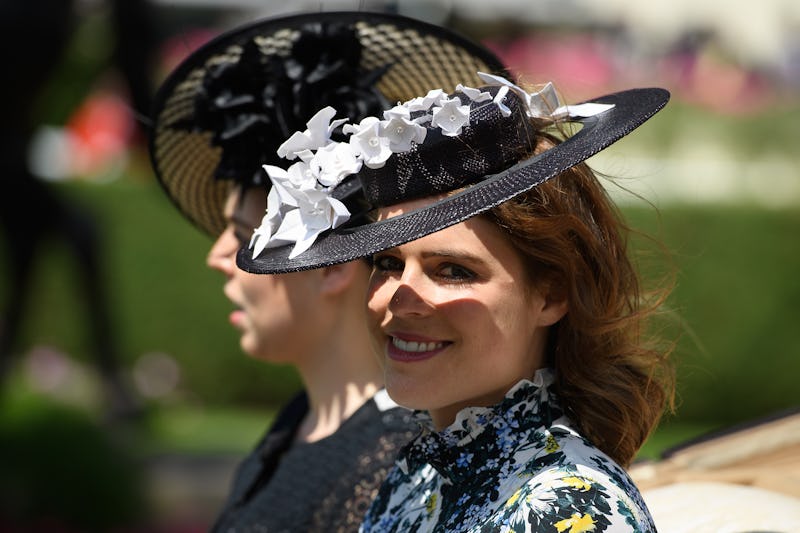 Leon Neal/Getty Images Entertainment/Getty Images
Many of us have big dreams for our wedding day. It has very little bearing on my life but when my time to walk down the aisle comes you better believe I intend to spend the day like a princess. So, what do you do if you're an actual princess? We have already had the biggest royal wedding of the year when we saw Harry and Meghan tie the knot. Or so we thought. According to reports, Princess Eugenie's wedding will be bigger than Prince Harry and Meghan Markle's, so how much will Princess Eugenie's wedding cost? Well, let's just say this is one party you're going to wish you had an invite for.
I know what you're thinking. I saw the carriage procession, the dresses, the celebrity guest list, and *that* amazing choir. How could the Duke and Duchess of Sussex possibly have their day topped? Well, the Daily Mail has reported that Princess Eugenie will marry fiancé, Jack Brooksbank, in St. George's Chapel at Windsor Castle — the same venue as Prince Harry and Meghan. They have also casually just added another 250 names to their guest list. 250?! I'm not sure I would know 250 people to invite in the first place.
The newspaper reported that 850 people have been invited to Princess Eugenie's nuptials on Oct. 12, 2018. Six hundred people were in attendance at Prince Harry and Meghan's wedding in May, and St. George's Chapel can only seat 800 people. So, what does a princess in need do in such a situation? Well, apparently, slipping a few extra chairs in at the back will suffice. The Daily Mail also reported, using the insights of Bride Book, that the estimated cost of the wedding is a cool £2.7 million, with the lion's share — an estimated £2 million — coming down to security, which is perhaps unsurprising given she is part of probably the most famous family in the country. The Princess declined to comment to the newspaper on the figure, but the Express reports that, in the manner of both William and Harry's weddings, the family will privately pay for the associated costs, with the exception of security, which is covered by the state.
And as you can imagine, it isn't just the ceremony which is going to be a large affair. A source told the Daily Mail, "The evening party will be the party to end all others. Bentley's have done the Yorks' birthday parties and they trust Peregrine for his expertise and discretion. It's also quite lovely there's a family link… There are rumours Ellie Goulding and Robbie Williams will sing." It has also been reported that the couple have spent a cool £100,000 on a three-course dinner for their guests.
Whilst this all sounds very lavish, Princess Eugenie is also keeping the environment in mind as she plans her big day. Speaking to Vogue in September she said, "My whole house is anti-plastic now — and Jack and I want our wedding to be like that as well." Yes, gal, this really is one forward-thinking princess.
With a hella long guest list, it makes you wonder who made the cut. The royal wedding in May saw many famous faces descend on Westminster. It looks like Princess Eugenie has that covered, too, though. The Daily Mail reported that the Beckhams may have received an invite, as well as George and Amal Clooney, and Princess Eugenie hasn't stepped too far away from her artistic roots as artist Tracey Emin is reported to be attending. Do you think they have a spare invite for one more little one?
There is no denying it, Prince Harry and Meghan's big day was an insanely beautiful, star-studded event. I am not sure it is something I would want to follow or be compared to. However, Princess Eugenie appears to be taking it all in her stride. Speaking to Vogue she said, "It's very nerve-wracking because you want it to be perfect but then you realise that you're going to be with the person you love forever and nothing else really matters." Wow, well, that is one way to get us right in the feels.
I can't wait for Princess Eugenie and Jack Brooksbank's wedding. Whilst it sounds like it has all the makings of a traditional royal affair, she is a modern princess with her own work, life, and priorities going on. In the same interview withVogue, she said, "It's hard to navigate situations like these because there is no precedent, there is no protocol. We are the first: we are young women trying to build careers and have personal lives, and we're also princesses and doing all of this in the public eye." Gal, you sound like you're doing amazingly to me.