The 'Sense8' Finale Will Make You Feel So Much Better About The World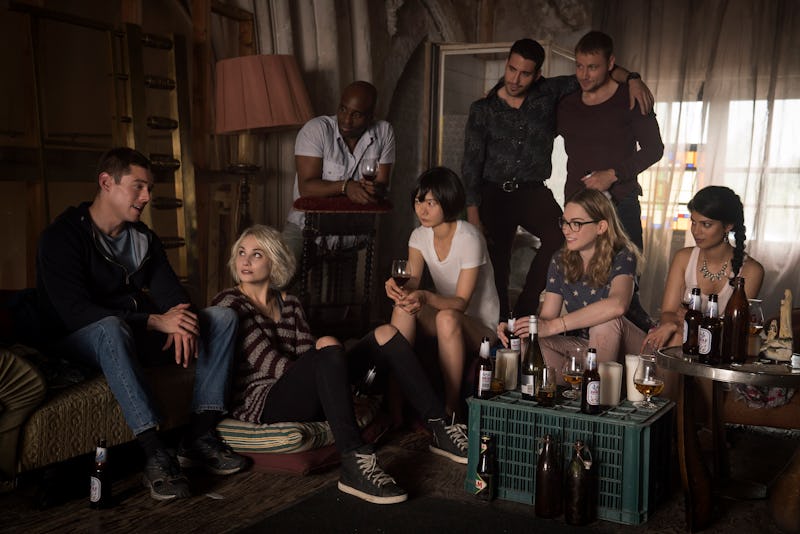 Murray Close/Netflix
Major spoilers ahead for the Sense8 finale. Netflix devastated fans when the streaming service cancelled Sense8 after only two seasons. A fervent push from the show's fandom quickly led to the announcement of a Sense8 finale movie, which would wrap up the main cluster's individual and collective storylines. The final farewell to the series premiered on June 8, and Sense8 ended with each sensate getting a happily ever after.
The beginning of the finale picks up right where Season 2 finale left off, with Wolfgang (Max Riemelt) in the custody of B.P.O. after being sold out by Lila (Valeria Bilello). The rest of the cluster still have Whispers (Terrence Mann) and Jonas (Naveen Andrews) imprisoned after kidnapping them in London. They travel to Kala's (Tina Desai) apartment in Paris to plan a rescue mission for Wolfgang. Of course, Amanita (Freema Agyeman), Dani (Eréndira Ibarra), Hernando (Alfonso Herrera), and Bug (Michael X. Sommers) all pitch in to help execute the plan to retrieve Wolfgang and get rid of Lila and Whispers.
But, two unexpected sensate sidekicks show up for the final showdown. Kala's husband Rajan (Purab Kohli), who has seemed until this point to be an obstacle to the Kala/Wolfgang romance, pops up to check on his wife after sending her to Paris to escape his political scandal. Rajan is stunned to find her new friends and discover the truth about his wife's sensate status, but he quickly jumps into action to save her friends.
Wolfgang's safe-cracking buddy Felix (Max Mauff) makes an appearance with a few handy weapons in tow. And, Detective Mun (Sukku Son) flies in from Korea to find Sun (Doona Bae) and help the team as they move from Paris to Naples to take down B.P.O. The group's friend and family network proves to be a great resource that helps them achieve victory, freedom, and safety.
In the end, Wolfgang is reunited with his sensate family and friends, Whispers and Lila die a fiery death, BPO is restored to its original goodness, and Nomanita's Parisian wedding caps off the group's final onscreen celebration. (Well, there's one final scene after that.)
Fans have watched the cluster go from confused strangers who kept inadvertently showing up in each other's lives to a family willing to risk their lives to save each other. They have come together physically and in spirit to overcome so many challenges and now the wedding symbolizes their chance to celebrate love, freedom, and exciting new chapters in their lives.
Here's how each sensate gets their "happily ever after" in the series finale: