Netflix Cancels 'Sense8' & Nothing Makes Sense Anymore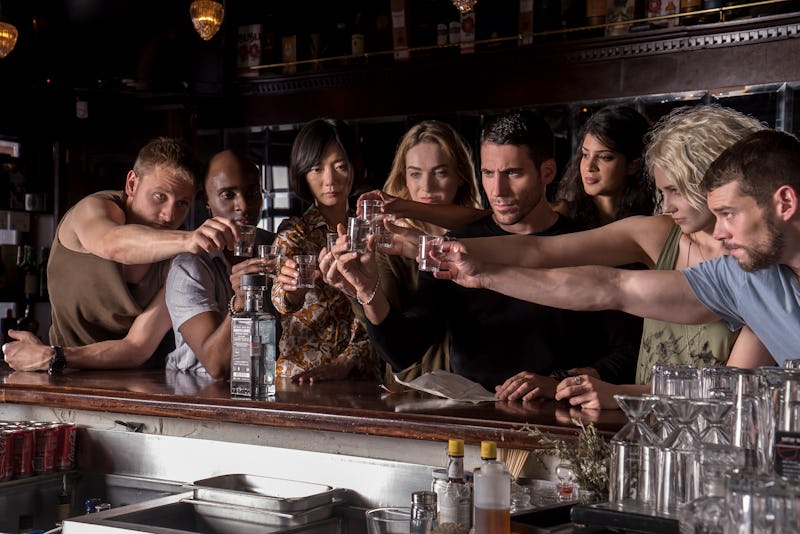 Murray Close/Netflix
Netflix confirmed on Thursday that Sense8 has been canceled after two seasons, marking the end of one of the most breathtakingly original shows to emerge in our current Golden Age of television. Ever since it debuted in June of 2015, the series created by the Wachowski siblings has delighted viewers with both its empathetic story (about a "cluster" of eight strangers who can hop in and out of each other's lives) and its thrilling action. Netflix's surprising and disappointing decision comes less than a month after Season 2 debuted to rave reviews.
In her Sense8 cancellation announcement, Netflix's VP of original programming, Cindy Holland, stated,
"[The show] is everything we and the fans dreamed it would be: bold, emotional, stunning, kick ass, and outright unforgettable. Never has there been a more truly global show with an equally diverse and international cast and crew, which is only mirrored by the connected community of deeply passionate fans all around the world."
Holland went on to thank the Wachowskis, as well as "the entire cast and crew for their craftsmanship and commitment." It's too bad that Sense8's "bold, emotional, stunning" vision wasn't enough for Netflix decide to keep it around for Season 3.
Coincidentally (or not), the announcement was made less than 24 hours after Netflix CEO Reed Hastings warned in an interview with CNBC that his streaming service would likely start canceling more shows than usual in the near future. Hastings cited an enviable problem as the reason for this change: Netflix simply has too many good shows these days, and the company can't sustain them all. "Our hit ratio is way too high right now," the CEO said. "So, we've canceled very few shows. I'm always pushing the content team: We have to take more risks, you have to try more crazy things. Because we should have a higher cancel rate overall."
Ever since it broke into the original programming game four years ago with House Of Cards, Netflix has been notoriously stingy with cancellations, allowing even its less buzzy shows (like Hemlock Grove or Marco Polo) to run for two or three seasons before pulling the plug. That trend finally broke last week when Netflix canceled Baz Luhrmann's musical drama The Get Down, the streaming service's first original program ever to be axed after only one season.
It's distressing to see that the first two casualties of Netflix's efforts to crack down on its original programming output also happen to be two of the service's most diverse, inclusive shows — especially while a middling show like Marvel's Iron Fist will almost certainly secure a renewal off of corporate synergy alone. Of course, Netflix still has shows like Orange Is The New Black, Marvel's Luke Cage, Master Of None, and Dear White People that champion representation of minority protagonists; but there was something about Sense8 that felt special in the way that it celebrated the wide range of human experiences with such unbridled joy, and the way the writers treated their heroes with such respect, empathy, and dignity.
It's unlikely that audiences will ever see another show quite like Sense8 again, and proponents of quality programming should be mourning its passing. I suppose its very existence in the first place is a minor miracle, and fans shouldn't take the 24 hours of thrilling, strange, and beautiful storytelling they did get for granted… but it's hard not to feel like Netflix really missed the boat with this particular decision.