How Colton Met Tia Has Everything To Do With Arie's 'Bachelor' Season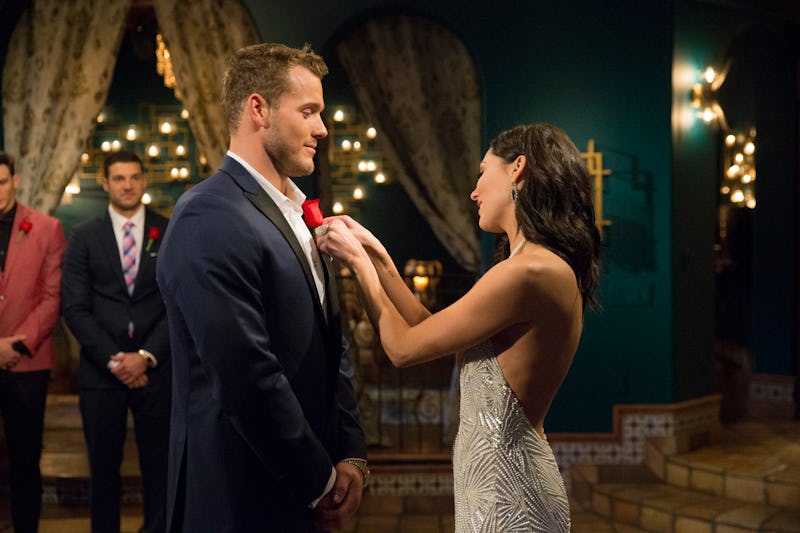 Paul Hebert/ABC
It wouldn't be The Bachelorette if at least one contestant didn't come into the show with a little baggage, and this time, it involves another member of Bachelor Nation. As fans discovered Monday night, Colton Underwood and Tia Booth have history together — but where did it all start? How did Tia and Colton meet before The Bachelorette? The internet (and the last season of The Bachelor) may have had a hand in introducing them.
If you follow Colton on Twitter, you might notice that he tweeted about The Bachelor a lot while it aired earlier this year, with a couple of tweets mentioning Tia specifically. He was definitely crushing on her before Becca was announced the next Bachelorette, and like he told Becca, they dated in January, so they were definitely together before the season finished airing and Colton had the chance to see how things played out.
When Colton had the chance to talk to Becca one-on-one during a group date, he told her something he needed to get off his chest: that he had dated Tia in January. And although he didn't explain exactly how he and Tia met, it seems pretty easy to deduce that it at least had something to do with love at first Bachelor sight.
Exhibit A: these tweets, straight from Colton while watching The Bachelor:
It seems like these heart eye emojis may have led to something real, because as Colton told Becca, they ended up spending a weekend together, but he didn't think the timing between them was right. However, as former contestant Ashley Spivey pointed out, is there a chance Colton went into this thinking that Tia might be the Bachelorette?
It definitely sounds plausible, and even Becca admitted that after that conversation, she did think that maybe he was there for Tia and not her. So far, it's hard to tell if that's actually what's happening here, but it makes sense that she'd be a little sketched out by it.
As the season kicked off last week, there were already rumors floating around about Colton and Tia, and reportedly, he did find his way to her DMs in order to get her attention. The bad news: Colton didn't confirm or deny this in his conversation with Becca. The good news: it still seems like there's a chance for more details to come out this season, and since their chat was pretty limited, it doesn't even seem like Colton's gotten to the truly juicy stuff we're all waiting for just yet.
It also seems like there's more to the story than Colton's sharing, according to Raven Gates, Tia's BFF and fellow ex-Bachelor contestant. While Monday's episode was airing, she tweeted:
If Raven is having the ability to "drag" Colton, that means she definitely knows things that the rest of us aren't privy to — and that Colton didn't bother sharing on The Bachelorette. Becca might be right to be a little skeptical of everything that Colton said to her, and it makes sense that she would be a little hesitant to trust him going forward.
Oh, Raven, spill the tea! For now, the rest of us will just be here, trying to figure out what you meant by that tweet. Details, please.
Although Becca considered eliminating Colton, he's sticking around for at least another week — and as we saw in the preview for next Monday's episode, Tia will be on the show (along with other contestants from Arie's Bachelor season) and Becca is going to confront her about the situation. Maybe we'll get more answers then.