Tilikum, The Captive Orca Of 'Blackfish,' Has Died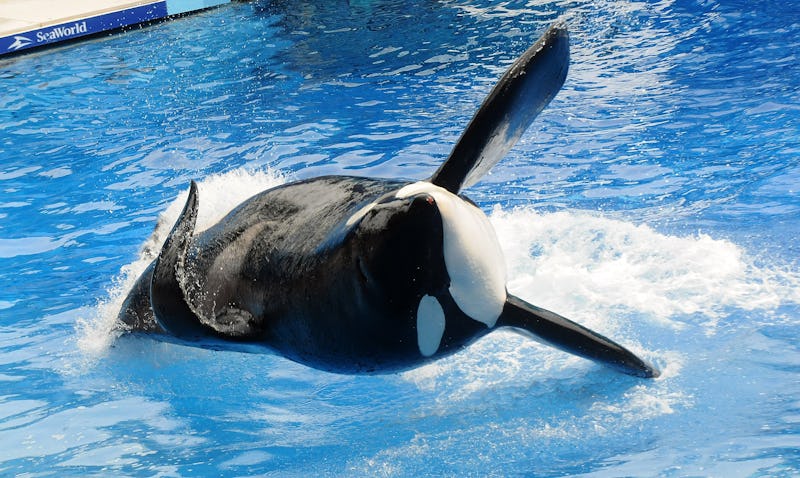 Gerardo Mora/Getty Images News/Getty Images
SeaWorld has one less orca in captivity to start 2017. The star and controversial central subject of the critically acclaimed documentary Blackfish, SeaWorld orca Tilikum, has died of a lung infection, bringing his quarter-century of captivity to an end. He was reportedly believed to have been about 36 years old.
If you haven't seen Blackfish, the 2013 documentary which set off international controversy regarding Tilikum's life and his fatal attack on a SeaWorld trainer named Dawn Brancheau in 2010, you can view a trailer here. It's a an unabashedly anti-captivity piece of filmmaking, one that shows tremendous sympathy and consideration both to the creatures held at SeaWorld and other such marine parks for the purposes of human entertainment, and to the people who died following encounters with Tilikum.
In total, the widely known orca was involved in the deaths of three people throughout its life: Brancheau in 2010, a part-time trainer named Keltie Byrne at a now-defunct Canadian marine park in 1991, as well as a man named Daniel Dukes in 1999 who sneaked into Tilikum's tank after the park had closed. It was that incident with Brancheau that became the entry point for Blackfish, which undeniably had a big impact on SeaWorld's business following its release.
SeaWorld itself has aggressively criticized the documentary, insisting that its claims about captivity are misleading and "emotionally manipulative." For her part, the documentary's director Gabriela Cowperthwaite does not hide her opinion on this — in a 2013 piece for The Daily Beast, she stated unambiguously that she believes orcas should not be held in captivity, arguing that they're "traumatized" in a way that primes them toward violent incidents in a way not seen in the wild.
Tilikum was first captured when he was 2 years old just off the Icelandic coast, and, along with two other young orcas, was placed in captivity at a zoo in Reykjavik, the country's capital city. In just one year, he was moved to a Canadian marine park called Sealand of the Pacific, where he spent his first approximately nine years performing for human entertainment. It was while at Sealand that he killed Bryne, the first human to die interacting with him, and within a year he was sent to SeaWorld in Orlando, Florida.
And that's where he stayed. In all, Tilikum spent the final 34 or so years of his life in captivity, the last 25 of which were spent at SeaWorld. His health had reportedly been failing in recent years, and in 2016 the company acknowledged he was suffering from a drug-resistant bacterial infection in his lungs. In a statement following his death, SeaWorld acknowledged that Tilikum's legacy would forever be linked to Brancheau's death, but also praised the "enriching" time he spent in captivity.
While today is a difficult day for the SeaWorld family, it's important to remember that Tilikum lived a long and enriching life while at SeaWorld and inspired millions of people to care about this amazing species.
As the statement notes, SeaWorld agreed to discontinue its captive orca breeding program last year, in addition to pledging to phase out "theatrical" orca shows in favor of more "natural orca encounters." As NPR reported at the time, Cowperthwaite described the end of SeaWorld's captive breeding program as "a defining moment," and an occasion that marked "truly meaningful change." The decision was ultimately inconsequential to Tilikum, however, who died less than one year later.
Tilikum's death came the same week that "Granny," a famed and widely known orca living in the wild in Puget Sound, went missing. She is now presumed dead at the age of 106.