Tom Petty's Cause Of Death Has Been Confirmed By His Manager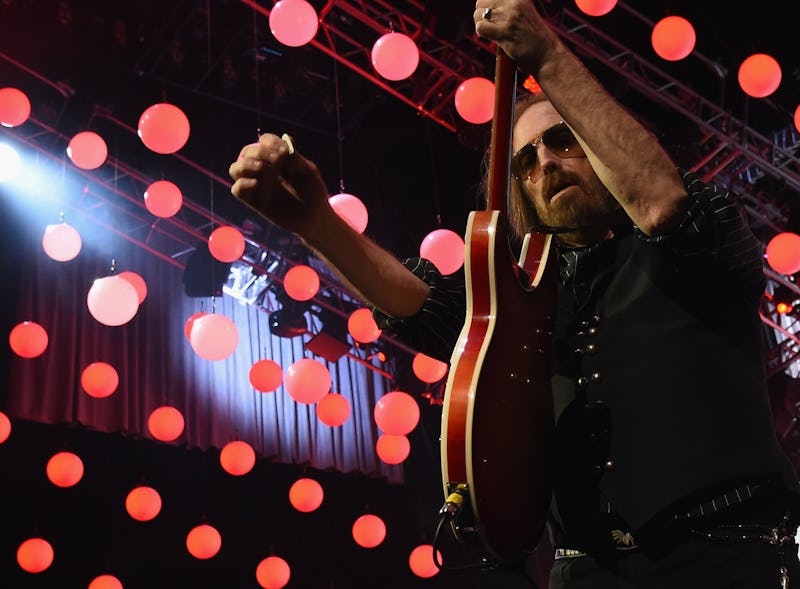 Rick Diamond/Getty Images Entertainment/Getty Images
It's been a heartbreaking day for music lovers. On Monday, Oct. 2, TMZ reported that musician Tom Petty suffered from cardiac arrest and was rushed to the hospital to be put on life support, reportedly, with no brain activity. After conflicting reports on the performer's status surfaced throughout the day, it's officially been confirmed by his manager, Tony Dimitriades, that Tom Petty passed away at 66. As for Petty's cause of death, his manager confirmed it was due to cardiac arrest.
Initial reports claimed that he was found in his Malibu, California home on Sunday night just after wrapping a huge U.S. tour. On Monday afternoon, CBS News cited the LAPD claiming Petty was taken off life support and had died. However, both parties began to backtrack after the LAPD stated on Twitter that "initial information was inadvertently provided to some media sources." Afterwards, TMZ reported that the singer was still in the hospital and "clinging to life," while a chaplain was called to his room and family had a "do not resuscitate" order on him. The official news of his passing broke 9 p.m. PST on Monday.
The music legend and his band Tom Petty and the Heartbreakers had just completed their 40th anniversary tour, with a final show at LA's Hollywood Bowl. In an interview with Rolling Stone, the singer was thinking it would be the band's "last trip around the country."
Petty's music remains a staple of the '70s, '80s, and the rock genre. The singer was known for classics like "Free Fallin'," "I Won't Back Down," "Breakdown" and "American Girl." In 2002, Petty and his band were inducted into the Rock & Roll Hall of Fame. As explained by the organization, the band's impact on music was significant and unique.
"From immortalizing the common man in their hit singles to preventing record execs from raising prices, Tom Petty and the Heartbreakers were the champions of the average citizen," the Hall of Fame explained.
Making quality music and having impact was always a priority for Petty. "I'd like to see us break some new ground and leave some sort of mark on the music," he once said. "That would be the nicest thing — to give something back, as noble as it sounds."
Petty also helped create some wildly popular contemporary tracks like Sam Smith's "Stay With Me." His lyrics often explored understanding life and one's self, which is what makes them so incredibly relatable and timeless. Petty's music reflects his realistic outlook on life and willingness to rise up in the face of adversity. The effect he's had on music is undeniable and countless fans have expressed sadness about the news of his passing.
Fellow musicians have also made statements about Petty and his influence as well.
Petty is survived by his wife Dana York Epperson and daughters Adria, 42, and Kimberly Violette Petty, 35. Both of his daughters followed in their father's artistic footsteps. Adria Petty is an art director and Kimberly Petty is a musician.
It seems the singer wasn't suffering from any particular illness before his passing, unless he did not share it publicly. The last public statement regarding his health was in August, when he cancelled a performance due to laryngitis, though the sickness was short-lived. Not only was Petty touring until his death, he oversaw SiriusXM channel Tom Petty Radio, which included a talk show.
But the singer didn't leave the world without letting fans know how much he appreciated and loved them. "I want to thank you for 40 years of a really great time," he reportedly told the crowd at his last sold-out show at the Hollywood Bowl. And to say the artist will be missed by them is a vast understatement. Still, his legacy will live on.