These 'Bachelor' Contestants Have A Friendship That Predates Arie's Season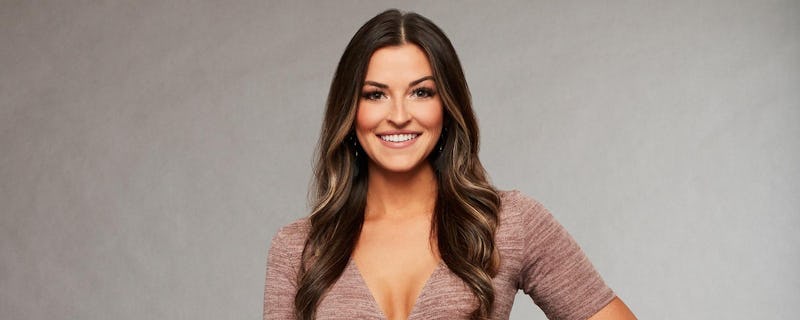 ABC
Bachelor Nation fan favorite Raven Gates was dumped during Season 21 of The Bachelor when star Nick Viall chose now-ex Vanessa Grimaldi in the final rose ceremony. Fortunately, months later, Raven found love with Adam Gottschalk on Bachelor in Paradise. Now the southern charmer is once again returning to her reality TV roots. But this time as a cheerleader to someone else looking for love — Tia Booth, who'll be competing alongside 29 women for the heart of Arie Luyendyk Jr. in Season 22 of The Bachelor. How exactly do Raven and Tia on The Bachelor know each other?
It turns out the longtime besties are home-state friends, with them both hailing from small towns in Arkansas. Avid Bachelor viewers probably remember that Raven is from Hoxie, AK and took Nick on a hometown date there in Season 21. Tia, on the other hand, hails from the nearby Weiner, AK according to her Bachelor profile on ABC. "Weiner is an overly small the town, it's kinda restricted on what you'll be able to do for amusement. We more or less must make our personal amusement … Shoot weapons and move fishing…" Tia proudly said in her intro during ABC's "Countdown to Arie" special.
"I finally get to announce that I'm handing over my Bachelor baton to my BFF @tiarachel91," Raven captioned in a sweet Instagram post after Tia was announced as a contestant on the show. "My only advice: Just always remember you're not as bad as what your worst critic says you are and you're not as great as what your biggest fan says you are. Find the balance, enjoy the ride. I'm always in your corner!"
Raven and her beau Adam have been going strong ever since they struck up a relationship in Mexico on the last season of Bachelor in Paradise. Viewers may remember seeing Adam on last season of The Bachelorette, when he competed for Rachel Lindsay's heart before Rachel made her finale decision and got engaged to Bryan Abosolo. Raven has been raving on social media about how happy she is to have found love with a fellow Bachelor nation alum, so it's only natural that she'd want the same happiness for one of her closest friends.
Raven and Tia couldn't be any closer and enjoy having fun together, as evidenced in the Instagram video below, where the two enjoy a sunny day, "eating pops" with another gal pal. Having someone like Raven "in her corner" will most definitely come in handy for Tia as she competes for Arie's heart. With so many awesome women looking for love on The Bachelor, it can be hard to stand out from the crowd at times. But being that Raven has most likely passed along insider tips and tricks, Tia should be ahead of the curve when it comes to making her mark in Arie's world.
According to her ABC Bachelor bio, Tia is looking for a marriage that can be defined as a "lifelong commitment" full of "passion and happiness." If she could be any fictional character she would be Olivia Pope, because "she's a badass." The 26-year-old physical therapist also has a love for leopards, enjoys watching Shark Tank, and dreams of visiting Chicago one day, simply for the food.
Will Raven's seal of approval for her BFF help Tia find love with Arie on this season of The Bachelor? You can just never tell on The Bachelor, but at the very least having Raven's advice about the process going in puts Tia at an advantage that the other women don't have. And if things don't work out with Arie, she'll have her bestie waiting at home knowing just how to comfort her.
Editor's note: After publication, we discovered this article did not meet our editorial standards: There were portions that did not correctly attribute another source. It has been updated to meet our standards.