This Is The Most Common Excuse Cheaters Give Their Partner About Where They Are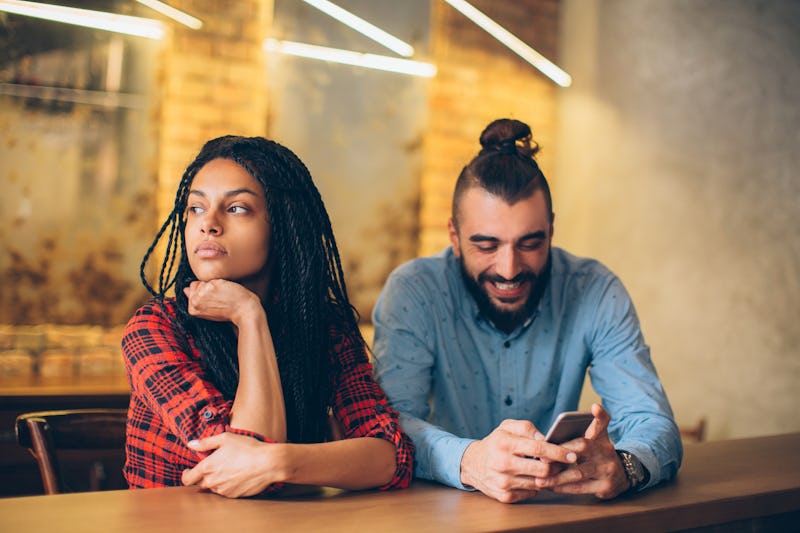 It's hard to know the signs of cheating, because often the person cheating is doing everything they can to cover it up in an inconspicuous way. They want to make things look as normal as possible. But how do cheaters typically cover it? Well, Ashley Madison, a site dedicated to illicit encounters, looked into the excuses that people tell their partner. They asked nearly 1,500 men and women who use the site to find out what they were telling their partners.
The annoying thing, of course, is that most of the excuses people use are also totally legitimate things people do all the damn time. So you shouldn't freak out if your partner says that they're out with friends or working late because, you know, those things actually happen.
But the weirder part is that people tend to use the same excuse over and over. "Half of the members surveyed say they only switch up the excuse they use to meet an extramarital partner on occasion," Isabella Mise, Director of Communications at Ashley Madison, tells Bustle. "I think it might be surprising for some to find that most members are not only using common habits like going to the gym or staying late at work to avoid being discovered, but that they are also sticking with that same excuse consistently."
You'd think that mixing it up would make things less obvious, but I'm not a seasoned cheater, so what do I know? And, men and women tended to use similar excuses. "They're actually not as varied as you might think," Mise says. "For both men and women, going out with friends and working late are the top two excuses used when having an affair. Maybe this is because these excuses are the most believable and allow for more time out of the house compared to other common choices such as heading to the gym."
So which excuses were the most believable? Here are the most popular: