Some Key Florida Races Could Head To A Recount — This Is How It Would Work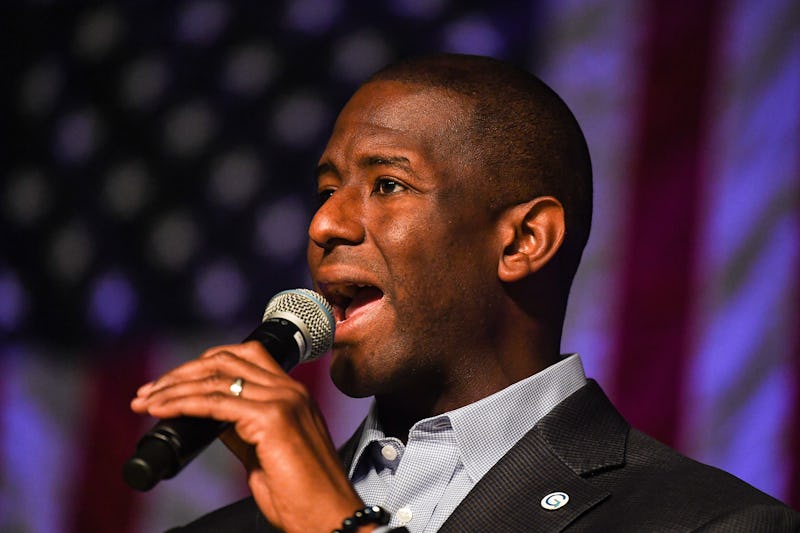 Jeff J Mitchell/Getty Images News/Getty Images
Quite a few races in Florida could be headed for a recount. Two — the governor and Senate races — have received overwhelming media attention and are still being watched anxiously by people around the country, while others are less high-profile but nonetheless significant for the state. What with all of this turbulence, you're probably wondering right about now how vote recounts work in Florida.
The state rule is that ballots are automatically recounted by a machine if the winner's margin of victory is at or beneath 0.5 percent (the loser can refuse to allow the recount to proceed, but that's unlikely to happen in these cases). If the margin sinks to at least 0.25 percent, the votes must be recounted by hand.
It might be quite a few days before the state gets official results. The Miami Herald reports that all ballots must be counted by Saturday at 12 p.m. ET. If that count finds a margin of 0.5 percent or less, there will be the first automated recount, which must finish by next Thursday, Nov. 15, at 3 p.m. ET.
The second recount would occur after that if the margin from the first recount ends up at or below 0.25 percent. Absentee ballots could still be flooding in from overseas at that point, per The Herald, thereby potentially changing the results even further. Final results should be certified by Nov. 20, according to the paper.
In an automated recount (i.e. what would happen in a first recount) machines are tested for glitches, damaged ballots are copied, and all ballots are rescanned, according to The Tampa Bay Times. In a manual recount (i.e. what would happen in a second recount), each county's canvassing board steps in to do the work by hand. They check the copied ballots for errors and physically count any votes that seem potentially fishy (any that have either been "overvoted," where someone made too many selections, or "undervoted," where they made fewer choices than allowed).
Perhaps the most significant undecided race in the state right now is the competition for a U.S. Senate seat between Republican Rick Scott and Democrat Bill Nelson. A 2:53 p.m. ET update on Thursday from The New York Times found Scott leading by just 0.3 points. Nelson has refused to concede the race, and Marc Elias, an election lawyer representing the Nelson campaign, said on Thursday he believes Scott may yet lose in a recount, per The Hill.
"I'm confident that Sen. Nelson and the Democrats are going to do well in terms of vote share in the days to come," Elias said on a conference call with reporters, per The Hill. He pointed to a number of ballots from Broward County (the most liberal county in the state) that machines have interpreted as containing votes for down-ballot candidates but not for a senator. This is highly unusual — it's much more common for people to vote for the top-ballot candidates and ignore the rest — and Elias suggested that machines may have misread these ballots.
The notable governor race between Democrat Andrew Gillum and Republican Ron DeSantis could also head to a recount, with DeSantis leading with a margin of 0.4 percent as of 2:55 p.m. ET, per The New York Times. Gillum conceded to DeSantis, who the AP declared as the winner, on Tuesday night — but there still could be a recount if the margin closes significantly. Gillum's concession is not legally binding, according to The Tallahassee Democrat.
In a statement on Thursday afternoon, Gillum's campaign said the concession happened when the campaign was working "with the best information available" on Tuesday night, but now, "it has become clear there are many more uncounted ballots than was originally reported."
"Our campaign, along with our attorney Barry Richard, is monitoring the situation closely and is ready for any outcome, including a state-mandated recount," the statement said. "Mayor Gillum started his campaign for the people, and we are committed to ensuring every single vote in Florida is counted."
The closest race is for the attorney general commissioner, which is currently at a 0.16 percent margin, per The Tallahassee Democrat. Nikki Fried, the trailing Democratic candidate, says it's the closest race in the state since the Bush-Gore controversy in 2001. Several local elections in Florida may also end up within the recount margin, per The Tampa Bay Times.
It's important to note that recounts normally don't lead to a different result than the original tally. Still, it does occasionally happen, so keep an eye on these races in the coming days.